TV
Moon Jae-wan's daughter was a blessing… Lee Ji-hye, U-line's ambition can't be let go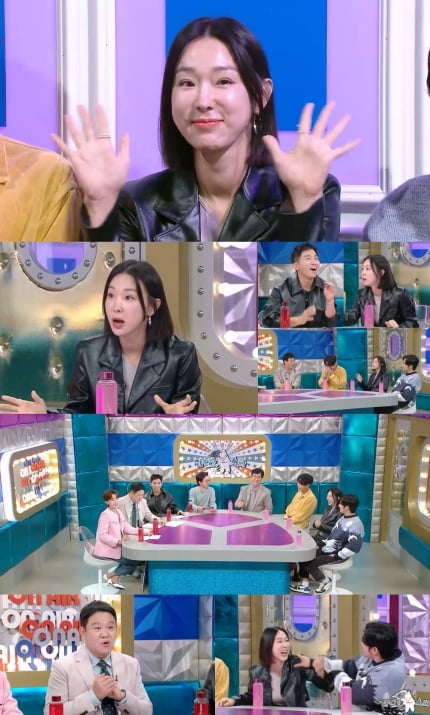 Lee Ji-hye strongly appeals to being a 'Yoo-line' by saying, "My daughter Tae-ri and Yoo Jae-seok's daughter Naeun are best friends in kindergarten, and I am also best friends with Na Kyeong-eun."
MBC's 'Radio Star' (planned by Kang Young-seon/directed by Kim Myeong-yeop), which will be broadcast on the afternoon of November 15th, will feature a special feature called 'Master Stargram' featuring Kim Bok-jun, Muzie, Lee Ji-hye, and Lim Hyeong-jun.
'Broadcasting master' Lee Ji-hye, who runs the YouTube channel 'Not Hateable Gwanjong Sister' with over 800,000 subscribers, visits 'Las'. Lee Ji-hye attracts attention with her self-objective remarks on everything from her appearance to her position in the entertainment industry. In particular, he selected Lee Hyun-i as the 'entertainment slut(?)' who is kept in check as a mother entertainer, saying, "I think her reactions are fresh and she is a natural beauty." "It's also comfortable," he said as the reason, and even added a cool-headed comparison between himself, who had plastic surgery, and a two-shot of Lee Hyun-i, a natural beauty, which made people laugh.
Lee Ji-hye confessed her upset feelings, saying that after exposing her children to the public, she sometimes received negative comments about their appearance. However, in response to Lee Ji-hye's very honest and self-objective remark, "I was impressed by Shin Hyun-jun's children's appearance," Kim Gu-ra pointed out, "Stop talking about appearance and father's affair."
On the other hand, he boasted that he joined 'Yu Line' thanks to Tae-ri and said, "Tae-ri and Naeun are best friends who go to the same kindergarten, and I am also best friends with Kyeong-eun." However, even though it was difficult to infiltrate Yoo Jae-seok, he did not give up his ambition as a member of Yoo. Kim Gu-ra said that he hurled harsh words at Ji-hye Lee, who is obsessed with Yu-raen, calling her "the number one person in the expanded interpretation," making people curious about the reason.
As Ji-Hye Lee found out, an unexpected fact about the 'Ma Dong-Seok line(?)' was also revealed. He made a special appearance in the movie 'Apkujeong' starring Ma Dong-seok. Lee Ji-hye expanded her interpretation by saying, "When I met Ma Dong-seok at Lim Hyeong-jun's brother's wedding, (Ma Dong-seok) called me 'our actor.'" On this day, when Lee Ji-hye's acting skills, which were comparable to those of Kang Min-kyung and Jang Su-won, were revealed, everyone was in awe, but Lee Ji-hye steadfastly expressed her desire for acting, saying, "I am Jeon Do-yeon of the fake documentary world."
He memorized the number of views of the guests who appeared on his channel, so he was pointed out by Kim Kook-jin, saying, "People will look like the number of views." Lee Ji-hye appeared on her YouTube channel and revealed an episode that touched her with Lee Hye-young, a 'big man' who sent a video message to her ex-husband Lee Sang-min, saying, "I thought it was the luxury of those who have. "I thought I would spend the rest of my life with this sister," he said, drawing laughter.
Ryu Ye-ji, Ten Asia Reporter ryuperstar@tenasia.co.kr