TV
Kim Sook reveals, "Hyun Joo-yeop, rumors in the entertainment industry are not good"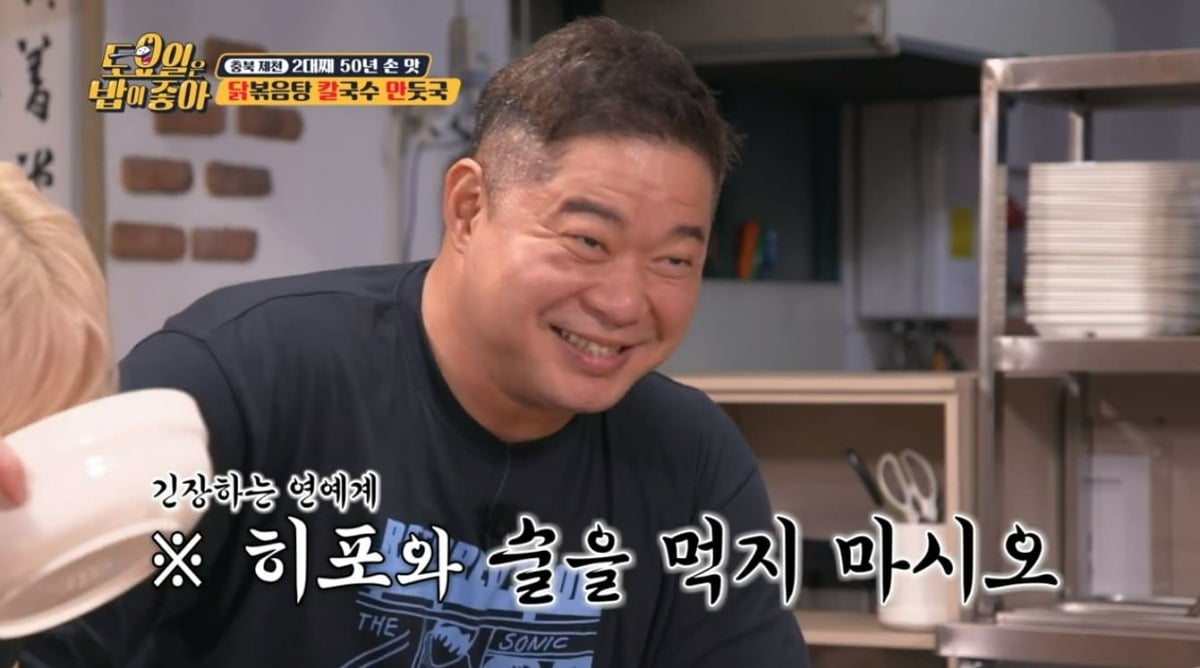 A warning was issued to the entertainment industry due to 'Hippo' Hyun Joo-yeop, who has taken over not only the sports world but also the entertainment industry.
In 'I Like Rice on Saturdays', which aired on the Teacast E channel on the 16th, Tobabs members visited Jecheon, North Chungcheong Province and completed the four flavors of Jecheon.
On this day's broadcast, according to the choice of Hibab, who was selected as the rice guide for the second time in a row, we tasted two dishes: aged pork belly, aged kimchi, deodeok samhap, and fried chicken, kalguksu, and dumpling soup.
In particular, the members were impressed by the rich taste of stir-fried chicken, kalguksu, and dumpling soup, which they had experienced for the first time in their lives. Hyun Joo-yeop, who is particularly sensitive to spicy tastes, ordered some extra kalguksu (noodle soup) and dumpling soup to relieve his fever while eating.
Tobabz sisters and brothers smiled happily as they saw Hibab eating up all the food he ordered. Kim Sook praised her by saying, "You look so pretty when you eat well, it's to die for," and Na-rae Park hinted at her true feelings by saying, "I really want to try drinking with Hibab, but I don't think I can handle it."
Kim Sook asked Hyun Joo-yeop, who had been hosting Tobab with Hibab for a long time, "Have you ever eaten together (with Hibab)?" Hyun Joo-yeop replied, "I only saw them eating. I didn't eat them together." Hyun Joo-yeop, a renowned glutton, is famous for not only eating well but also drinking well.
Kim Sook said, "I've seen a lot of people who couldn't function as human beings because they drank with you," and shared Hippo's incredible story behind the entertainment industry. Kim Sook revealed the true nature of the fearsome Hyun Joo-yeop, saying, "Senior Kim Jun-ho was talking to the telephone pole even the next day."
Following Kim Sook's testimony, Park Na-rae's additional testimony continued. "Senior Kim Jun-ho also drinks a lot among comedians. However, senior Kim Jun-ho said that he was dragged out by two managers after only 30 minutes." Kim Sook, who heard the story, said to Hyun Joo-yeop, who was sitting across from him, "You be careful. There are no rumors in the entertainment industry right now." "Okay," he said, giving harsh advice.
The fun eating show of Hyun Joo-yeop, a 'magic hippo' who eats all foods except the ones he doesn't eat, and Tobabs members can be seen on 'Tobab Likes', which airs every Saturday at 5 PM.
Taeyuna, Ten Asia Reporter youyou@tenasia.co.kr