TV
Following Jeon Hyun-moo, Eom Ki-jun and Yoon Jong-hoon said, "It's not a good idea to get married."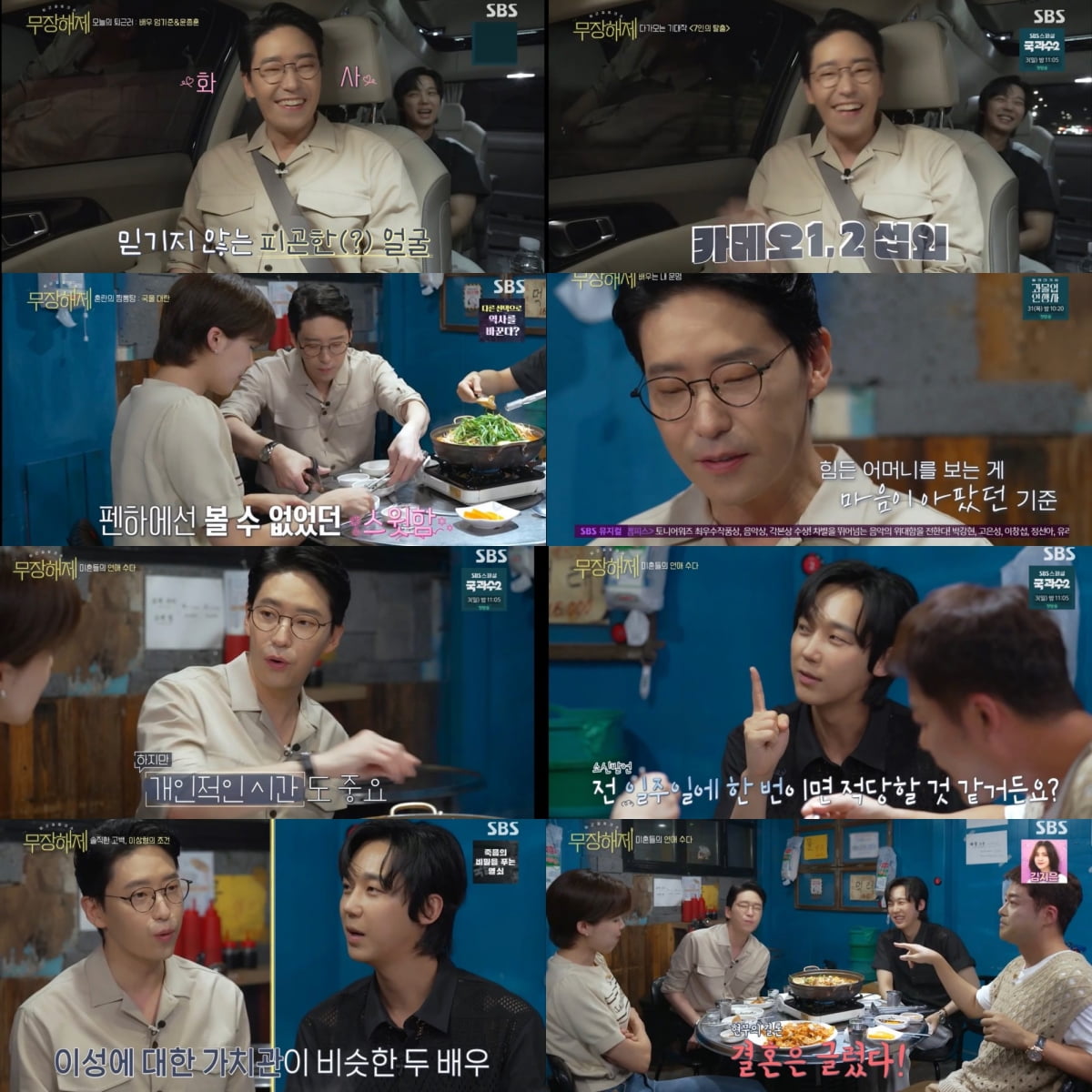 The SBS entertainment show 'Disarmament' decorated its final episode brilliantly with Jeon Hyun-moo and Jang Do-yeon's eloquence and the guests' continued confessions.
In the second episode of 'Disarmament', which aired on the 29th, the chemistry between Jeon Hyun-moo and Jang Do-yeon became even stronger and captivated viewers. With actors Kim Hye-eun, Um Ki-jun, and Yoon Jong-hoon appearing, the two MCs' perfect chemistry disarmed the contestants and led to honest conversations about drama spoilers, confessions of ideal types, and know-how for challenges, increasing interest.
First, Jeon Hyun-moo and Jang Do-yeon met Eom Ki-jun, who had finished the performance, and Yoon Jong-hoon, who had come to see the performance, talked in the car on the way home from work, and went together to Eom Ki-jun's favorite restaurant. At the same time, the two actors, who were filming the drama 'Escape of the Seven' together, succeeded in casting Jeon Hyun-moo, who was a fan of their previous work 'Penthouse', as a special appearance in Season 2, and even Jang Do-yeon happily accepted the invitation. When Yoon Jong-hoon said that the battery lasts for 3 days because he doesn't use his cell phone very much, Jeon Hyun-moo said, 'If it lasts for 3 days, then the only thing that's certain is that you're not in a relationship!' which made everyone burst into laughter and quickly continued with the four people's common topic, 'Marriage Story'. A warm atmosphere was created.
The two MCs who arrived at their favorite restaurant joined forces and immersed themselves in digging up spoilers for the drama 'Escape of the Seven'. Due to Jeon Hyun-moo's skillful reasoning and progress, the two tried to keep quiet as much as possible and received permission from each other to confirm, but little by little, they became disarmed. Um Ki-jun, who, contrary to his image, shines with an easy-going charm, honestly told me about the evolution of his ideal type from Moon Geun-young to Park Bo-young, and said that the reason was because he worked hard at his job.
Jong-Hoon Yoon's ideal type was also someone who did his best at his job. Eom Ki-jun expressed the idea that not only dating, but also spending time with friends is important, and that individual time is also important, but Yoon Jong-hoon went one step further and said that it would be appropriate to meet once a week. In response, Jeon Hyun-moo said, 'Marriage was a bad idea. "I have no desire to meet someone," he said, eliciting sympathy and laughter.
Even though acting is not his major, Eom Ki-jun started acting and has been immersed in it for over 20 years, saying, "I don't think I can do anything else other than this," and "because it's fun," he expressed his strong passion. Also, his father passed away early and he contemplated giving up acting and staying in the military to help his mother, who runs the business alone, but his eyes got red as he recalled the difficult times he overcame with his mother's support.
Eom Ki-jun mentioned 'the same consideration even outside of the angle' as Yoon Jong-hoon's strength, and Yoon Jong-hoon said, 'Ki-jun is a person I want to be like in terms of acting and humanity,' and even thought, 'It would have been nice if I had met my brother earlier' on a reality entertainment show. He confessed that he had tears in his eyes. The scene was filled with emotion as Um Ki-jun showed a strong bromance, wiping away tears at Yoon Jong-hoon's sincere words, and even the MC was disarmed by the honest and easy-going appearance of the two, leaving a lingering impression that the story continued even after the recording.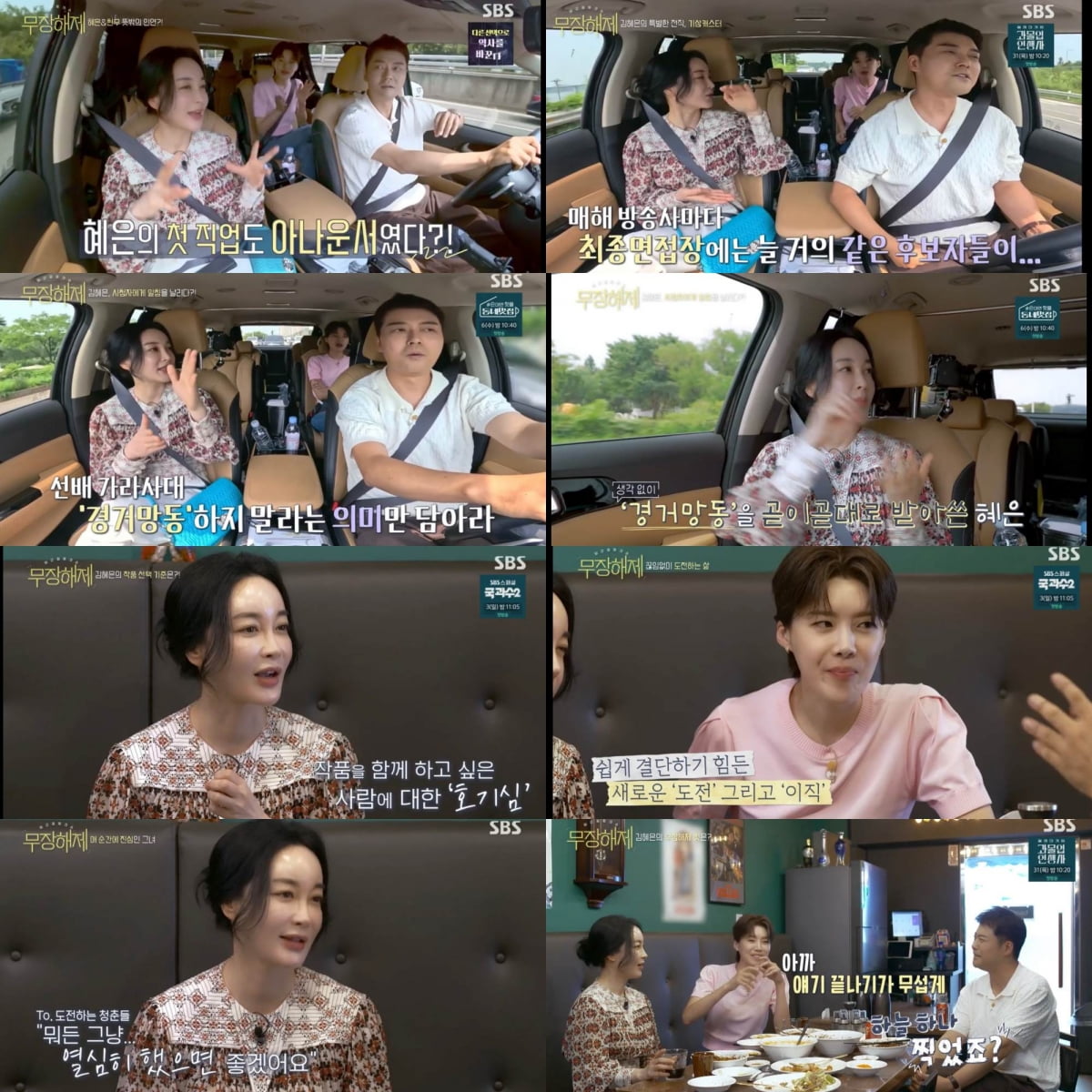 The next guest we met was Kim Hye-eun, a professional who works across broadcasting, dramas, and movies. The group headed to Yongdap Market, where their favorite restaurant is located, in Kim Hye-eun's schedule vehicle, which was the car she left work for that day. Although she did not remember Jeon Hyun-moo in particular, Kim Hye-eun remembered Jeon Hyeon-moo, a student from when she was an instructor at the Announcer Academy, and talked about his concerns back then and was happy about how he is now. did.
The talk, which started with the relationship between Jeon Hyun-moo and Kim Hye-eun, continued with announcer Jeon Hyun-moo's empathy and stories of mistakes, who knew the earnestness of the process until she was hired as a weather caster. Hye-eun Kim was in her fourth year at the company and was addicted to mannerisms when she happened to appear in a drama set in a newsroom and had fun with it. After graduating from the vocal department, her acting career began in earnest as she perfectly played the role of the daughter-in-law of a vocalist in 'Madam Ahyeon-dong'. It is said that she even showed a passion for learning acting by staying with women in the industry.
We finally arrived at a Chinese restaurant, and the conversation began with the topic of changing jobs. In response to Jang Do-yeon's question, Jeon Hyun-moo drew sympathy from the guests by even sharing the advice of Kim Gura and Kim Kook-jin, who helped him during his free declaration. Jeon Hyeon-moo said that he had never regretted changing jobs until now, while Kim Hye-eun said that those days of wandering and changing jobs were very difficult.
When asked to give advice on challenges that require bold decisions and job changes, Kim Hye-eun did her best, saying, 'It was not a big goal, but the worries I had while working hard every day, and vocal music was the connecting force that made me a weathercaster and that experience make me an actor.' He said that all the time has created the present, creating a deep emotion. Eventually, a consensus was reached and the three disarmed set off for home, promising to meet again.
Taeyuna, Ten Asia Reporter youyou@tenasia.co.kr