TV
Shin Dong-yeop danced for the first time in the history of 'an Immortal Masterpiec'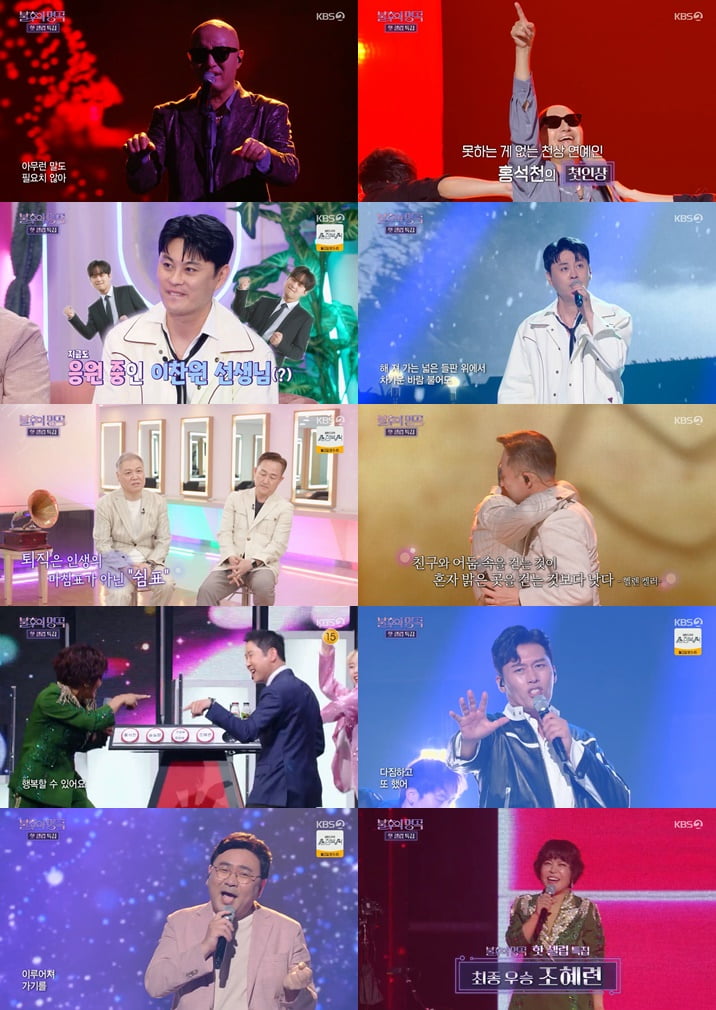 'Immortal Song' Jo Hye-ryun won the championship trophy in 'Hot Celebrity Special'.
According to Nielsen Korea, an audience rating research institute, episode 621 of 'Immortal Song' recorded an audience rating of 6.0% nationwide and 5.3% in the metropolitan area, continuing to rank first in viewership ratings at the same time. This is a record of 36 consecutive weeks at No.
KBS2's 'Immortal Song', which aired on the 26th, was decorated with a 'Hot Celeb Special', and Hong Seok-cheon, Song Sil-jang (Song Seong-ho), Kwon Il-yong & Pyo Chang-won, Jo Hye-ryun, Kim Il-joong, and Park Ji-hoon took the stage in turn and reinterpreted the famous song in a different way. unfolded the stage.
First, Hong Seok-cheon became the first runner of the contest with Kim Gun-mo's 'first impression'. At the beginning of the stage, Hong Seok-cheon attracted attention with his voice alone. The performance was added to the stage arranged in an intense tango style, and a stage with a high level of perfection was unfolded. Even Hong Seok-man's witty charm was successfully captured and received applause. Regarding this stage, Park Hyun-bin couldn't help but admire it, saying, "It was a stage that only Hong Seok could do." Kwon Il-yong said, "The stage with the narrative was like watching a drama."
On the second stage, Chief Song (Song Seong-ho) was called. Siljang Song, who is about to debut as a trot singer, said, "I'm confused" and selected YB's 'Letting You Go'. Chief Song attracted attention by singing a song soaked in emotion. He drew attention by digesting a difficult rock ballad song with his own color. The sincerity of Chief Song, who approached the stage with his eyes closed, penetrated his heart. Kim Jun-hyun paid attention to his singing ability beyond expectations, saying, "Everyone took their backs off their chairs when the song started." Hong Seok-cheon beat Song Sil-jang and succeeded in winning one.
Kwon Il-yong & Pyo Chang-won took the third stage and sang Lee Mun-se's 'Old Love'. Kwon Il-yong said, "I will hold back even if I cry in the middle," and started singing while holding the microphone with both hands. Each line of the song, which was filled with sincerity, touched my heartstrings. Pyo Chang-won filled the song by inducing a response from the audience. The warm embrace of the two people who finished the song touched me. Kim Jun-hyun admired the stage that relied on each other, saying, "How many rough things must have happened to the two of you in the past." Hong Seok-cheon beat Kwon Il-yong & Pyo Chang-won once again and won 2 wins.
On the fourth stage, Cho Hye-ryun met the audience with Jeong Su-ra's 'Joy'. Cho Hye-ryeon showed off a fun dance version of 'Hwanhee' with a performance added. Cho Hye-ryeon dominated the stage with her unique energy. In particular, Cho Hye-ryun summoned MC Shin Dong-yeop and gave him pleasure with a surprise event of dancing together. In the middle of the stage, 'Anakana' was inserted to add to the excitement. Kim Joon-hyun was surprised, saying, "It's the first time I've seen Shin Dong-yeop dance in the 12-year history of 'Immortal'." Park Ji-hoon said, "It's amazing that the pitch doesn't fluctuate in that rhythm," and Kim Il-joong sternly said, "If it's this powerful, we can't win." Cho Hye-ryun blocked Hong Seok-cheon's 3 wins and won 1 win.
Kim Il-jung took over the baton with a 'commitment'. Kim Il-joong, who was determined to counter Hye-ryun Cho's performance with a performance, went on stage with the determination to show off his presence as the first solo stage of 'Immortal'. Kim Il-joong raised the heat by digesting the song along with the dance. The bike performance in the middle of the stage gave joy to the audience. Kim Il-jung burned his body to the end and unfolded the stage with all his body. Kim Joon-hyun applauded, saying, "The heat on stage was amazing, and it was nice to see them do their best until the end." Cho Hye-ryun succeeded in winning two wins over Kim Il-jung.
In the finale, Park Ji-hoon was called. Park Ji-hoon, who made an extraordinary selection of songs with 'Never Ending Story', captured attention from the beginning with his high-quality singing ability and beautiful voice. Park Ji-hoon enjoyed the stage without tension and pulled out a high note with a relaxed look, which aroused surprise. In particular, he was applauded for his ability to maintain a long breath in the second half of the treble. Kim Jun-hyun said, "It was the happiest expression among those who stood on stage this year. It was so pretty," he said. Kwon Il-yong, who saw Park Ji-hoon as his competitor, said, "I learned a lesson that you shouldn't judge people by their appearance."
Cho Hye-ryeon took the championship trophy with her 3 wins. Jo Hye-ryeon showed joy by raising her hand. MC Shin Dong-yeop, who made the stage bright together, handed the trophy and enjoyed the glory of winning.
This 'Hot Celebrity Special' was a time for celebrities who had established themselves in their fields to reinterpret the stage with their own colors. The stage of Kwon Il-yong & Pyo Chang-won, who have been friends for 24 years, was deeply moved by the friendship and trust of the two people over the years, and Park Ji-hoon, a lawyer, also showed off his outstanding singing skills, leaving a strong impression on the viewers.
Jiye Choi, staff reporter at TenAsia wisdomart@tenasia.co.kr