TV
'Escape of the Seven' Yoon Jong-hoon, the melodrama is so earnest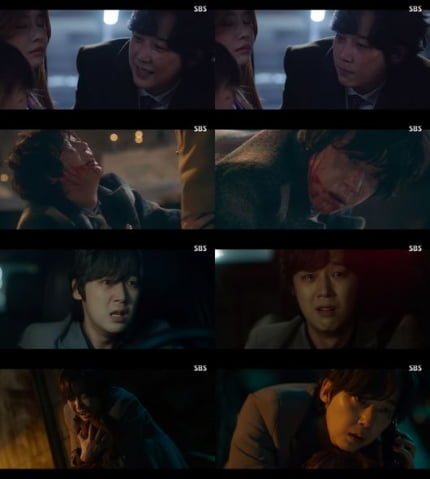 Actor Yoon Jong-hoon showed the essence of desperate romance.
In the SBS Friday-Saturday drama 'Escape of the Seven' (written by Kim Soon-ok, directed by Joo Dong-min and Oh Jun-hyuk, produced by Chorokbaem Media and Studio S), which aired on the 10th and 11th, Yoon Jong-hoon completely melted into the role of Yang Jin-mo, who struggles to protect his loved ones, showing off his strong appeal. He showed tears in his acting.
In the last broadcast, Yoon Jong-hoon portrayed Yang Jin-mo's heartbreaking romance, which was quite different from the beginning of the drama, making it impossible to take one's eyes off. He chose to leave Noh Paeng-hee (Han Bo-reum) and Noh Hanna (Shim Ji-yu), who were attacked by Matthew Lee (Eom Ki-jun), in order to save them. He then touched the hearts of viewers by holding back tears, maximizing their immersion.
The moment where Yoon Jong-hoon's acting shined was the scene where he prayed to Matthew to protect Noh Paeng-hee. Even though he was being beaten by Matthew, he begged, saying, 'If only Noh Paeng-hee were spared, I would turn into a dog and a pig.' This scene, which contains the passionate performance of Yoon Jong-hoon, who does not spare his body, was enough to leave a strong impression by fully capturing the character's earnestness.
Yoon Jong-hoon's emotional performance, which even resonated with viewers, reached its peak in last week's broadcast. Yang Jin-mo sensed anxiety in the phone call from Noh Paeng-hee, who confessed her true feelings to him, and after realizing that it was the last time before she died, she cried out desperately, stimulating the tear glands of those watching. In particular, Yoon Jong-hoon conveyed the feelings of Yang Jin-mo, who awakened with a more changed look, raising expectations for the story to unfold in the future.
Yoon Jong-hoon is attracting attention with his unrivaled pure love and delicate emotional acting in 'Escape of the Seven', where the story continues to be provocative and beyond imagination in every episode. He does not hesitate to manipulate and instigate Yang Jin-mo, but he gives his all in front of Noh Paeng-hee, expressing the two sides of Yang Jin-mo through detailed acting, bringing life to the character.
Meanwhile, the SBS drama 'Escape of the Seven', in which Yoon Jong-hoon's sorrowful emotions stand out, has only the final episode of Season 1 left.
Ryu Ye-ji, Ten Asia Reporter ryuperstar@tenasia.co.kr