TV
Kim Jun-ho was attacked on a train in Laos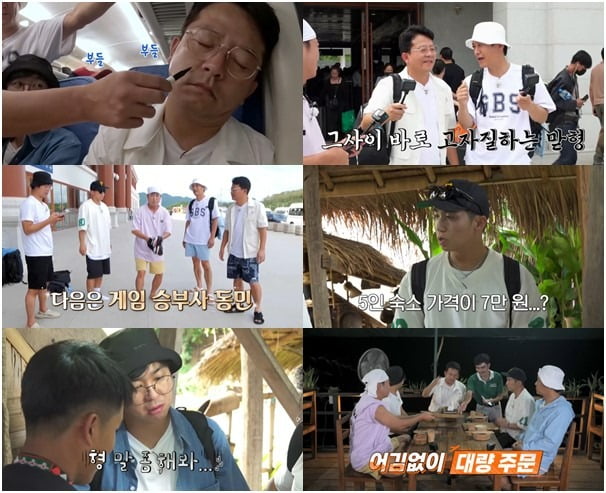 Kim Jun-ho was suddenly attacked by a 'marking pen terrorist' on a train.
In the 14th episode of Channel S, MBN, and Lifetime's entertainment program 'Nidonnaesan Dogbak Tour', which will be broadcast on the 11th, 'Dogbagz' Kim Dae-hee, Kim Jun-ho, Jang Dong-min, Yoo Se-yoon, and Hong In-gyu, who left for Laos, visit 'Luang Prabang,' where the entire city has been designated as a UNESCO heritage site. The scene of the second day of the trip to ' unfolds.
On the first day in Laos, 'Dogbagz', who had a thrilling water play and local sauna experience at the Blue Lagoon located in 'Vang Vieng', stayed for a day at the accommodation booked by Daehee Kim and headed to Luang Prabang the next day. While traveling by train, 'Dog Boxz' becomes playful and carries out a 'marking pen terror' on the face of Kim Jun-ho, who is sleeping soundly in his seat. One by one, they take turns drawing wrinkles and beards on Kim Jun-ho's face with a felt-tip pen, and as Jang Dong-min's brush strokes become more and more bold, they even 'cover their mouths' and do the 'Laughing Challenge.'
Not long after, the five people arrived in Luang Prabang and as soon as they saw the nature-friendly accommodation with 'paddy field views' on all sides, they complained to Kim Jun-ho, the 'reserver'. Moreover, the price of accommodation for 5 people here is about 70,000 won, which is refreshing. In particular, 'Dogbagz' was surprised to be able to make and drink sugarcane juice, a 'welcome drink', on his own even at a low price, and those who tasted it immediately exclaimed, "It's delicious," melting away their anger. Furthermore, Kim Jun-ho praised himself, saying, "This is a true pool villa!" and made a salty laugh.
Everyone is satisfied with the 'cost-effective' accommodation and completes the room assignment, but Kim Jun-ho, who is in danger of being singled out the most, calls out his roommate Kim Dae-hee and quietly throws a tantrum. Kim Jun-ho said, "Based on the current poison score, Dong-min should be caught," and launched the operation to 'make Jang Dong-min 4 poisons.' After a secret transaction, 'Dogbox' moves to the night market, which is the main course of the trip. However, due to the sudden heavy rain, Kim Jun-ho lamented, "The day I go is market day," and Jang Dong-min and Hong In-gyu asked, "Is our accommodation okay? "I must have floated away," he said, stamping his feet. Attention is being paid to whether 'Dogbox', who are facing an unprecedented emergency, will be able to continue their trip safely, and whether Kim Jun-ho will succeed in 'making Jang Dong-min's 4th dog' as planned.
The 14th episode of the travel entertainment show 'Nidonnaesan Dokbak Tour', in which five 'comedians Jinchin' pay all travel expenses with their own money through a solo game, will be broadcast at 8:20 pm on the same day.
Taeyuna, Ten Asia Reporter youyou@tenasia.co.kr