TV
"We won't tolerate even a single drop" Oh Eun-young's 'Alcohol Hell' poster released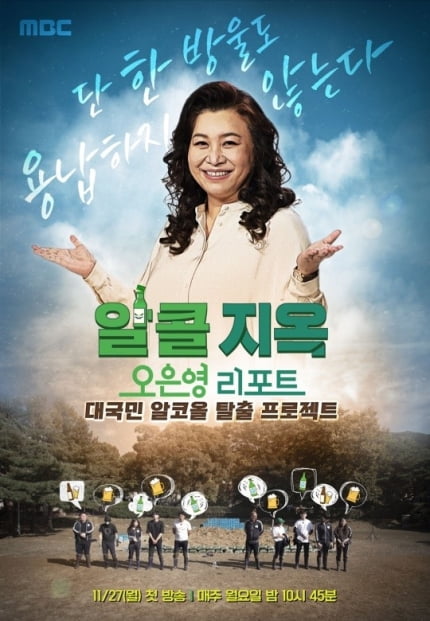 MBC's 'Oh Eun-young Report - Alcohol Hell' attracted attention by releasing its main poster.
On the 10th, MBC's 'Oh Eun-young Report - Alcohol Hell' released the main poster for the first time, raising viewers' expectations for the first broadcast.
The main poster for 'Oh Eun-young Report - Alcohol Hell' released this time attracts attention by showing off the majesty of Korea's first public alcohol escape project. In particular, the image of psychiatry specialist Dr. Oh Eun-young, who fills the poster, makes us look forward to the strong performance he will show in this program.
In addition, the intense and solemn head copy, "Not a single drop will be tolerated," stimulates curiosity about the 7-night, 8-day abstinence hell camp. At the abstinence hell camp of 'Oh Eun-young Report - Alcohol Hell', a difficult mission to abstain from drinking is held. I am looking forward to the live broadcast to see what kind of mission awaits me in this alcohol-free survival of 'Alcohol Hell', where not a single drop of alcohol is tolerated.
In addition, the 10 participants who were finally selected out of a total of 800 applicants for stories also attract attention. What special stories would the participants have been selected for? Among them, expectations are growing as to who will be the one person who will overcome various temptations, escape from alcohol hell, and win the largest ever drinking ban.
Meanwhile, 'Alcohol Hell' is a spin-off program of 'Marriage Hell', in which Dr. Oh Eun-young and the production team of 'Oh Eun-young Report' have teamed up once again. Along with Dr. Eun-young Oh, Professor Seong-won Noh of Hanyang University Hospital, Professor Chang-woo Han of Ilsan Myongji Hospital, and Professor Jang-rae Kim of the National Medical Center, who are experts on alcohol issues in Korea, joined the group. It will be broadcast for the first time at 10:45 pm on the 27th.
Ryu Yae-ji, Ten Asia Reporter ryuperstar@tenasia.co.kr