TV
Shinhwa Kim Dong-wan, pink with a female doctor 11 years younger than him

Kim Dong-wan, who went on a blind date for the first time in 16 years, succeeded in exchanging phone numbers with a beautiful female doctor.
In the 89th episode of Channel A's entertainment program 'Man's Life These Days - Groom's Class (hereinafter referred to as 'Groom's Class')', which aired on the 8th, Shim Hyung-tak and Saya visited Han Go-eun and Shin Young-soo's house and gave them gifts of gratitude and even confessed their concerns. Kim Dong-wan and dermatologist Yoo Ju-yeon went on a blind date at a 'Korean Omakase' restaurant and naturally exchanged phone numbers.
Shim Hyeong-tak and Saya, who had previously invited Han Go-eun and Shin Young-soo to their newlywed home, returned their visit this time to express their gratitude. In particular, for Han Go-eun, who gave the congratulatory speech at the wedding, Saya presented a cutting board with the two people drawn on it. Han Go-eun was thrilled and said, "It's such a waste, how can I use this?" and Shim Hyung-tak thanked me again, saying, "30% of our wedding share goes to my sister."
After a while, Han Go-eun sent the two men on an errand to the supermarket. Afterwards, he gave the spicy beef radish soup recipe to Saya. During a short break, the two talked about married life. At this time, Han Go-eun said, "It only took three months from meeting to marriage, so we never had a fight, but it was our first fight as a couple after getting married. "I was so disappointed (with my husband) at that time," she said, surprising everyone. When asked why Saya cautiously fought, Han Go-eun said, "My husband went out for a drinking date, but he didn't answer the phone. So I scolded him a bit. "It won't happen again after that," he said.
Saya strongly sympathized with this and said, "My husband also returned home early in the morning without answering the phone even though it was past midnight (while drinking). "At times like that, I get really worried," he confessed. In response to Saya's concerns, Han Go-eun said, "Let's bet cash. If you go out drinking and can't make contact, get a fine of 100,000 won per minute. Instead, he suggested a solution: "If you think you will be late, please contact us in advance and let us know that you will be late, and we will take care of it at that time." Saya applauded, saying, "Then I think the waiting time will be fun."
After the heartwarming solution, Han Go-eun showed the warmth of a real sister by handing over the side dishes that her mother-in-law had prepared for Saya in advance. On the other hand, Shim Hyeong-tak and Shin Young-soo, who had been running errands, were late returning home because they were playing at the arcade, and eventually received a warning from Han Go-eun. Shim Hyeong-tak, who belatedly saw Han Go-eun and Saya talking about their drinking habits in the studio, pledged, "I will never leave the table from now on."
When the two husbands returned, Han Go-eun prepared a table for 12 people and treated them to a huge meal. While eating a delicious meal, Shim Hyung-tak expressed his gratitude to his wife and in-laws, saying, "This is the first time I feel like a family since I got married." He then said, "I was so surprised that Go Eun paid for our wedding reception," and released a heartwarming story. Then, Han Go-eun mentioned Shim Hyeong-tak's 'no contact' drinking habit, which Saya was concerned about. In the end, a lie detector was used to reveal the truth about Shim Hyung-tak's 'coming home at 4 a.m.', making people laugh.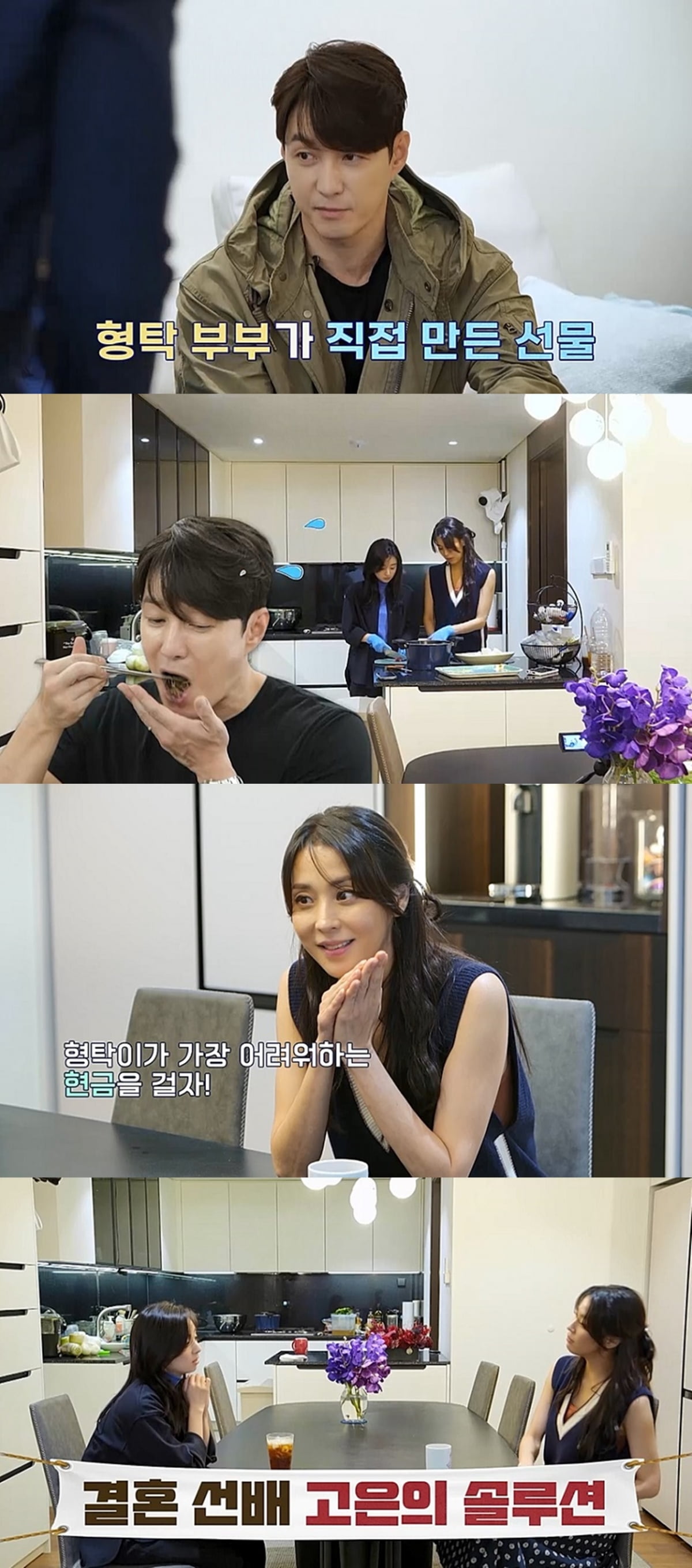 Kim Dong-wan, who previously went on a blind date with the beautiful dermatologist Joo-yeon Yoo for the first time in 16 years, applied for an after-sales service, saying, "I made a reservation at a restaurant. Let's go eat." Joo-yeon Yoo readily replied, "Good," and the two went to a 'Korean Omakase' restaurant run by an acquaintance of Dong-wan Kim. Here, Kim Dong-wan showed kindness by continuously filling Yoo Joo-yeon's teacup, while continuing to lead the conversation and repeatedly complimenting her, making the atmosphere sweeter. He also got up from his seat, took off his jacket, and suddenly went into the kitchen, saying, "I'm going to go to the bathroom for a moment." It turned out that he had prepared an event to make abalone pot rice for Yoo Ju-yeon, who lives alone and does not have time to cook.
However, Kim Dong-wan took a spoonful of the finished abalone pot rice and brought it to Yoo Joo-yeon's mouth, then immediately broke the mood by saying, "Lift up (the spoon)." Despite Kim Dong-wan's grumbling appearance, Yoo Ju-yeon smiled brightly and praised him, saying, "It was the most delicious thing I ate today." At the end of the blind date, he said, "You were so sweet today," giving off the nuance that Kim Dong-wan fits the 'friendly man' ideal type that he revealed earlier. With this momentum, Kim Dong-wan asked for his phone number, and they even succeeded in exchanging numbers.
Taeyuna, Ten Asia Reporter youyou@tenasia.co.kr