TV
Jung Yu-min, who broke off her engagement, sleeps with Seong-hoon in a hotel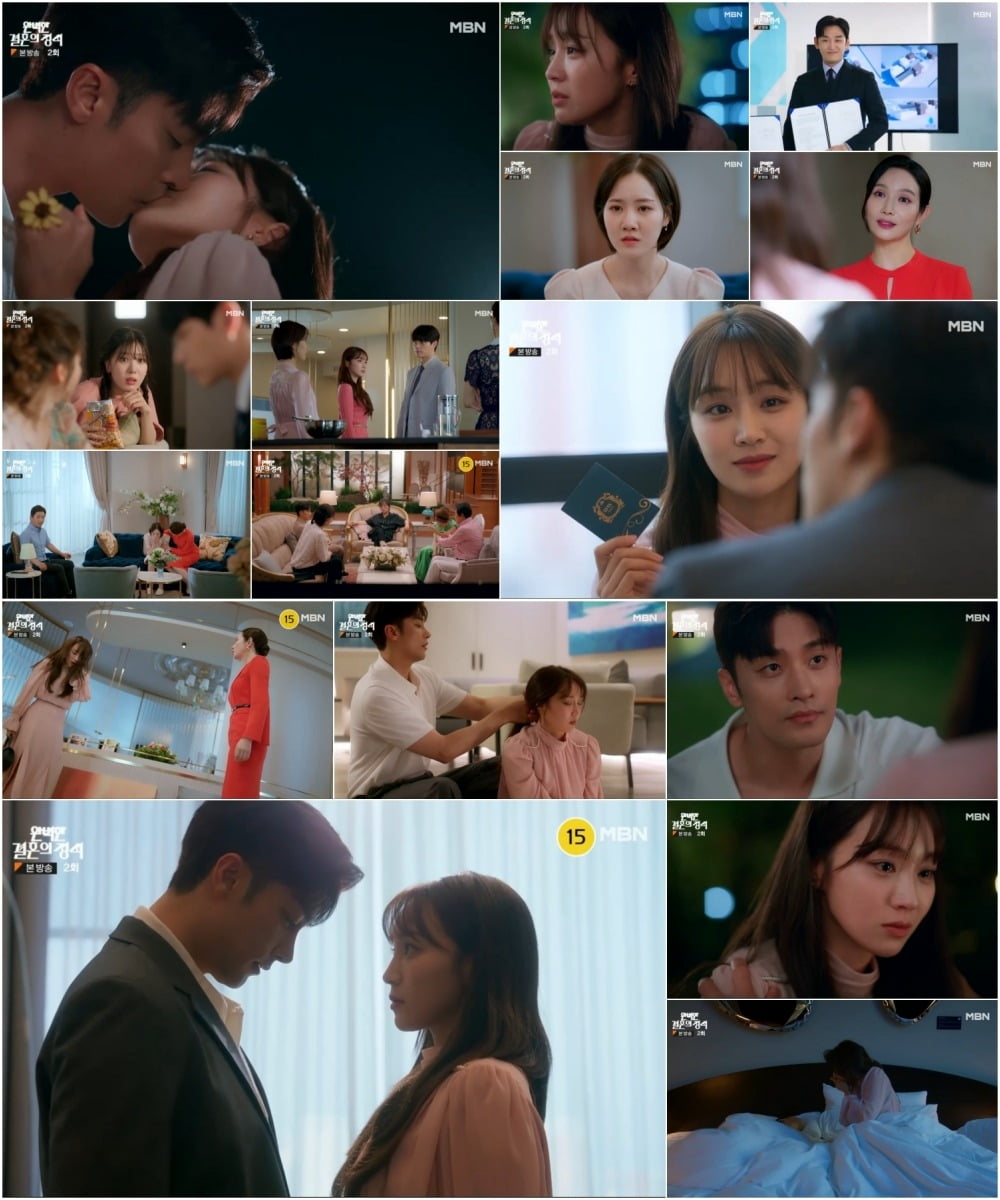 Sung Hoon and Jung Yoo Min opened the prelude to their contract marriage with a flower ring proposal and an aggressive kiss.
In episode 2 of MBN's new weekend mini-series 'The Perfect Marriage', which aired on the 29th, Han Yi-ju (Jung Yu-min) visits Seo Do-guk (Sung Hoon), whom Han Yu-ra (Jin Ji-hee) likes, for revenge and proposes a contract marriage, and then threatens the family. It contains the story of an exciting union with Seo Do-guk after suffering severe persecution.
In the play, Han Yi-joo, who had broken off the engagement with Yoo Se-hyuk (Oh Seung-yoon), heard that her stepmother Lee Jeong-hye (Lee Min-young) and Han Yu-ra were trying to hasten marriage talks with Seo Do-guk. I found out the time and place where Seo Do-guk was supposed to meet. Han Yu-ra, who met Seo Do-guk before Han Yu-ra, made a surprising proposal, "How about getting married with me instead of Yu-ra?", and Seo Do-guk immediately gave Han Lee-ju a hotel key in response to the sudden proposal. Han Yi-ju was embarrassed, but the moment Seo Do-guk said, "I think it's okay to risk your future with a woman who makes you use this on your first meeting," Han Yu-ra appeared, picked up the card key, and locked arms with Seo Do-guk in the hotel room. It made Han Yu-ra angry.
Contrary to expectations, Han Yi-ju arrived at a hotel room decorated as a studio and was relieved, but when Han Yu-ra contacted her and said she would wait until she came out, she offered Seo Do-guk to stay the night. When Seo Do-guk provoked him by saying, "I have no intention of sleeping," Han Lee-joo also responded with a bold response, "Why don't you try tempting me?" and made Seo Do-guk smile. Seo Do-guk tied up the drunk Han Yi-ju's hair and felt sorry for the delicate Han Yi-ju. Han Yi-ju confessed about her meaningless life and fell asleep. The next morning, when Han Yi-ju wakes up and finds Seo Do-guk sleeping next to him, he is startled and runs out of the hotel. Seo Do-guk, who wakes up, laughs at Han Yi-ju's behavior of leaving a 50,000 won bill and a note asking him to buy breakfast. It exploded.
Arriving home, Han Yi-ju was slapped by Lee Jeong-hye, and her father Han Jin-woong (Jeon No-min) ignored her will to break off the engagement. In the end, Han Yi-ju, who was locked in a room like she was a child, was disheartened to hear that the Prince Group had blocked the scandalous article with Seo Do-guk that she had requested. At this time, Lee Jeong-hye's secretary took away Han Yi-ju's cell phone and handed her two pills, and Han Yi-ju, who pretended to take the pills, secretly spit them out, revealing an unhappy life that no one could trust.
Meanwhile, Seo Do-guk, who went to the Crown Prince Group's home, announced his marriage and did not break his decision despite his family's opposition. When Seo Do-guk received a call from Han Yi-joo asking him to come to the rescue, despite his mother Cha Yeon-hwa's (Lee Mi-sook) dissuasion, Seo Do-guk moved forward, saying, "I can't pretend not to know that someone who might become my woman is in danger, right?" And just as Han Yi-ju heard Lee Jeong-hye's harsh words, "What kind of man would love a child who was abandoned by his own mother?", Seo Do-guk appeared and announced his intention to marry Han Yi-ju in front of Han Yi-ju's family. Seo Do-guk said to Han Yu-ra, who questioned the period of time they had met, "That's what happens when you meet a fateful person," while to Lee Jeong-hye, "I will protect Lee Joo," he said, freezing everyone.
Han Yi-ju sat across from Seo Do-guk, who had helped her escape, at a high-end restaurant, but could not eat a single bite of food. Seo Do-guk, who usually only eats sealed convenience store food, held Han Yi-ju's hand and went out to the park and laid out convenience store food. Han Yi-joo confessed to the trauma of having poisoned her food with a housekeeper she was close to in the past, and expressed her doubts about her family. She burst into tears, saying, "I want revenge on the people who made me like this." Seo Do-guk, who made a flower ring for Han Lee-joo from a flower next to the park and proposed to him by saying, "Let's get married, Lee Joo-ah," became stiff when Han Lee-joo suddenly kissed him, who opened his arms and told him to show it with his actions. Lastly, Seo Do-guk heightened excitement and expectations with the 'rush kiss scene ending', in which he gives a deep kiss to Han Lee-joo, who asks, "Wasn't it this?" along with the words, "That's not enough."
'The Perfect Marriage' airs every Saturday and Sunday at 9:50 PM.
Taeyuna, Ten Asia Reporter youyou@tenasia.co.kr