TV
Chan-seong Jeong, "One building in Gangnam = fight money, my wife is rich in cash in Yeoksam-dong"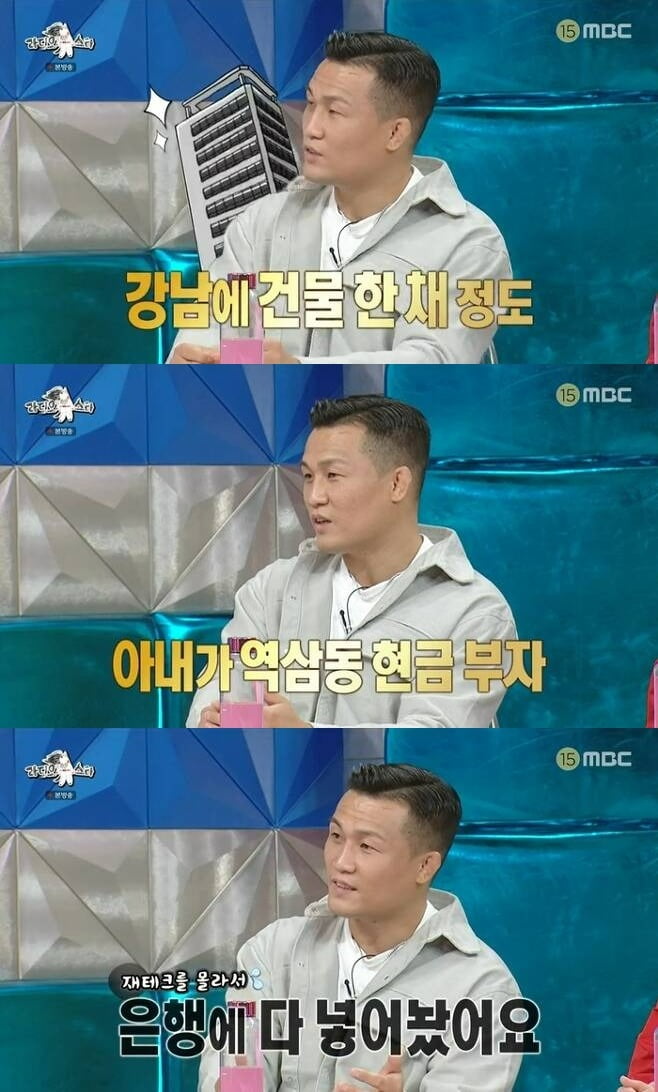 Chan-Sung Jeong revealed the amount of money he spent fighting during his 16-year career.
Jo Hye-ryun, Jeong Chan-sung, Kim Ho-young, and Lee Eun-hyung appeared on MBC's entertainment program 'Radio Star', which aired on the 25th, as a special feature called 'Korean Vitality Zombie'.
Chan-Sung Jeong suddenly announced his retirement after losing by KO in the third round to Max Holloway, the number one ranked featherweight, in the 'UFC Fight Night: Holloway vs. Korean Zombie' contest held at the Singapore Indoor Stadium on August 26.
Regarding the reason for his retirement, he said, "I didn't even think about it originally, but as the game progressed, I felt that my physical condition had changed from before," and "I was mentally fine, but my body's balance kept falling. I did it not once or twice, but all three rounds, so I thought I should stop as soon as it was over. My body didn't listen. "It was sad," he said.
Chan-seong Jeong continued, "If I didn't feel a change, I would try to play one more game regardless of win or loss. If UFC is held in Korea, the sport of mixed martial arts will develop further, and several more new fighters will be signed. I heard that the UFC couldn't come to Korea without me. "I thought I should take responsibility, but it's a shame," he added.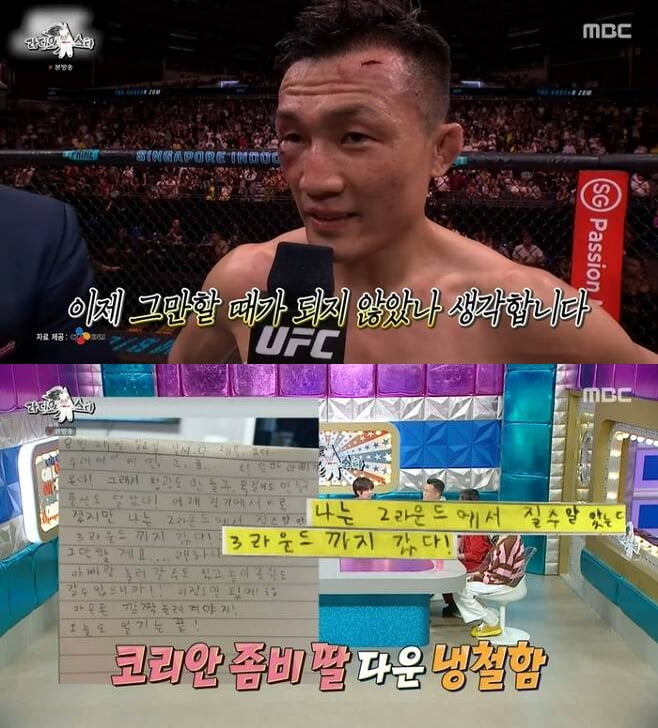 When asked about his wife's reaction after announcing his retirement, Chan-sung Jeong said, "At first, she denied the reality, but after analyzing the retirement game, she said that you have come a long way and retired well." The eldest daughter was surprised by writing in her diary, "I thought my dad would lose in the second round, but he made it to the third round," and "Now I can hang out with my dad a lot."
He was also honest about the fight money. Chan-seong Jeong said, "I did the calculation and it's like one building in Gangnam. "I think I can make a living comfortably," he said. He said that his wife manages the fight money and said, "My wife is rich in cash in Yeoksam-dong." He said, "I didn't know how to make money, so I put it all in the bank. "My wife can't leave it somewhere," he explained.
Taeyuna, Ten Asia Reporter youyou@tenasia.co.kr