TV
Jeon Jeon-ju, "I lost my first husband to tuberculosis after 3 years, and when I remarried."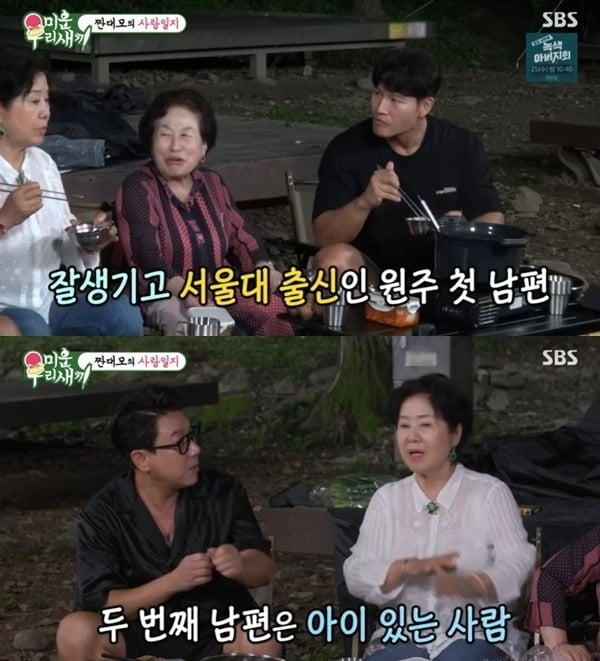 'Salty Godmother' actor Jeon Won-joo opened up about being widowed twice.
The SBS entertainment show 'My Little Old Boy', which aired on the 22nd, continued with the second part of the 'Salty Tour' prepared by Jeon Won-ju to celebrate Seonwoo Yong-yeo's birthday.
Seonwoo Yong-yeo, who arrived at the camping site that Jeon Jeon-ju had reserved as accommodation for a 2-day and 1-night trip, was angry and said, "What are you doing on my birthday? No matter how expensive it is, I can't sleep here." When asked by Sang-min where he gets this information, Jeon Jeon-joo made people laugh by saying, "I know all the cheap places."
On this day, the story of Jeon-joo, who left her husband due to death in both marriages, was also revealed. Jeon Jeon-ju said of her first husband, "I was widowed after three years of marriage. I didn't know I had pulmonary tuberculosis. It was terminal. "I was bleeding while I was sleeping," he recalled. Jeon Won-ju was 31 years old at the time. Seonwoo Yong-yeo said, "My first husband was very handsome. "After graduating from Seoul National University, I was very fond of my older sister," he said.
When Jeon Jeon-ju said, "We were from a noble family," Seonwoo Yong-nyeo said, "My father-in-law was a nobleman, so we had no money. Jeon Jeon-ju's mother gave her money to get married and have a son," he said. When asked by Sang-min what attracted Jeon Jeon-ju when she was young, Jeon Jeon-ju honestly said, "Men don't hate me because my family is rich."

It is said that Jeon Jeon-ju's mother passed on the 100,000 pyeong cemetery project to her husband who remarried. Jeon Jeon-ju said, "We met at a gathering. "I met her three years after my first husband died and we lived together for 20 years," she said. However, Seonwoo Yongnyeo said, "I can't even match half of my first husband. I gave it to my son-in-law to run the Munsan Cemetery project, but I lost it all. "This sister was so crazy about her husband that she didn't even know she had lost her land," she revealed.
Regarding the story of a pastor who lost 100,000 pieces of land because he was crazy in love, Kim Jong-kook said, "It is different from the real image. "I didn't know he was that much of a lover," he said, surprised.
Also, Jeon Jeon-ju, who was obsessed with dancing and frequented cabaret a lot, went to the cabaret to look for her friend's cheating husband, but was unable to overcome her dancing instinct and told the story of being caught by her hair while dancing on stage, destroying the camping site.
Taeyuna, Ten Asia Reporter youyou@tenasia.co.kr