TV
Jin Seo-yeon "Lose 28 kg in 40 days, no starvation diet"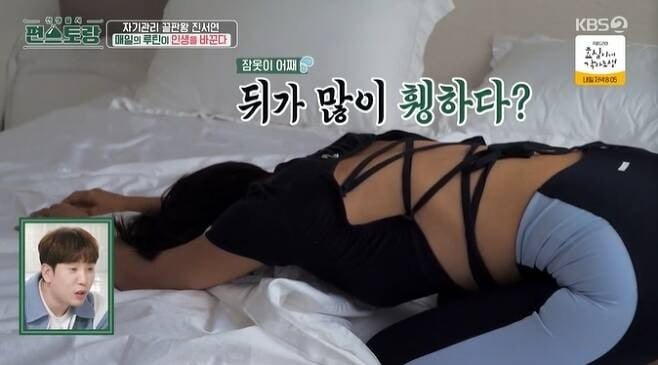 Jin Seo-yeon revealed the ultimate self-care diet.
NEW episode chef Jin Seo-yeon appeared on KBS2's entertainment show 'New Release Edition' (hereinafter referred to as 'Epis Restaurant'), which aired on the 20th. Actress Jin Seo-yeon has the image of a 'strong sister' by exuding unrivaled acting skills and an overwhelming presence through various works. The 'real' Jin Seo-yeon, who was revealed through 'Pyeon Restaurant', was honest, cheerful, and a 'class leader' who liked people. He was also the most hard-working person who consistently followed the routine he had set, even for a single day.
On this day, Jin Seo-yeon surprised everyone with an unprecedented appearance on 'Pyeon Restaurant'. Jin Seo-yeon woke up to the sound of an alarm early in the morning and coolly exposed her backside. It turned out that I was worried that I might not want to go to the gym, so I went to bed wearing my workout clothes so that I could go to the gym as soon as I woke up. Jin Seo-yeon, who woke up like that, warmed up with some cool stretching and came down to the living room.
Accordingly, Jin Seo-yeon's house was revealed. This place boasts a clean and sophisticated interior, including an open living room with a view of the yard, unique props, and a dining table for 10 people in a white-toned kitchen. This is the Jeju house that Jin Seo-yeon recently moved to. Then Jin Seo-yeon's morning routine began. Jin Seo-yeon had a meditation time after drinking 'Eumyangtang', a mixture of cold and warm water. Jin Seo-yeon's extraordinary aura was met with admiration, saying, "It's like a scene from a movie."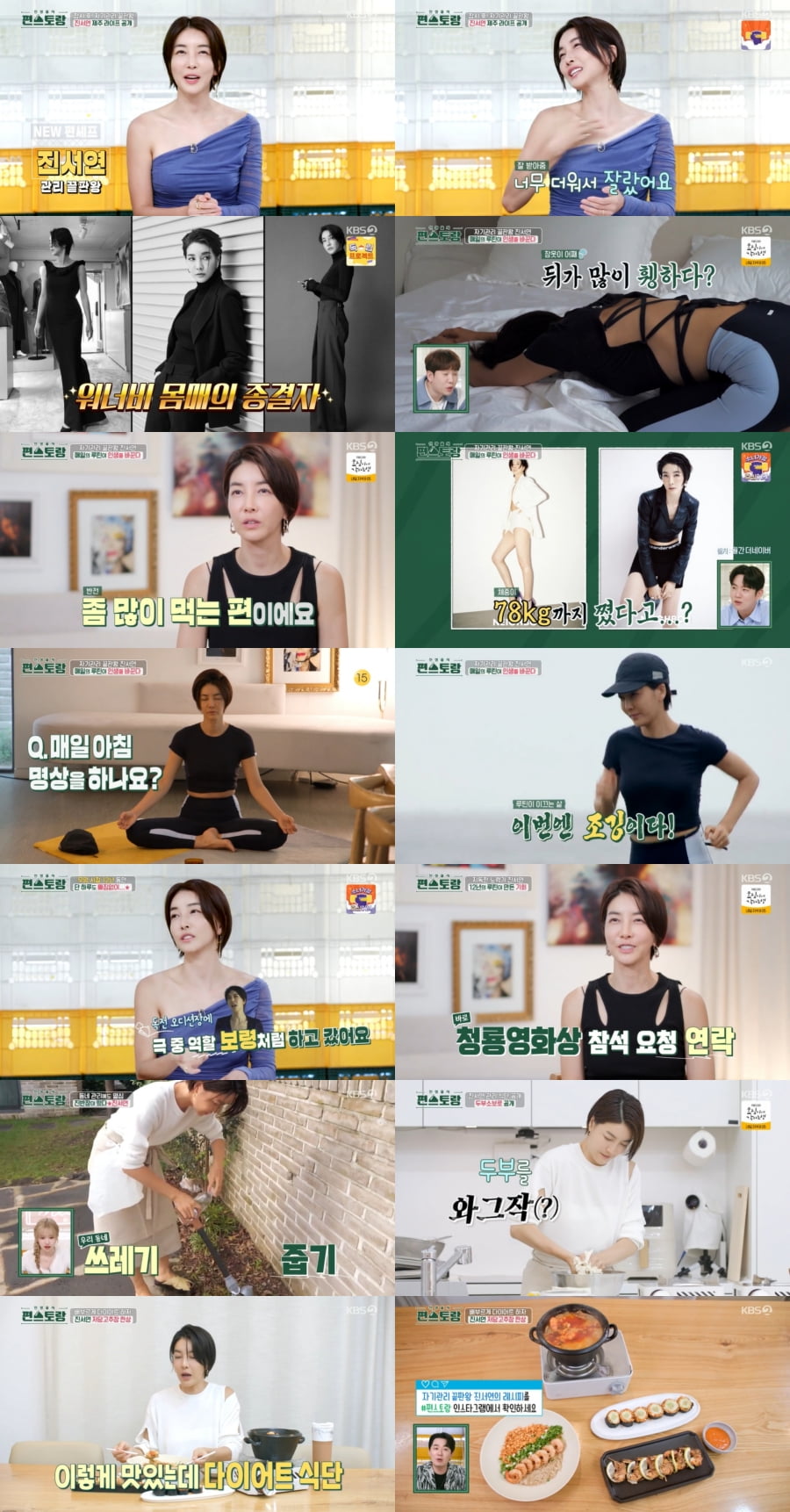 Jin Seo-yeon's morning routine continued. Jin Seo-yeon ran coolly with Sanbangsan Mountain and the blue sea of Jeju in the background. Jin Seo-yeon said, "If I'm not filming, I exercise for 4 hours a day. When I'm working, my weight is 48-49kg, and when I'm not working, I weigh 53kg. "I live a healthy life because I have gained weight through routine." After finishing the jog, Jin Seo-yeon had another meditation time outdoors. Jin Seo-yeon said, "I really like myself. "You are so strong and pretty," she shouted, bracing herself.
Jin Seo-yeon then returned home and started cooking a lot of delicious diet dishes. Jin Seo-yeon, known as the king of self-management in the entertainment industry, is famous for having a wannabe body built through various exercises. Jin Seo-yeon said, "I have a really big appetite. During pregnancy, I gained 28kg and weighed 78kg. I lost 28 kg in 40 days. "I planned the entire menu at that time," he said. Also, "You can't go on a starvation diet. What you eat is important. "So, I started researching things that I could eat healthily, deliciously, and in large quantities," he added.
Jin Seo-yeon's ultimate self-management diet, which was then revealed, was so surprising that one wondered, "Can you lose weight by eating like this?" German noodles filled with vegetables that my husband and I often ate when we lived in Berlin, Germany, whole cucumber kimbap, soboro rice bowl made with tofu instead of meat, shrimp rolls that we eat when we want fried shrimp, and spicy and spicy soft tofu boiled with homemade low-sugar red pepper paste. Even stew. It was the result of Jin Seo-yeon's hard work and research.
Jin Seo-yeon's daily life on this day was filled with thorough 'routines'. Exercise and diet. Jin Seo-yeon lived in obscurity for 12 years, but she practiced pronunciation and monologue as a daily routine. Jin Seo-yeon, who kept a routine out of fear of not being able to seize the opportunity when it came to her, decided to retire from acting after the movie 'Solo Battle', which she played endlessly, and left for Berlin, Germany with her husband. Seo-yeon Jin did a variety of research to realistically portray the role of Bo-ryeong, a drug addict in 'Dogjeon', and even incorporated yoga movements herself. Afterwards, Jin Seo-yeon returned to Korea as 'Solo Battle' received rave reviews, and she has been actively working as an actress ever since.
Jin Seo-yeon's 'Teacher Jin' side was also revealed. Jin Seo-yeon created a group chat room for the new neighborhood she moved into and was also involved in a trash-picking group. On this day, I naturally came out and picked up trash in the neighborhood. In addition, she said that she took strict care for her sisters who wanted to diet, and that the sisters actually succeeded in losing 12 kg. Accordingly, Hanhae and Nam Changhee volunteered to be managed.
Taeyuna, Ten Asia Reporter youyou@tenasia.co.kr