TV
"Discord arose" BTS V exposes cracks within the team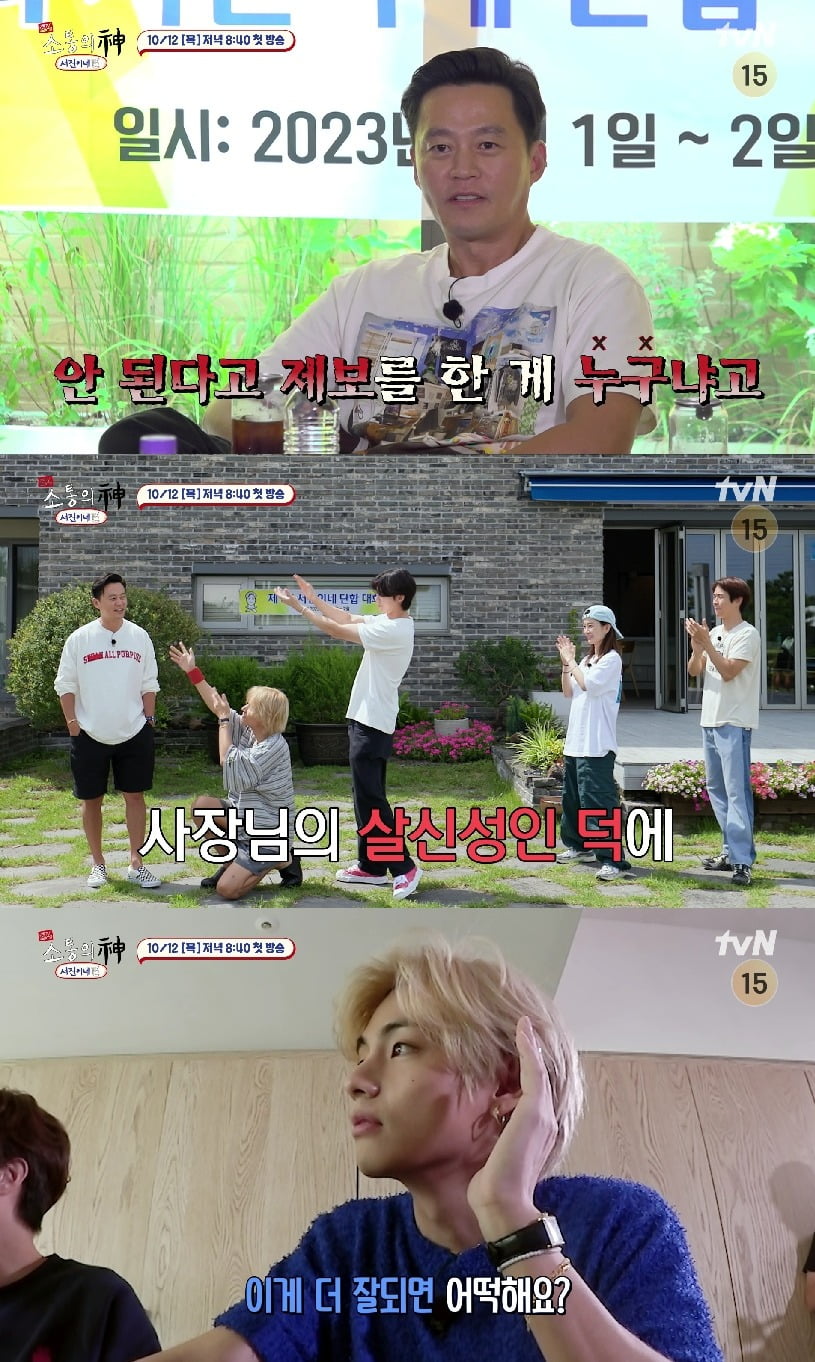 Actor Seojin Lee gets angry after 5 hours of filming.
In the tvN entertainment show 'God of Business Trip Communication <Seojin's Edition>', which will be broadcast for the first time on the 12th, the '1st Seojin's Unity Rally', which seems to be somewhere between a unity competition and the promotion of division, will be held. In particular, with the continued confrontation, CEO Seojin Lee expressed his dissatisfaction, saying, "If you're going to split everyone (sides), what's the point of holding a unity rally?" and is expected to burst into laughter.
On this day's broadcast, the 'Interns', consisting of executives consisting of Lee Seo-jin, director Jeong Yu-mi, and manager Park Seo-jun, intern Choi Woo-sik, and BTS V, enter a lunch race featuring charcoal grilled chicken ribs. When the two teams face off at the unity competition, Lee Seo-jin shows an absurd reaction from the beginning.
Moreover, Choi Woo-sik, an experienced intern, subtly includes himself in the executive team and shows cute territoriality, causing laughter. In response, V said, "There has already been discord within the team, right?" Attention is focused on whether 'Interns', who showed signs of rift even before the game began, will be able to finish the race safely.
In addition, the lunch race, where you have to arrive at the destination first and complete the mission to win, begins with a signal quiz where you guess the program title by listening to the music played before the broadcast begins. All team members must answer correctly to start, so the exciting competition between executives and 'interns' and the variety of incorrect answers add to the fun.
Lee Seo-jin is suddenly seen expressing his sincere gratitude to Jung Yu-mi, making people curious about what the story is.
'God of Business Trip Communication <Seojin's Edition>' is a communication delivery service that goes directly to every corner of the country, where PD Na Young-seok, a communication expert who has just started walking, runs to wherever communication is needed. It will be broadcast for the first time at 8:40 pm on this day.
Taeyuna, Ten Asia Reporter youyou@tenasia.co.kr