TV
Park Ji-heon's wife "I raised her as a single mother alone and hid the existence of my child and myself."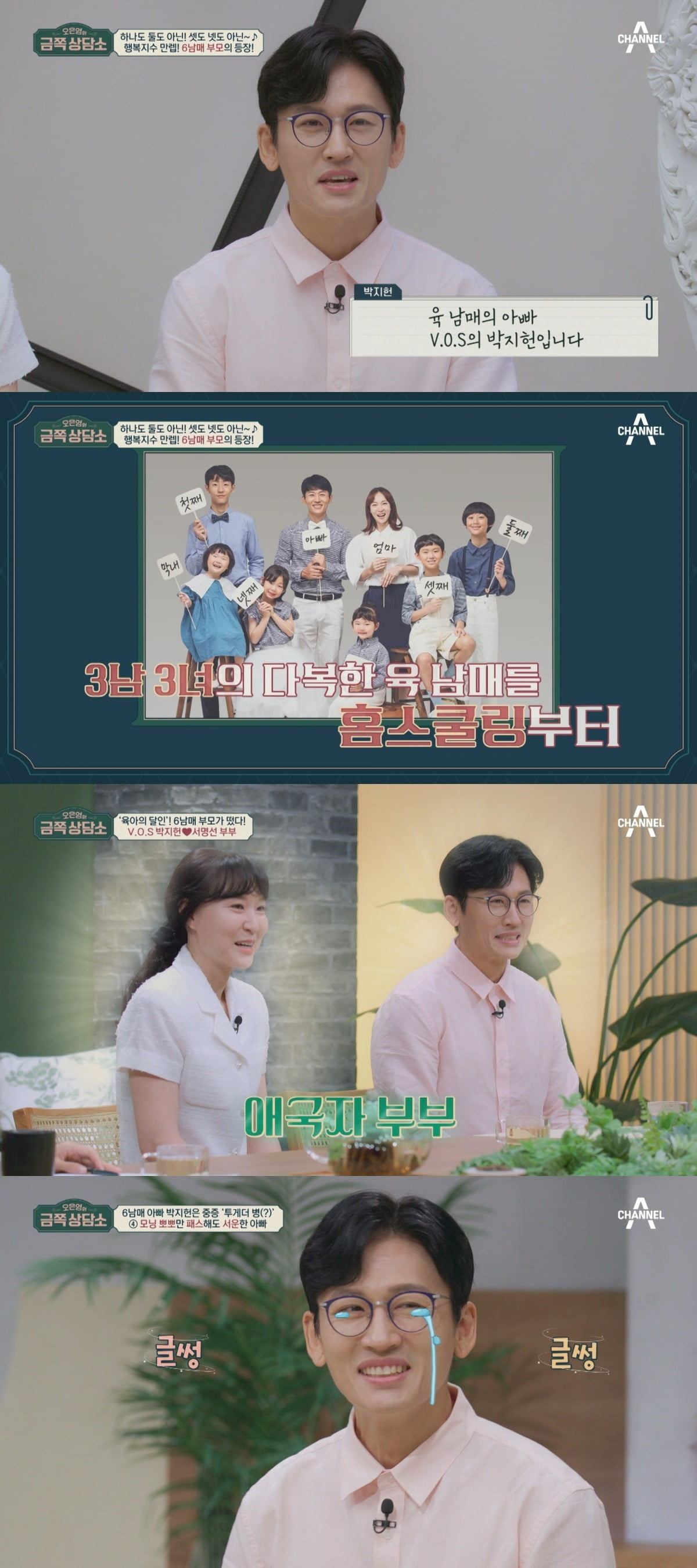 Channel A's 'Oh Eun-young's Golden Counseling Center', which airs today (the 5th), reveals the concerns of Park Ji-heon and his wife Seo Myeong-seon, a family of multiple children.
Park Ji-heon, the so-called 'wedding viral leader' and the 'number one congratulatory singer', immediately heats up the atmosphere by performing a medley of popular congratulatory songs live without wavering as soon as he appears. On this day, Park Ji-heon and Seo Seong-seon, a couple, boasted of their extraordinary parenting skills as parents of six siblings, citing homeschooling as the secret to their children's peaceful adolescence.
However, the warm atmosphere was short-lived, and wife Seo Myeong-seon raised curiosity by revealing that she visited the counseling center for her husband's problems, not childcare. Seo Seong-seon reveals her concerns about her husband, Park Ji-heon, saying, "There is a togetherness that tries to do everything with the children." Park Ji-heon adds sincerity to his concerns by revealing that he experiences a great sense of loss when his children are not around, saying, "I feel strangely empty."
Seo Myung-seon explains in detail about Park Ji-heon's Together Disease. Park Ji-heon ends his day by watching dramas or entertainment shows with his children every day before going to bed, and if even one person is missing, he feels extremely disappointed. Accordingly, Park Ji-heon revealed the most disappointing anecdote recently and confessed that when his children passed up the morning kiss they used to give every day, his heart was pounding in disappointment and he could not control his mind. Park Ji-heon, recalling the complicated feelings he felt at the time, gets teary-eyed even before the actual consultation begins.
Seo Myung-seon adds to the severity of her worries by saying that her husband, Park Ji-heon, is even suffering from insomnia due to this. Seo Seong-sun, who checks her husband Park Ji-heon's sleep every day, arouses regret by revealing that when her husband Park Ji-heon is in a bad mood, he sometimes wakes up once an hour. Seo Myung-seon also surprised all the MCs by revealing that Park Ji-heon once seriously considered working as an air conditioner installer for the father and son in order to be with his son.
Dr. Oh Eun-young analyzes the meaning of Together Disease as mentioned by Seo Myung-seon and explains that it seems to mean 'one basket of childcare.' 'One basket parenting' means that parenting methods should vary depending on age, gender, and characteristics, but due to the nature of a family with multiple children, it is difficult to adjust them individually, so it means raising six siblings at once, as if putting them all in one basket.
Dr. Oh Eun-young then points out that Park Ji-heon's family is in a state of 'undifferentiation' and continues to give sound advice, saying that it is natural for children to become separated from their parents as they grow up, but Park Ji-heon seems to be having a hard time accepting this. Seo Myung-seon, who sympathizes with this, shocks Park Ji-heon by revealing that he suffered from Guanwasa while going boxing to be with his first son.
Accordingly, Dr. Oh Eun-young advises Park Ji-heon that he needs to control his emotional distance from his children. He explains that when children are young, 45cm that can fit in one arm is appropriate, but as children grow older, the distance should be adjusted naturally. After hearing this, Park Ji-heon admits that he cannot keep his distance. Just hearing the word 'street' makes me cry, and she starts crying again. Park Ji-heon then said that his love for children was "like a sand castle," arousing regret.
Dr. Eun-young Oh asks Ji-heon Park if he feels unhappy when his children are not around. After thinking for a moment, Park Ji-heon confesses that if he is not with his children, "I feel like I haven't lived a day." Dr. Oh Eun-young, who seems to have noticed something, analyzes that Park Ji-heon seems to feel happy about being with the children and unhappy about being separated. He comforts Park Ji-heon by saying that happiness is 'measured by the time and space spent with children' and that there is no need to measure happiness because it springs from within the heart.
Dr. Eun-young Oh asks Ji-heon Park what his other relationships are outside of his family. Park Ji-heon shockingly confesses that he doesn't meet anyone except VOS members. Next, his wife, Myung-seon Seo, tells a heartbreaking story about how her husband had no choice but to hide the existence of himself and his child when he was a rookie, and that he had to become a single mother and raise the child alone, leading us to guess why Park Ji-heon stayed away from other relationships and focused only on his family.
'Oh Eun-young's Golden Counseling Center' will be broadcast today (5th) at 8:10 pm.
Taeyuna, Ten Asia Reporter youyou@tenasia.co.kr