TV
Narae Park opens Narae Bar in Jeonju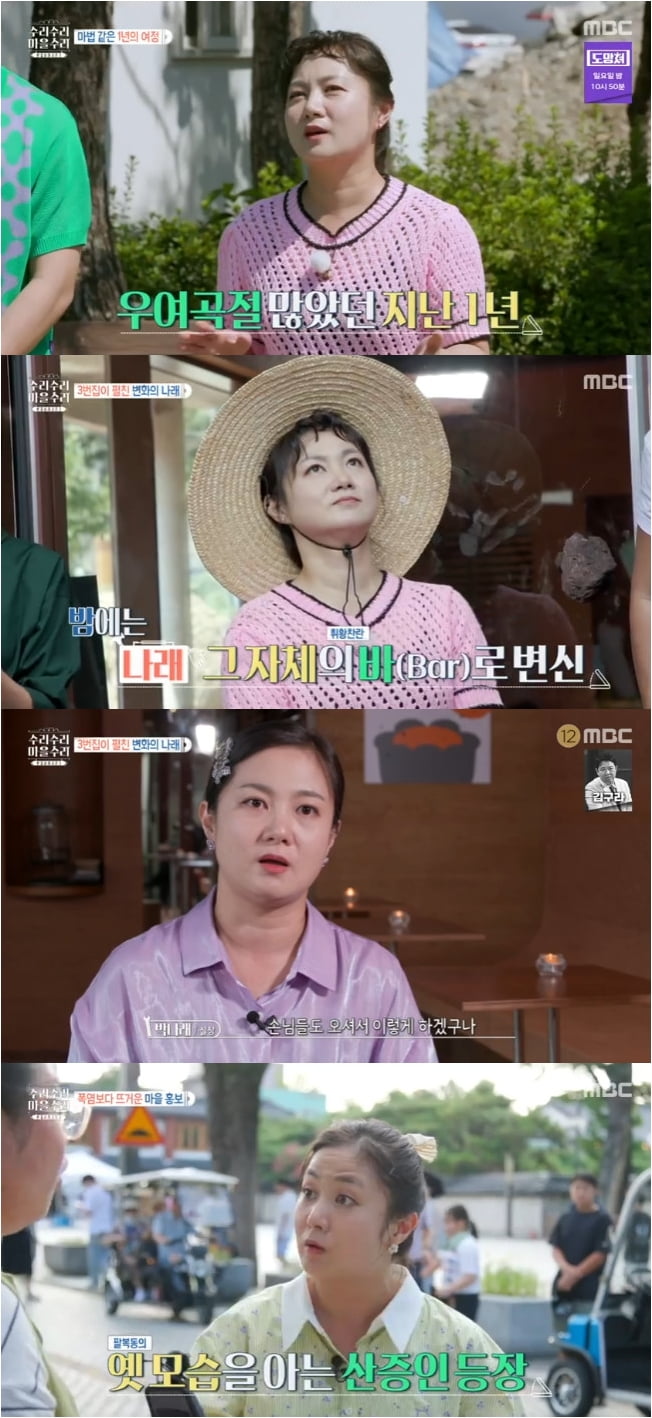 Comedian Park Na-rae has completed a house full of her tastes.
In the 5th episode of 'Let's Live in an Empty House Season 3 - Repair, Repair, and Repair Village' (hereinafter referred to as 'Let's Live in an Empty House 3'), a large-scale empty house regeneration project co-produced by MBC and Lifetime that aired on the 30th, we went to see with our own eyes the transformation of four empty houses. We went to Palbok-dong in Jeonju with Chae Jeong-an, Shindong, and Kim Min-seok.
On this day's broadcast, Park Na-rae could not hide her surprise when Minseok's team's empty house, which was almost like an abandoned house, was transformed into something unique. Finally, she said "Aren't you too greedy?" at the result of the house that took advantage of all the characteristics of the Jeonju area, including cafes and wind. This raised the atmosphere of the scene.
Na-rae Park then captured attention by revealing 'Narae Bar in Jeonju', which was full of her tastes. Na-rae Park wanted to install a 'kinetic wall' to satisfy her tastes inside the house, and revealed that she succeeded in installing it through two kneeling and tears.
Park Na-rae, who wanted to float a stone to the ceiling of 'Narae Bar', did not succeed within the given time. When asked about the reason why Shindong failed, Team Narae's expert said, "It was inspired by a planet falling from the sky through the ceiling," and when she heard this, she asked, "Aren't I Mr. Park?" If you go back to your ancestors, it's Park Hyeokgeose. He made everyone burst into laughter by adding a witty and witty comment, "As if a living creature is waking up because it is alive and breathing, as befits its descendants."
After completing the house, Park Na-rae had to develop a menu that would attract tourists while capturing both taste and style. Accordingly, after careful consideration, she chose a fantastic combination of meat pie and beer, and even showed her 'big hand' aspect, making people's mouths water.
Na-rae Park, who ran around with sweat rashes on her feet to promote the store a day before its opening, carried out promotions to attract customers to Palbok-dong even in the record-breaking heat. She handed out promotional fans to citizens and actively conducted interviews. The way she demonstrated her hosting skills with her eloquent speaking skills made even viewers want to visit Palbok-dong.
Taeyuna, Ten Asia Reporter youyou@tenasia.co.kr