TV
2PM Jang Wooyoung, bulging pants, "What if mine explodes?"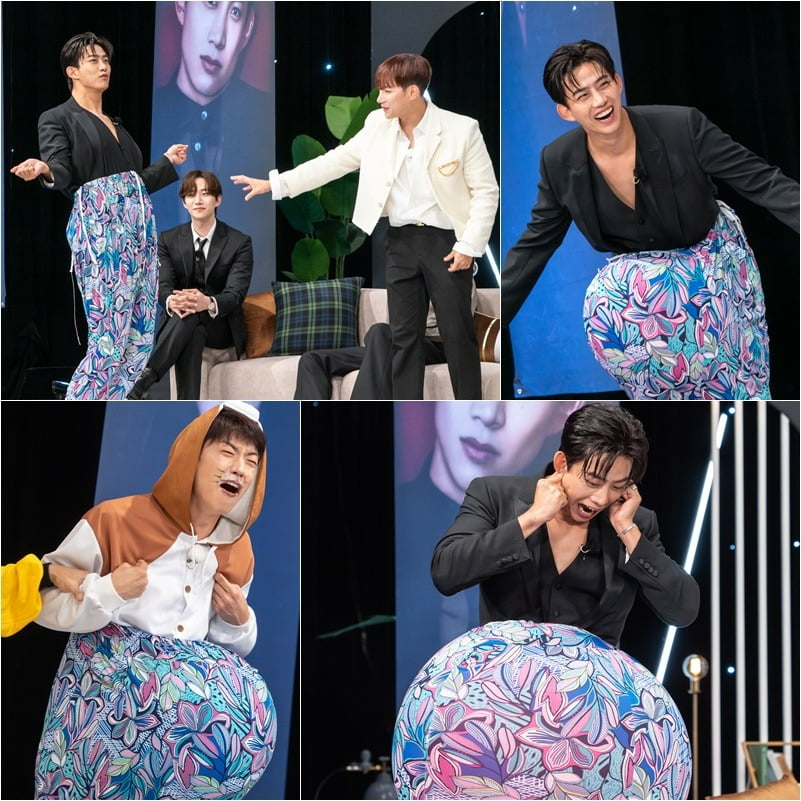 Jun.K, Nichkhun, Taecyeon, Wooyoung, Chansung, and Lee Junho are invited to KBS2's 'Hong Kim Dongjeon' and have a laugh bomb with 'youngest member' Wooyoung. In addition to the joy of seeing the entire 2PM on one screen, it will also deliver 100% pure laughter brought on by the members' competitive spirit.
The 51st episode of 'Hong Kim Dong-jeon', which will be aired today (31st), will feature a showdown of 'Beast Idols VS Beasts' with the entire 2PM group celebrating their 15th debut anniversary. In accordance with the dress code 'Beasts', Hong Jin-kyung played a giraffe, Kim Sook played a flying squirrel, Joo Woo-jae played a wolf, Jo Se-ho played a tiger, and Wooyoung played a dog. Jun.K, Nichkhun, Taecyeon, Chansung, and Lee Jun-ho from the original beast idol group '2PM' were welcomed. , brings laughter as he tries his best in the game to avoid penalties.
The pupils of the 2PM members shake at the punishment announced before the game, Taecyeon, who remembers the punishment, lets out a single scream, and Lee Jun-ho also bursts into laughter at the sight of him unable to continue his words, saying "Oh my god." One penalty man from each team puts a balloon in his pants and inflates it every time he loses the game. The team whose balloon does not pop wins.
In the released still, Wooyoung and Taecyeon are seen wearing work pants and not knowing what to do, making people laugh. On this day, Wooyoung, who was frightened by the rapidly inflating balloon in his pants, became restless and shouted, "What will you do if mine explodes instead of the balloon while playing the game?" Lee Jun-ho, who was looking at Wooyoung in the entertainment show in a new way, laughed and said, "Jang Wooyoung, you really let everything go." It is said that they were unable to hide it. Jo Se-ho, who was watching Wooyoung's sadness, showed off his special friendship by saying, "I'll give you one of mine."
Taecyeon, a member of the beast idol group 2PM, transforms into a fearless person who shouts "Wait a minute" at the staff who are trying to get wind of everything, making everyone burst into laughter. When Chansung went one step further and provoked the balloon by adjusting its position to the exact center, Lee Junho stole everyone's attention with an unexpected question, "I'm sorry, but where is your butt?" Taecyeon also looked embarrassed, saying, "It's in a strange position." It is said that Wooyoung also continued to show off his fearless appearance by continuously adjusting the position of the balloon in his pants, and showed an even more upgraded sense of entertainment as he watched his pants gradually inflate in front of the members.
The production team of 'Hong Kim Dong-jeon' said, "We are sincerely grateful to Wooyoung, who introduced the healthy laughter of 'Hong Kim Dong-jeon' to the 2PM members with his heightened sense of entertainment." They added, "We look forward to seeing Wooyoung, who has shown great success as the team representative along with Taecyeon. "Please give it to me," he said.
'Hong Kim Dong-jeon' airs every Thursday at 8:30 PM.
Taeyuna, Ten Asia Reporter youyou@tenasia.co.kr