TV
Lee Chan-won also benefited "I refused the huge down payment, and my family gave up"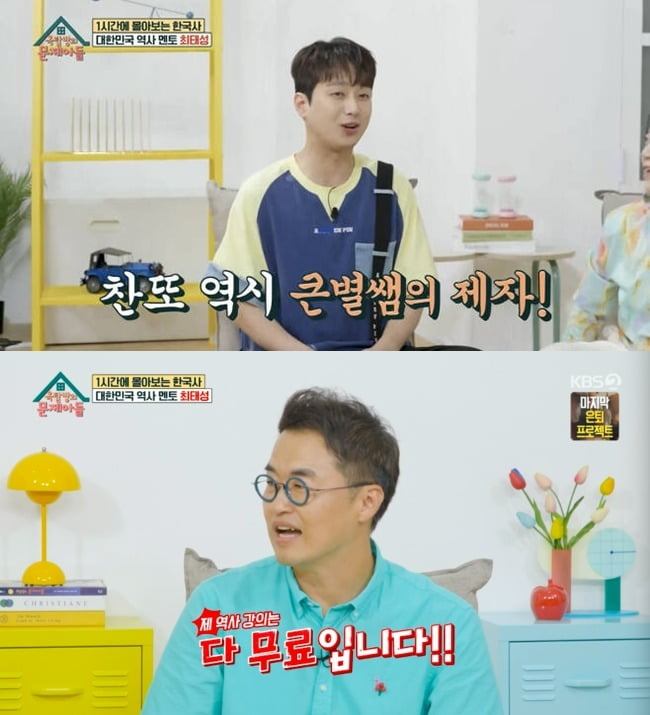 Ilta Instructor Choi Tae-seong revealed the reason for giving lectures for free.
Choi Tae-seong, a Korean history instructor, appeared in the KBS2 entertainment program 'Problem Son in the Rooftop Room' (hereinafter referred to as 'Ok Moon-ah'), which aired on the 23rd.
On this day, Lee Chan-won introduced Choi Tae-seong as "a big star in Korean history with 6 million cumulative students." Then, he confessed that he was a disciple of Choi Tae-seong, saying, "I don't know how many times I've listened to Teacher Keunbyeol's lectures."
After two years of revisiting 'Problem Son in the Rooftop Room', he confessed that he suffered from a cold sweat after his last appearance. He said, "I was so scared. I asked a question about our college entrance exam once. At the time, I said that the 19th question of this CSAT was the 4.19 revolution, and the 20th question was the 6.15 North-South Joint Declaration. After doing it, I regretted it so much." Kim Sook also recalled, "You even recorded the number so accurately," and Choi Tae-seong said, "Originally, when I come out of the CSAT, I look at it from number 1, but I saw it from number 19 and 20. Luckily it came out right. I thought I was alive," he said, arousing surprise.
In response, Jeong Hyeong-don asked for predictions for this year's college entrance exam. Choi Tae-seong said, "The exam questions have not come out yet. It will be easier because there is a recent killer question issue. Don't be too burdened, just lightly study the concept centered on the title." However, at the request of the MCs, "I am going to the 3.1 exercise. It will come out as a matter of the 3.1 movement and it will come out as an answer to establish the Provisional Government of the Republic of Korea."
When asked why he should learn history, Choi Tae-seong said, "History is a rear-view mirror. Why do you look in the rearview mirror when driving? To make sure I'm going well in the future. History is looking back at the past. To make sure I'm going well going forward," he said.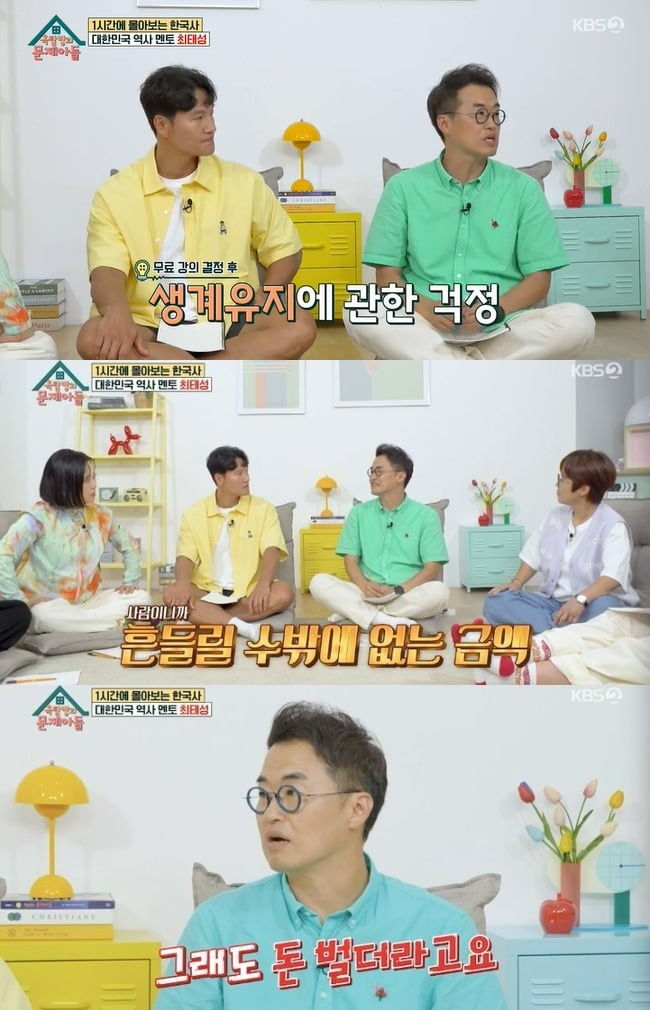 "We still owe the debts of the June Uprising," said Choi Tae-seong, who gives history lectures for free with a heart that repays the debt. Choi Tae-seong said, "Actually, 500,000 people take the CSAT, but 600,000 people take the Korean History Proficiency Test at a time. It's a huge market. However, private education does not exist in the Korean History Proficiency Test. The reason for this is that there is one instructor who gives free lectures. That's why private education can't come in," he said proudly.
When asked if he was not shaken, he said, "A contract is also coming to me. When you look at that contract, it's huge. He replied, "I almost gave up at home."
Choi Chae-seong said, "I was afraid at first too. Can I really survive when I receive free education like this? Don't you have a fundamental question? After all, I still made money. I didn't have to worry. If you are doing meaningful work, I hope that you will not be afraid because it has its own meaning and helps you live."
Reporter Tae Yuna, Ten Asia youyou@tenasia.co.kr