TV
Lee Joo-sil sentenced to death by 8 months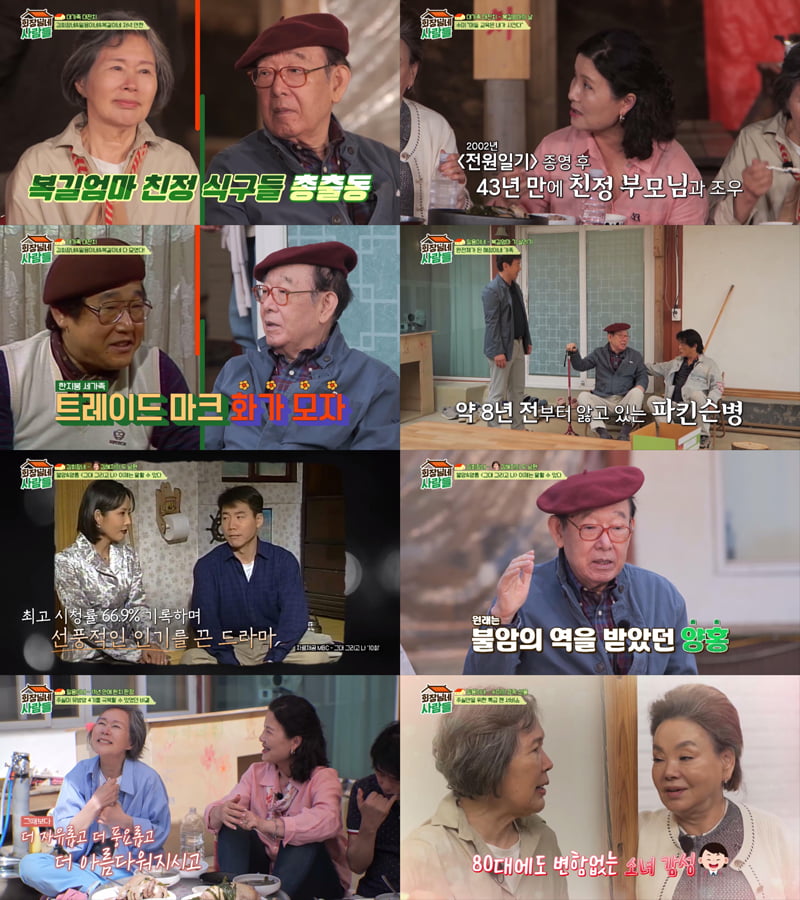 Actor Lee Joo-sil will reveal all of his 13 years of overcoming cancer after receiving an 8-month death sentence.
In the 41st episode of tvN STORY's 'Chairman's People', which airs on the 24th, Kim Hye-jung, who played Bok-gil's mother in 'The Country Diary', gathers all her parents to share a hot meeting after about 40 years.
Last week, Ilyong secretly called Cha Kwang-soo, who appeared as Bok-gil's mother's younger brother, for Park Eun-soo to Kim Hye-jung. Cha Kwang-soo called Bok-gil's mother's mother, the godmother of the theater world, Lee Joo-sil, and had a friendly time. Even Shim Yang-hong, who plays Bok-gil's mother's father, comes as a surprise guest and brings all of Bok-gil's mother's family together, and Kim Hye-jeong enjoys happiness by saying that although they are family in the drama, it is a great joy to share their relationship after 40 years.
Shim Yang-hong, who appeared on the show after a long time, visited with a cane and caused the cast members to worry. Shim Yang-hong reveals that he suffers from Parkinson's disease, and even though he has trouble moving, he can't hide his good feelings toward Ilyong's family and the Chairman's family. Shim Yang-hong has a special relationship with Bul-am Choi, but in 'You and I', he revealed the story behind the role change with Bul-am Choi, drawing attention from the cast.
Originally, the role of Sim Yang-Hong was Bul-Am Choi, but when that happened, Bool-Am Choi and Hye-Ja Kim would play the role of a married couple again, so they switched roles. Other than that, Shim Yang-hong appeared in 'Pastoral Diary' as Bok-gil's mother and father, as well as 2 roles in 1 person, grabbing by the collar with Norma's father, Lee Gye-in, and talking about the memories of being beaten by the youths in the neighborhood, causing laughter.
Lee Joo-sil reveals all of her 13 years of overcoming cancer after receiving an 8-month death sentence. She was sentenced to stage 3 breast cancer and soon progressed to stage 4, but she reveals that she seems to have gone through the painful journey well because of her cheerful personality. Because she is a mother, she thinks of her children and was able to overcome them. A heartwarming anecdote about her mother at the time of her battle with cancer and Joo-sil Lee's positive mind that the value of life has deepened since her battle with cancer and she is living each day preciously will impress viewers.
Also, Joo-sil Lee said that she fell in love with Soo-mi Kim's amazing acting skills during the first filming of 'All-In-One Diary'. He confesses that he went out early to watch Kim Soo-mi's acting during the filming of 'Immortal Diary', wondering if he was preparing to cook pulchi, which Kim Soo-mi likes. After that, Kim Soo-mi, who showed a girlish appearance by saying that she watched all the broadcasts, delivered a surprise gift, and an instant fan meeting was held.
Reporter Kang Min-kyung, Ten Asia kkk39@tenasia.co.kr