TV
Shin Hye-sun, who cursed herself for a thousand years, "Reborn and must take revenge"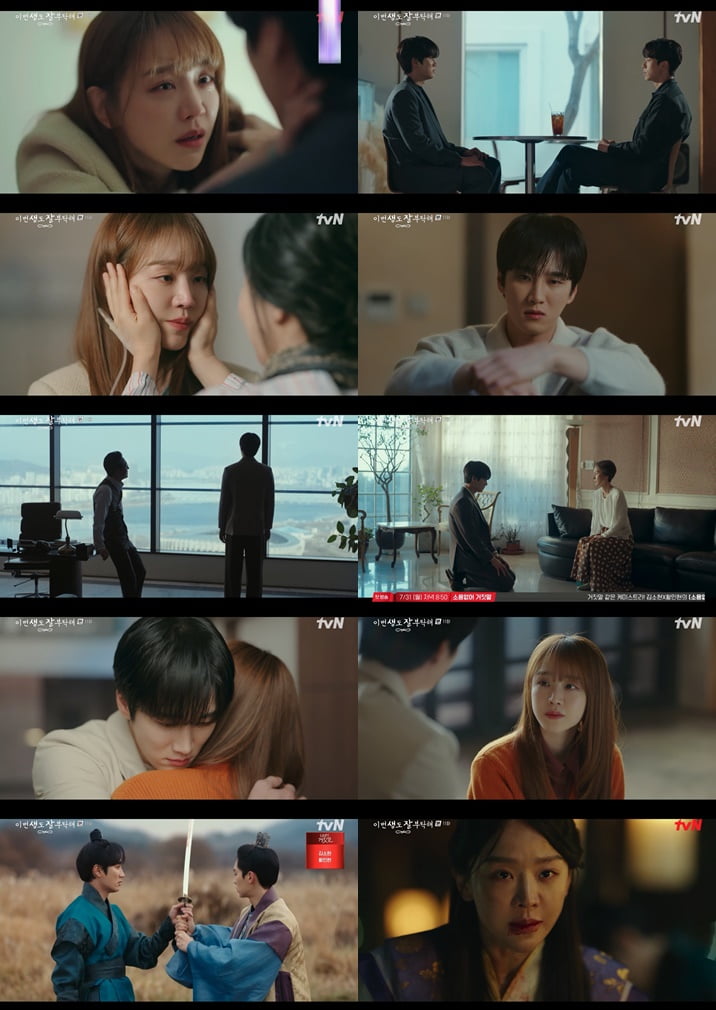 Finally, all of Shin Hye-sun's first life was revealed.
The 11th episode of tvN's Saturday and Sunday drama 'Take Care of This Student', which aired on the 22nd, surprised viewers by presenting a reversal of the past life's memories being Ban-eum (Shin Hye-sun)'s own thousand-year curse.
Ban Eum, while looking at the fragments of her first life through Mu-ryeong, mistook Mun Mun-ha (played by Ahn Bo-hyun) for the criminal who killed her sister, and was confused when she choked him. Kang Min-ki (played by Lee Chae-min) said to Munmun-ha, "In the first past life that Ji-eum saw, you and I are there too. There are things like memories that are difficult to recall in life."
Kang Min-ki said, "Mr. Banjieum has 19 such memories. It is the world where Banjieum lives that he cannot forget even after time passes and has no one to share with. Please help Banjieum to live a normal life. The only one who can move is you." Accordingly, he promised to do everything together with Ban Geum, who is documenting it.
Banjium felt guilty when Kang Min-ki said that other people would be no different from Kim Ae-gyeong (played by Cha Cheong-hwa), who was sick because of the ties he had made in his previous life. However, Kim Ae-kyung and Yun Cho-won (played by Ha Yoon-kyung) said, "How did such a pretty Ji-eum come to me? You don't know how much fun and happiness I was raising you. Thank you for coming to me", "We met again because my sister came to visit me. Do you know how grateful I am for that?", expressing his gratitude to Ban Geum who came to him like a special gift in this life. Banjium made a thousand-year resolution to Kim Ae-kyung, saying, "I must live this life."
Banjium asked Kang Min-ki, who came to visit him, why he hadn't told him about the relationship in his previous life. Kang Min-ki said, "Especially, you have to remember your first past life. If you want to save Kim Ae-kyung, check your first past life to the end. There is a person who made you live remembering your previous life. Find out who it is." asked to come
Along with this, Kang Min-gi said, "It's not common to meet the people involved in Ban Ji-eum's first life as they are. It's been a thousand years for you. At least, it's an opportunity that hasn't come to me yet, so even if I want to end this life, I can't." It made me curious about the relationship between the two that has not yet been revealed.
On the other hand, he went to Banjim, who was worried about the document, and said, "I know that I am in my previous life, and that I have suffered a lot because of me. With the confession that he was only worried about writing, he talked about unchanging love, saying, "I will be by your side no matter what you choose, no matter who you are."
Ban-eum finally caught Mu-ryeong, and Ban-eum's first life was finally revealed. In his first life, Banyin was the number of making cloth that would become the knot of Mu-ryeong, a divine object (swearing by Shin Hye-seon). In order to save her sister Seol (played by Ha Yoon-kyung), who is weak and her only blood relative, Su devised a plan to run away to Seorabeol after stealing the Shindang's Martial Spirit.
However, while on the run, he was caught by priest Cheon-woon (played by Lee Chae-min), and when Cheon-woon (played by Lee Chae-min) killed Seol and tried to kill Su (played by Shin Hye-seon), leaving Su's earnest cry behind, Han-ya (played by An Bo-hyun) stopped him. thing. As a result, she hugged her dead sister Seol and cried out, "I will kill you."
Sue, filled with sorrow over her sister's death, tried to kill Chun-wun, but Han-ya took the dagger instead. In the end, Su was shot with an arrow by the soldiers of Cheonun, and just before his death, Su grabbed Mu-ryeong and said, "I will not forget this day. I will remember this grievance again and again. I will be reborn without forgetting in a hundred years, a thousand years, and I will surely take revenge." The whole story of how the souls of the unjustly deceased were reincarnated and cursed to remember their previous lives was revealed, raising the sense of immersion to the fullest.
In particular, the warm paternal love of Chairman Moon (played by Choi Jin-ho) was revealed. Chairman Moon already knew the whole story of the traffic accident arranged by Lee Sang-hyeok (played by Lee Hae-young), and worried about his son, Mun-mun-ha, who would be hurt, he said, "Seo-ha must never know. Do you understand the rest of your life?" buried
At the same time, at the time when Munmunha went to Yoo Seon (played by Kang Myung-ju), the mother of Joo-won Yoon (played by Sia Kim), and apologized, Joo-won Yoon's mother had already heard the full story of the car accident from Chairman Moon, and said, "Since you are the son of my precious friend, even if only you were alive. I wanted to protect you," he said rather comforting the document. He said to his father, who said it was to protect himself by documenting, "But that was wrong. Me and my father are only hurt," he said, referring to the father-son relationship that he had no choice but to hide his true feelings after hiding the truth of the car accident.
Reporter Kang Min-kyung, Ten Asia kkk39@tenasia.co.kr