TV
The first episode of Expedition to Maya recorded the highest viewership rating of 6.8%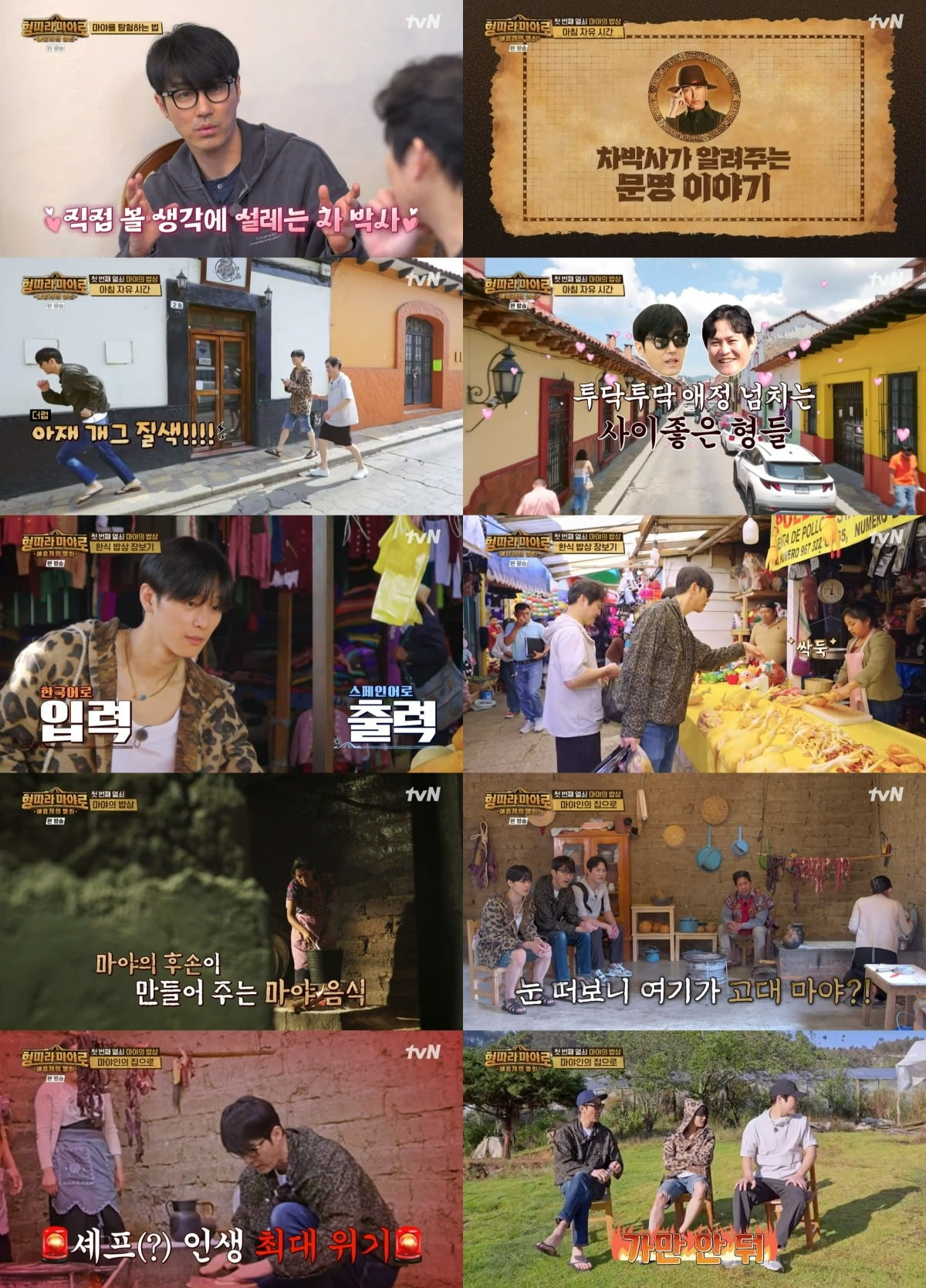 'Expedition to Maya' announces the return of Cha Seung-won, who has proven 'as expected' by catching both rabbits, fun and information. The audience rating also rose to a maximum of 6.8%, and from the first broadcast, 'Friday's Honey Jam' was reserved.
The first episode of tvN's 'Expedition to Maya', which was first broadcast on the 4th, had an average of 4.3% in the metropolitan area and a maximum of 6.8% in the metropolitan area, and an average of 3.8% in households nationwide and a maximum of 5.6% (provided by Nielsen Korea, based on paid households). It took first place in the same time slot including cable and comprehensive channels. The tvN target male and female 2049 ratings were 1.8% in the metropolitan area and 2.8% at the highest, ranking first in the same time zone for all channels including terrestrial waves.
On this day's broadcast, Cha Seung-won's variety show 'Dr. Cha', which was upgraded first, drew attention. Not only the model, actor, or 'Chef Cha' that we know, but also the 'Dr. From the Mayan creation myth to the Mayan architecture and astronomy seen through the Pyramid of Chichen Itza, one of the seven wonders of the world, various knowledge about the mysterious Maya civilization conveyed by Cha Seung-won adds to the fun of seeing and filling the head. The niche corner 'The Story of Maya Civilization Told by Dr. Cha', which was created in this way, also revealed the identity of 'Expedition to Maya', which is different from existing entertainment programs.
'Second Brother' Kim Seong-gyun's artistic charm was the reversal itself. Kim Seong-gyun, a 'person' who gave up his bloody acting mode, was a pure soul with a very fine grain, from his calm tone to his cautious behavior, just as Cha Seung-won had said. The sense of entertainment that made Cha Seung-won loathe with his father-in-law gags that could explode at any moment even grabbed an unexpected laugh. Cha Seung-won and Kim Seong-gyun's gag Tiki-taka, which made the lead actors collapse while laughing, has become a point of expectation in the future.
The 'golden maknae' starring, who is good at everything, also stood out. From the pre-meeting with the production team, he said, "I am confident that I will be loved", and he received praise for his 'customized' sense for his brothers. In particular, when the two older brothers input in Korean, they immediately print it out in Spanish and complete everything from ordering to payment.
The performance of Banguli PD, who did not miss remarks that could be overlooked, was equipped with flashing eyes and prepared to sublimate everything into fun, was also a 'fun' point. "I have a lot of interest in ancient times, when human beings created civilization in the beginning, so I really wanted to visit the birthplace of civilization," said Banguli PD, who was listening to Cha Seung-won's story without a break. However, in response to his dangerous (?) statement of "achieve something in a barren environment", he took the Maya Exploration Course, which is barren but allows Cha Seung-won to shine in it. In addition, after handing a treasure chest and a 'Maya guidebook' containing nine adventure mission themes to the 'Mayazu trio' who arrived at the accommodation, he continued to explain the program's world view despite Cha Seung-won's jokes and criticisms, 'laughing '. also showed a strong side. In response, "It's not a production team that will take it smoothly, but I'll try to make it smooth" and the 'push and hold' with Cha Seung-won, who led the younger siblings, made me look forward to the future story even more.
Cha Seung-won's first dish and recipe that viewers have been waiting for, as well as 'Chef Cha's Kick', have finally been released. Cha Seung-won prepared spicy chicken stir-fried soup for his younger siblings who hadn't had Korean food in two days. He also announced 'Chef Cha's splendid comeback' by completing dishes with unfamiliar local ingredients purchased at traditional markets, such as chickens with yellow skin and large toughness that ate corn feed. The drifting gag, which makes the younger siblings laugh every now and then, adds something to enjoy on the delicious table.
The 'Mayazu Trio' headed to the village of 'Sochil' to carry out the first mission, 'The Mayans' Table'. The 'Ssochi' are descendants of the Maya who still speak the Mayan language, and are a tribe that lives by keeping the Mayan traditions such as language and clothing. However, the excitement of Maya's food-eating mission by the Sochil family, who invited them, for a while, predicted not only the biggest crisis in the life of 'Chef Cha', which could be stripped of the title of King of Cooking, but also the crisis of sleeping for the 'Mayazu Trio'. It drew attention. In the end, Cha Seung-won was also caught warning something, saying, "I will not leave it alone."
Reporter Kim Ji-won, Ten Asia bella@tenasia.co.kr