TV
Is Lee Jung-hyun prettier than Son Ye-jin and Lee Min-jung?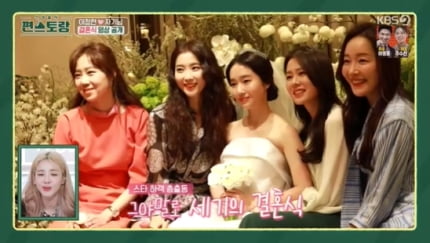 Lee Jung-hyun's husband showed the side of a lover.
On the afternoon of the 28th, KBS 2TV's 'New Release Fun-Staurant', it was revealed that Lee Jung-hyun and the doctor's husband were immersed in memories while watching a wedding video.
In April 2019, the couple, who had been married for 100 years, smiled heartily as they watched the wedding video again after 4 years of marriage. Top stars such as Son Ye-jin, Gong Hyo-jin, Um Ji-won, Lee Min-jung, Lee Byung-hun, Yoo Ji-tae, Ko So-young, Um Ji-won, Sandara Park, Sung Yu-ri, Seo Hyun, Han Ji-hye, Oh Yoon-ah, and Baek Ji-young were all present in the bridal waiting room, and the wedding hall was reminiscent of a film festival.
My husband recalled, "Even though it was my wedding, most of the people who saw it on TV didn't have a sense of reality. It was amazing," and "I felt like I was watching a film festival." Lee Jung-hyun asked, "There were a lot of pretty people at that time. Who was the prettiest?", and her husband replied, "I couldn't see all of them. Lee Jung-hyun was the prettiest."
Reporter Ryu Yae-ji and Ten Asia ryuperstar@tenasia.co.kr