TV
Actor Lee Byung-hun, "I cry whenever I see the meme 'Gunchi Dance'"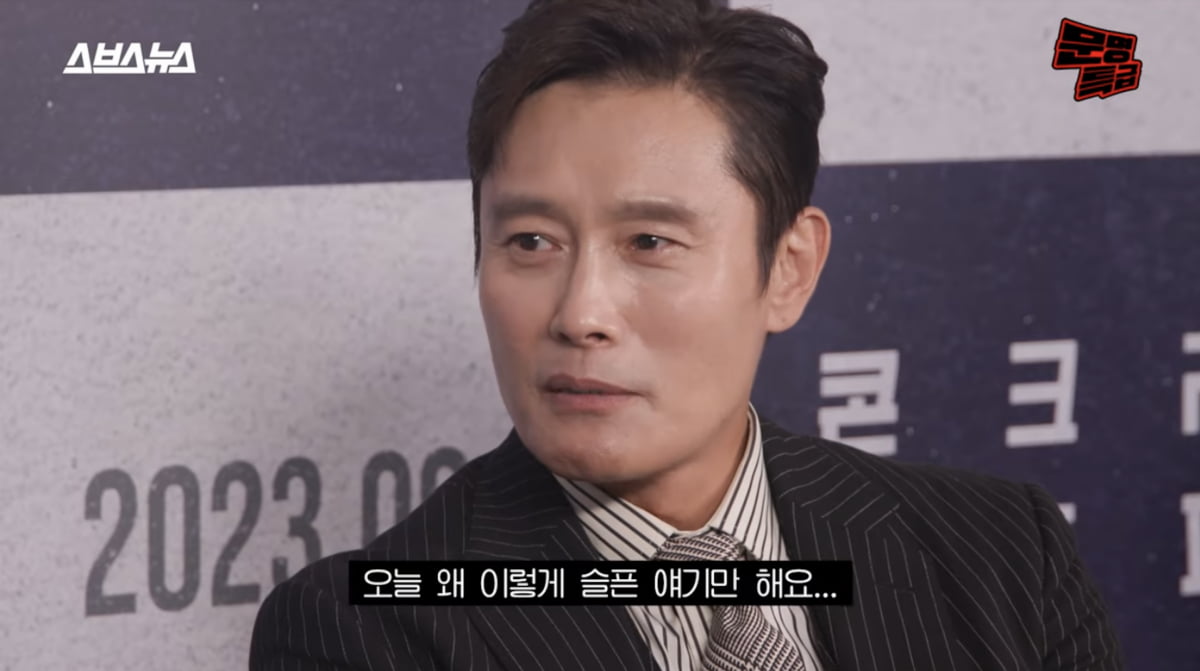 Lee Byung-hun, an actor in the movie 'Concrete Utopia' (director Uhm Tae-hwa), said that he enjoys pretending to be cool about the Gunchi dance meme.
On the 27th, actors Lee Byung-hun, Park Seo-joon, and Park Bo-young of the movie 'Concrete Utopia' appeared on the YouTube channel 'Civilization Express'. The released video is 'Lee Byung-hun's dry gums and lips are like a person with dry teeth... It turned out to be a sad story... Park Seo-joon and Park Bo-young also titled 'Geulsseong', Lee Byung-hun explained an anecdote about his famous meme, Gunchi Dance. did.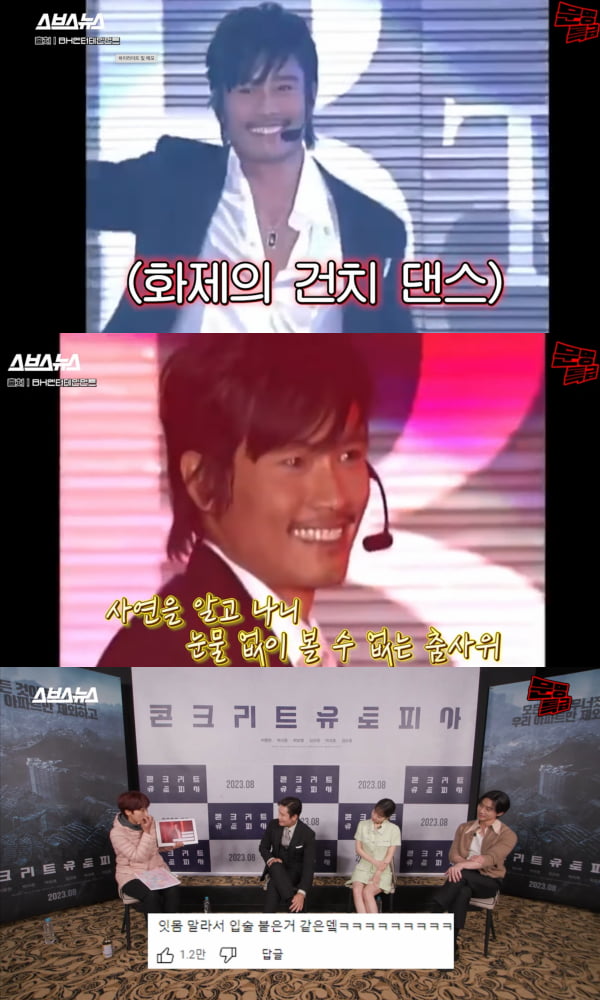 MC Jaejae appeared while reenacting Lee Byung-hun's 'Gunchi Dance'. Lee Byung-hun, who saw this, was amazed at Jae-jae's readiness, saying, "He seems to be doing better than me." Jaejae said, "This dance is still a hot topic," and Lee Byung-hun replied, "It has almost subsided, but now it seems to be making a topic again."
Next, Jaejae asked about the behind-the-scenes of the Gunchi Dance, saying, "Among the comments, there was a response saying, 'My gums are dry and stuck to my mouth.'" Lee Byung-hun explained, "Actually, the director who was behind me said, 'The fans love Lee Byung-hun's smile. Without a smile, it's scary.' So I kept dancing. I didn't know I would come out like a robot like this," he explained. cry every time It was a very difficult time," he said, creating a funny situation.
However, Jae-jae asked Lee Byung-hun, who uploaded the video of the Gunchi dance directly to SNS, "But he enjoyed it. He posted it as 'flashy movement' on SNS," and asked why he uploaded the video. Lee Byung-hun explained that since the video had already been released, he pretended to be cool.
Jaejae, who mentioned Lee Byung-hun's wife, actress Lee Min-jung, asked about the two's activities on social media. When Jae-jae said, "I keep seeing comments from Lee Min-jung even if I don't want to see them. I hope the two of them can talk on KakaoTalk."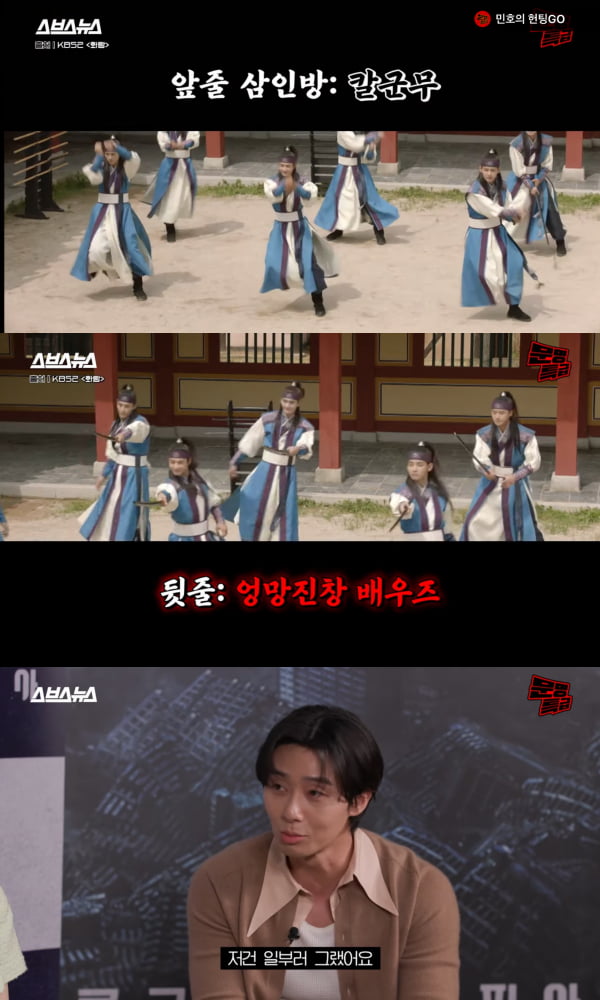 Actor Park Seo-joon also received a question about the dance video of the drama 'Hwarang', a meme as famous as Lee Byung-hun's. Jaejae showed the data screen, saying, "Seojun is very famous for dancing." In the video, you can see Park Hyeong-sik, Minho, and V's former idol actors in the front row performing a synchronized choreography and the actors in the back row dancing in sync. Then, Park Seo-joon said, "Originally, it was a setting that I couldn't dance, but I had to. It was a scene I deliberately directed."
Jaejae also mentioned V of BTS, who is personally close to Park Seo-joon. Jaejae explained the meme of Park Seo-joon, who looked at V kissing his hand while saying hello. In response, Park Seo-joon burst into laughter, saying, "Actually, I'm talking about it because I'm close, but Tae-hyung is shaking his head like this (twisting), and I don't want to look like that." He also added that it was amazing to see V kissing his hand naturally.
Park Bo-young, who belongs to BH Entertainment like Lee Byung-hun, explained that he went to Da Nang for a workshop. In addition to Park Bo-young, BH Entertainment's celebrities Go-eun Kim, Ji-min Han, Go Soo, Hyo-joo Han, Ja-hyun Choo, Ji-ah Lee, Hee-jun Lee, Hae-soo Park, and Jin-wook Lee attended the workshop.
Lee Byung-hun paid the full cost of the workshop. He explained why he took full responsibility for the workshop, saying, "It wasn't easy to gather everything, so we set up the schedule more than six months in advance. It's been 17 years since our company was founded." In response, Park Bo-young said that it was so good and confided in an episode related to the workshop. He explained, "When we were performing a talent show, we became one with a karaoke machine. I felt it was a workshop when I watched (Lee Byung-hun) sing 'You're good at it'. Lee Byung-hun sang Frank Sinatra's 'My Way'." .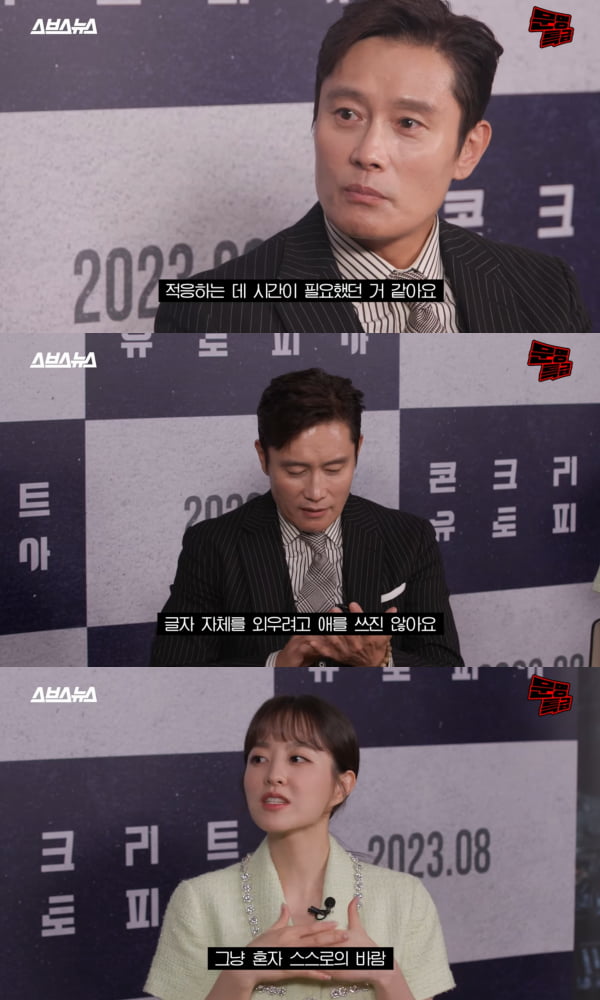 Lee Byung-hun, who was loved by many viewers as Eugene 'Mr.sunshine'. Jaejae mentioned the acting of Lee Byung-hun, who speaks English naturally in the play. He replied, "It comes out unconsciously, but was the pronunciation good?" Lee Byung-hun is an actor who is versatile enough to appear in a Hollywood movie, and Jae-jae asked about an episode of Hollywood shooting. He mentioned that more often than not he could not understand English. Then, he said with a sad expression, "I can't help it in a foreign country. Why are you talking about such a sad story today?"
Next, Lee Byung-hun recalled the situation at the time, saying that Kim Eun-sook's unique language, or dialogue, was more difficult than English. He talked to writer Kim Eun-sook about the script, but explained an anecdote that he was lost in while reading the early script. He also replied, "I shouldn't have thought too much. I don't try to memorize the letters themselves, I just take the feelings of the god with me. Then the lines often follow naturally."
Park Bo-young, who received a lot of love through the drama 'Oh My Ghost"
,
mentioned an anecdote about her counterpart, actor Jo Jeong-seok. Jae-jae asked about the kiss ad-lib with Jo Jung-suk in the last scene. In response, Park Bo-young said, "The director didn't cut it," and revealed that the second was an ad-lib.
Also, Park Bo-young, who had a lot of worries about her first kiss scene, looked up videos related to kiss scenes on YouTube and studied them. Park Bo-young said, "At that time, it was just when tvN started a drama," and revealed that she had a lot of worries about how to do a kiss scene on cable instead of terrestrial broadcasting.
Reporter Ha-neul Lee , Ten Asia greenworld@tenasia.co.kr