TV
Actor Namgoong-min confesses that he was insulted when he was a rookie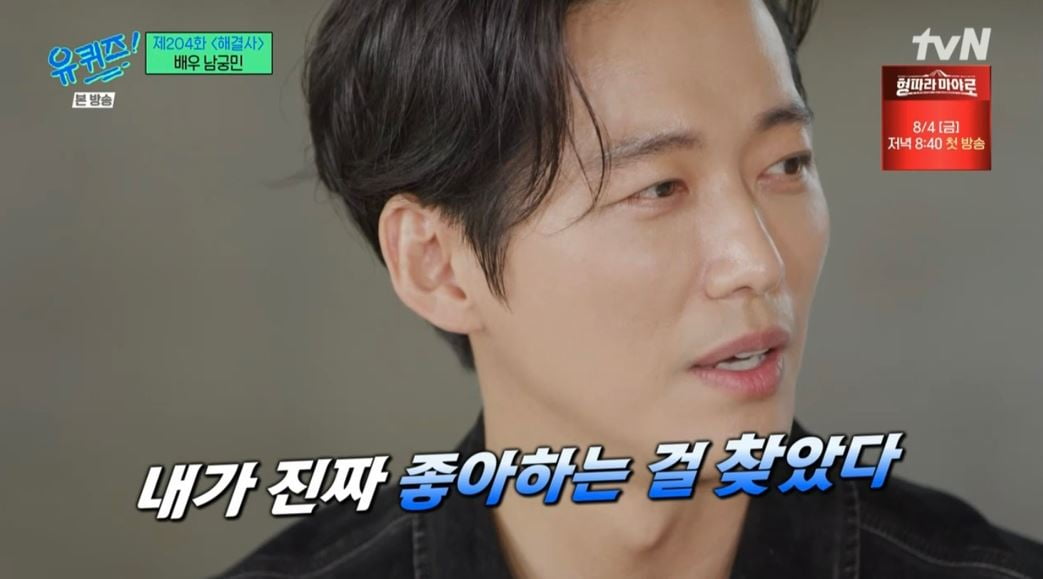 Actor Namgoong-min mentioned an anecdote from his rookie days when he was passionate about acting in the variety show 'You Quiz on the Block'.
In the 204th episode of the TVN entertainment show 'You Quiz on the Block' (hereinafter referred to as 'You Quiz') aired on the 26th, the actors who show 'life characters' in each of the dramas 'Stove League'
, '
Manager Kim', and 'THE VEIL' Namgoong Min appeared.
Namgoong-min mentioned the recent situation after marriage with actress Jin Ah-reum. He's too busy. I memorize and prepare for the drama shooting. I think he will be less busy than Yoo Jae-seok," he replied. Then, Yoo Jae-seok, a broadcaster, joked that he seemed to be busier than me. Everyone burst into laughter when he replied, "If you want to fill it, you can fill it up."
Yoo Jae-seok asked Namgoong-min, who showed off his muscular body through the drama
'
THE VEIL
',
about his changed physique. Namgoong-min said, "I don't have anything right now. Isn't it called 'fashion muscle' in a vulgar language?" He said, "I originally weighed 58kg in my early twenties. I started working out because I looked weak, but as I was doing the drama 'Black Sun', I thought, 'Wouldn't someone really have to be muscular to take down someone in one shot here?'" he added.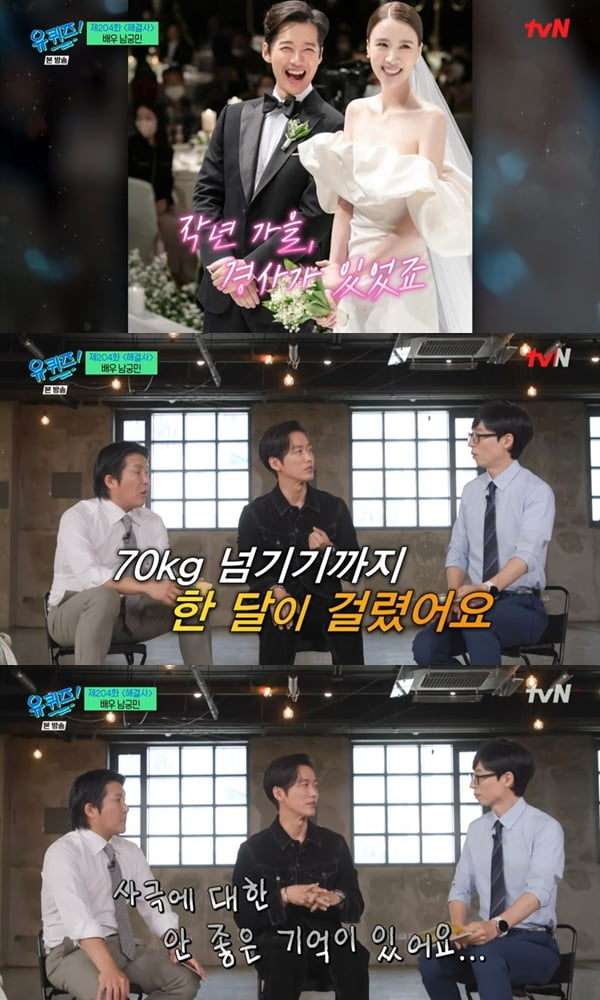 He also revealed a hard anecdote while working out to grow his body. He said, "I thought I was going to die. I weighed 66kg before bulking up, but it took me a month to get over 70kg. Once I went up, I went up to 80kg. At that time, I was very angry. I felt like I could win everything." Then, due to his changed physique, he replied, "When I rode the elevator, my eyes were always (I was confident), but these days, when I open the door, I'm a bit calmer."
Next, Namgoong-min, who is scheduled to meet viewers on August 4 with the MBC drama
'
My Dearest
'
, explained an anecdote about a historical drama that he has been filming for the first time in a while. He said, "I have bad memories of historical dramas. I was a newcomer and my acting in historical dramas was insufficient. I filmed for almost a year, but I got used to it, so the filming was over." .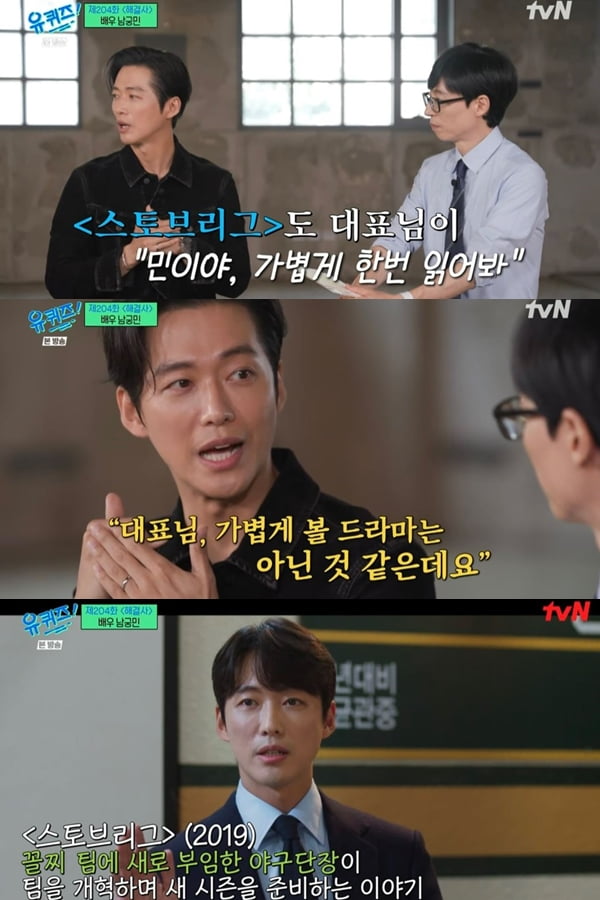 In particular, most of Namgoong Min's recent works, such as the dramas 'Stove League' and 'Thousand Won Lawyer', were mostly new writers or directors. In response to a related question, he said, "There were a lot of new directors in the works that I thought were interesting. For 'Stove League', the CEO also gave me a script to read lightly. But it was not a story to be taken lightly. When I met him, he was a new writer.
Namgoong-min, who shows a new look through acting transformation every time, talked about the criteria for choosing a script. He explained, "I'm not the type to analyze or think, so I tend to feel 'I have to do this' after reading the script for the first time unconditionally. Next, Yoo Jae-seok was amazed at the works that have hit the box office so far, saying, "Hasn't that feeling been right so far?", and Namgoong-min replied with a humble attitude, "Fortunately."
Namgoong-min, who continues to collaborate well with new writers, also revealed an episode related to his rookie days when passion was everything. In fact, Namgoong-min started acting in earnest after his senior year at university. He explained that he was a graduate of the Department of Mechanical Engineering at Chung-Ang University and did not fit the aptitude for the major, and that he started auditioning because of a talent advertisement for company M that he happened to see. He asked his mother, "'Should I apply?' When I said it, my mother didn't say anything and just laughed." Then, he said, "Celebrities are great people. You are not that kind of person." After that, he took all the exams at the broadcasting station, but said he failed all of them. However, he answered that he enjoyed acting and walked the path of an actor in earnest.
He explained the driving force behind the arduous time, saying, "I was so passionate. He continued, "While acting, the wind blew the lighting stand and knocked it over. It wasn't my fault, but that was the time when I was swearing. 'Hey, this is XX. It's because of you'. I was standing still. The source of all NG was me. He also mentioned the situation where he was insulted on set.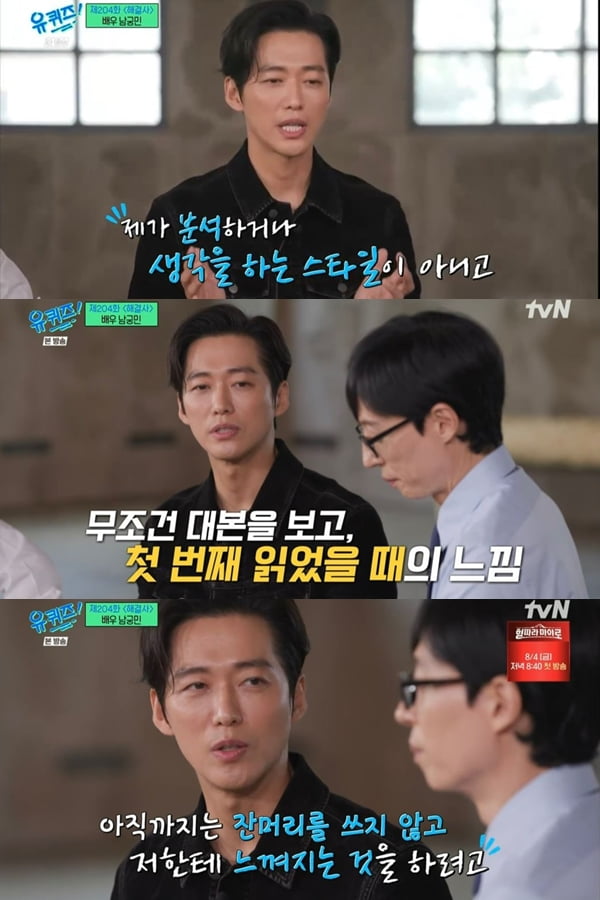 However, Namgoong-min recalled the past, saying that the reason he endured difficult times was because acting was fun. Even though he was cursed at the filming set, he said, "I felt good when I went home because I acted. I was so happy. I wasn't sad at all." To Namgoong-min, who persevered through that time, Yoo Jae-seok couldn't help but admire, saying, "If you're like me, you'll probably shed tears on set, but your mental strength is amazing."
Namgoong-min has acted out his life in 'Stove League' and
'
Manager Kim
'
as Seung-soo Baek and Chief Kim, respectively. Then, Yoo Jae-seok and Jo Se-ho handed over a panel with pictures of the two characters. When asked which character Yoo Jae-seok took longer to play, Namgoong-min chose Chief Kim. He mentioned acting references, saying, "Even now, it looks like 'Crazy X'.
Then, when asked if there was a line that was the most memorable among the two dramas, Baek Seung-soo said the line from 'Stove League'. He recalled, "The line, 'Some people are born on third base and think they hit a triple' was so cool." He continued, "It was also the last part of the filming, but I felt the days I lived as a leader, and I felt sincerity, not acting."
Lastly, Namgoong Min left a video letter to himself, who has been steadily acting. He said, "I think that you became a person who can take responsibility for your work and become a source of strength because you endured well with your passion for acting. You'll be able to do well. Let's believe. Let's have self-esteem."
Reporter ha neul Lee, Ten Asia greenworld@tenasia.co.kr