MUSIC
Lim Young-woong's 'Baram' cover, 16 million views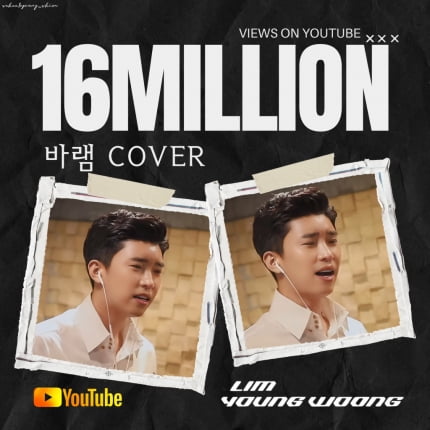 Lim Young-woong's 'Baram' cover video continues to gain popularity.
In 2017, a video titled "Lim Young-woong Cover Hope (Noh Sa-yeon)" was posted on Lim Young-woong's official YouTube channel.
The video shows Lim Young-woong singing 'Hope' passionately.
His extraordinary singing ability captured the ears and hearts of fans.
Accordingly, the video exceeded 16 million views as of November 12th.
These records make us realize his extraordinary popularity.
Meanwhile, Lim Young-woong is carrying out the 2023 national tour concert 'IM HERO' starting in Seoul, Daegu, Busan, Daejeon, and Gwangju.
The Seoul performance was held at KSPO DOME on October 27th, 28th, and 29th and November 3rd, 4th, and 5th. He will be holding a Daegu concert at Daegu EXCO East Hall on November 24th, 25th, and 26th.
Afterwards, the Busan concert will be held on December 8, 9, and 10 in Halls 1 and 2 of BEXCO Exhibition Hall 1, and the Daejeon concert will be held on December 29, 30, and 31 at Exhibition Hall 2 of Daejeon Convention Center. Additionally, the Gwangju concert will be held at the Kimdaejung Convention Center on January 5, 6, and 7, 2024.
Ryu Ye-ji, Ten Asia Reporter ryuperstar@tenasia.co.kr