MOVIE
The movie 'Pot Generation', a science fiction comedy about the unimaginable journey of 'becoming a parent'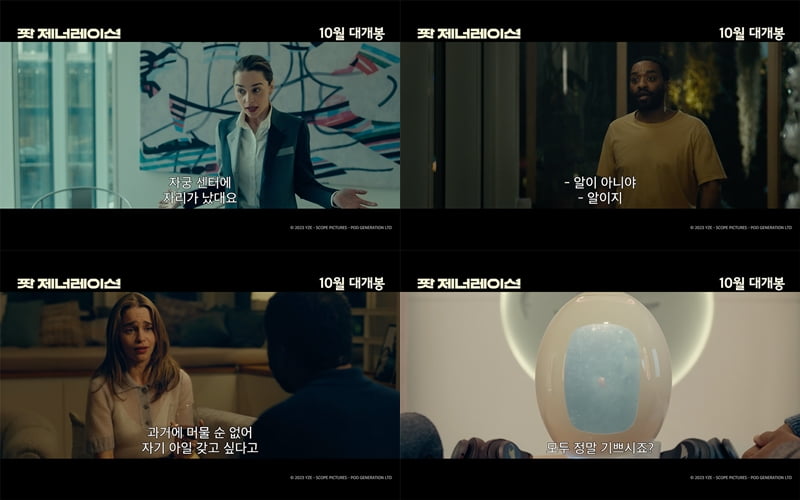 The movie 'Pot Generation' (directed by Sophie Barth) has confirmed its domestic release on October 3rd.
'Pot Generation' is a science fiction comedy about a newlywed couple's unimaginable journey of 'becoming parents' who decide to become pregnant and give birth through an artificial womb, 'Pod', in a near future where technology has surpassed nature.
This is a new work by director Sophie Barth, who has entered leading overseas film festivals with the films 'Lend Your Soul' and 'Madame Bovary'. It is a film that stands out for its novel and provocative setting that pregnancy and childbirth have become convenient and equal experiences through an artificial womb.
Actress Emilia Clarke of 'Game of Thrones' and 'Me Before You', and Chuitel Ejiofor of '12 Years a Slave' and 'Doctor Strange' will appear. It was invited to the World Cinema section at the 24th Jeonju International Film Festival.
The teaser trailer shows a worldview in which pregnancy and childbirth have become convenient and equal experiences thanks to the artificial womb. 'Rachel' (Emilia Clarke) is happy with her colleagues that there is a position at the womb center, but her husband 'Albie' (Tzuitel Ejiofor), who is skeptical about artificial uterine pregnancy, treats the pod like an egg and says, "We are waiting for the baby to come out of the egg." "You bet," he said angrily.
'Rachel' convinces him that she wants to have Alvy's child, saying, "We can't dwell in the past," and the two, who visit the womb center, spend each day changing with Pod. The unique visuals, such as unidentified spheres hanging from a huge tree, an eyeball-like AI, and passengers boarding the subway with a large egg-shaped pod, as well as Emilia Clarke and Chuitel Ejiofor immersed as future New Yorker newlyweds, are eye-catching. It makes it impossible.
Based on the chemistry between the two actors, the emotional changes of the characters who experience becoming parents for the first time can be clearly felt, raising curiosity about what kind of family birth the two main characters will show.
The movie 'Pot Generation' will be released in Korea on October 3rd.
Reporter Ha-neul Lee, Ten Asia greenworld@tenasia.co.kr