ENTERTAINMENT
'Lee Saeng-Jal' Shin Hye-sun ♥ Ahn Bo-hyun, happy ending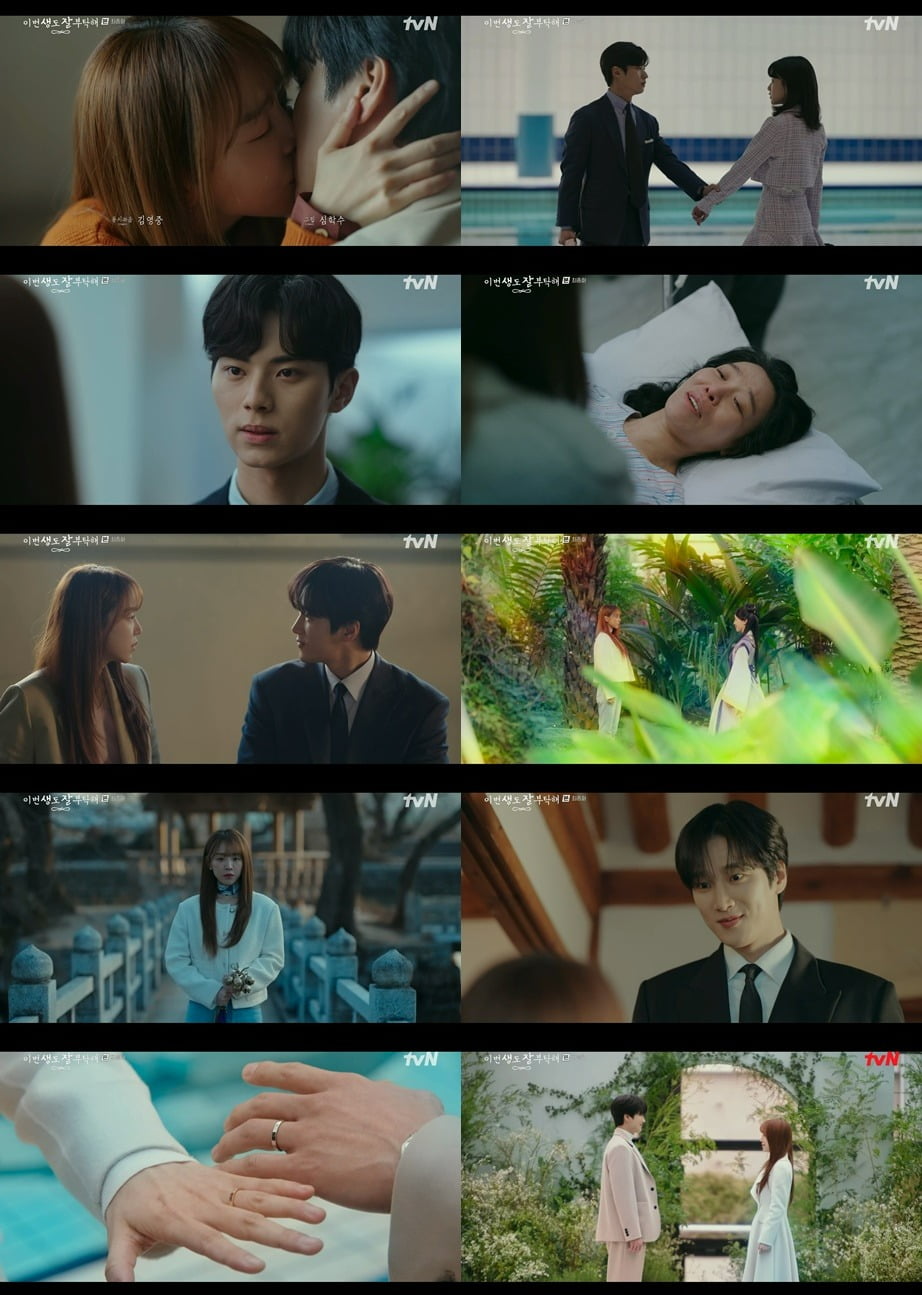 tvN's 'Take Care of This Life' has come to an end.
In the 12th episode of tvN's Saturday and Sunday drama, 'Take Care of This Life', which aired on the 23rd, Ban Eum (Shin Hye-seon) realized that the curse of remembering her previous life began with herself, and Document Ha (Ahn Bo-hyun), who worried about her in her first life and in this life. person) thank you. Afterwards, Ban Eum found Kang Min Ki (Lee Chae Min), and Kang Min Ki begged Ban Eum for forgiveness, saying, "I regret it and wanted to make up for it somehow." Along with this, Ban Yin decided to live a life that did not remember her previous life, but the responsibility that followed was great. When the life of remembering the previous life is over, all memories related to the previous life will disappear.
"I hate to forget. I want to remember. Documenting "I'll go find the ringtone this time. I'm confident that the half tone I know will love me even if they don't recognize me. The confidence to have you by my side. don't worry go From now on, I will remember everything," he promised to go to Ban Geum first, and Ban Geum reset all his past life memories up to the 18th episode. Afterwards, Mun Mun-ha, Yun Cho-won (Ha Yoon-kyung), Ha Do-yoon (An Dong-gu), and Kim Ae-kyung (Cha Cheong-hwa) approached Banjim as a meeting pretending to be a coincidence, and as the documenting Baneum did to him, "Judgement If it's difficult, would you like to go out with me? Mr. Banjium, starting today, I will confess only three times. If you refuse all three times, I will give up cleanly," he said, "Would you like to go out with me? This is my first confession in this life."
# Shin Hye-sun - Ahn Bo-hyun - Ha Yoon-kyung - Andong-gu all shined in romance chemistry
'Take care of this student' showed a reincarnation romance without a sense of déjà vu with a new perspective and high-density storytelling while using the 19th episode of life to remember the previous life as the subject matter. In addition, while taking advantage of the advantages of the original webtoon, the original story of the drama, including the fight in the MI Hotel, was used to make viewers fall in love with thorough fun. In particular, Shin Hye-seon, Ahn Bo-hyun, Ha Yoon-kyung, and Andong-gu helped induce viewers' over-immersion with chemistry and romance that maximized the narrative and charm of each character. In addition, it succeeded in captivating even the MZ generation through dialogues and settings where the charm of the 19th episode of life is alive and the charm of the 19th episode of life is buried. Accordingly, 'Take Care of This Student' steadily recorded 2.3 million, 1.9 million, 1.7 million, and 2 million views from the end of June, entering the Netflix Global TOP10 TV (non-English) category for 4 weeks, and Shin Hye-sun, Ahn Bo-hyun, and rookie Lee Chae-min. etc., was listed in the Top 10 keywords for drama search issues investigated by Good Data Corporation, and it vomited its spirit to keep various topical indicators and top ranks in OTT rankings even among competitive works.
# The power of consolation shown by Shin Hye-sun in the 19th episode of her life
'Take care of this student' properly showed the power of consolation through the 19th episode of Ban Geum. The original author Hye Lee said, "Everyone has to let go of someone they love at least once. Through the character setting of Ban Geum, 'Wouldn't the person I loved live a new happy life somewhere, in a different form, even though I don't remember it?' Like the saying, 'Take care of this life too' warmly sends away loved ones such as Mun Mun-ha, Yoon Cho-won, Kim Ae-kyung, and Ban-eum's mother Jo Yoo-seon (played by Kang Myung-joo) through Banzium who remembers their past lives. comforted In response, in the play, Ban Geum said, "I want to be happy with the people I love until the end of this life. Just like the line, "I was born for that in this life," it created a special moment that comforted me in every moment and embraced my pain.
Above all, what made this possible was Shin Hye-sun's solid acting skills. In a well-structured worldview, Shin Hye-sun clearly proved her existence as a K-fantasy romance queen by portraying the 19th episode of her life with unlimited acting skills, thanks to her diverse life spanning over a thousand years.
Kim Seo-yoon, staff reporter seogugu@tenasia.co.kr