ENTERTAINMENT
Following Jang Won-young, Jackson also suffered… Body frozen in skinship that hooked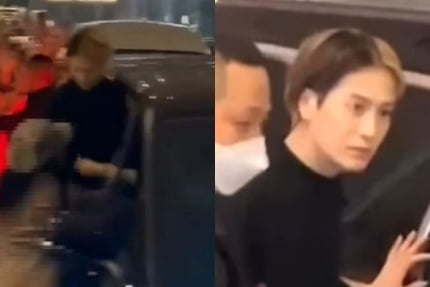 Jackson, a member of the idol group GOT7, was very embarrassed when a female fan tried to touch him.
Recently, a video of Jackson, a member of GOT7, receiving a surprise hug from a fan spread as it is in several online communities. Jackson attended an event held in Thailand on the 22nd and was on the road with a bodyguard.
The moment Jackson stepped into the car, a female fan wearing a mask broke through the security guard's gap and approached the car and hugged Jackson's waist. The fan grabbed GOT7 by the upper body and dragged him out of the car, and Jackson, surprised by the sudden contact, got out of the car again.
The bodyguard quickly stopped the woman, but Jackson, as if very surprised, stood still, staring blankly at the woman's disappearance. After confirming by touching his upper body, Jackson expressed his bewilderment by asking about the woman in question.
The video became a hot topic among Jackson's overseas fans, and local Thai fans also expressed their apologies to Jackson, who was angry and surprised. Some questioned whether the poor bodyguards were a problem, but Jackson's Thai fans They posted an apology online. They respected Jackson's privacy and personal space and made sure that his safety came first.
Reporter Ryu Ye-ji and Ten Asia ryuperstar@tenasia.co.kr