TV
Lee Dae-ho "I was raised by my father and grandmother who passed away when I was 3 years old."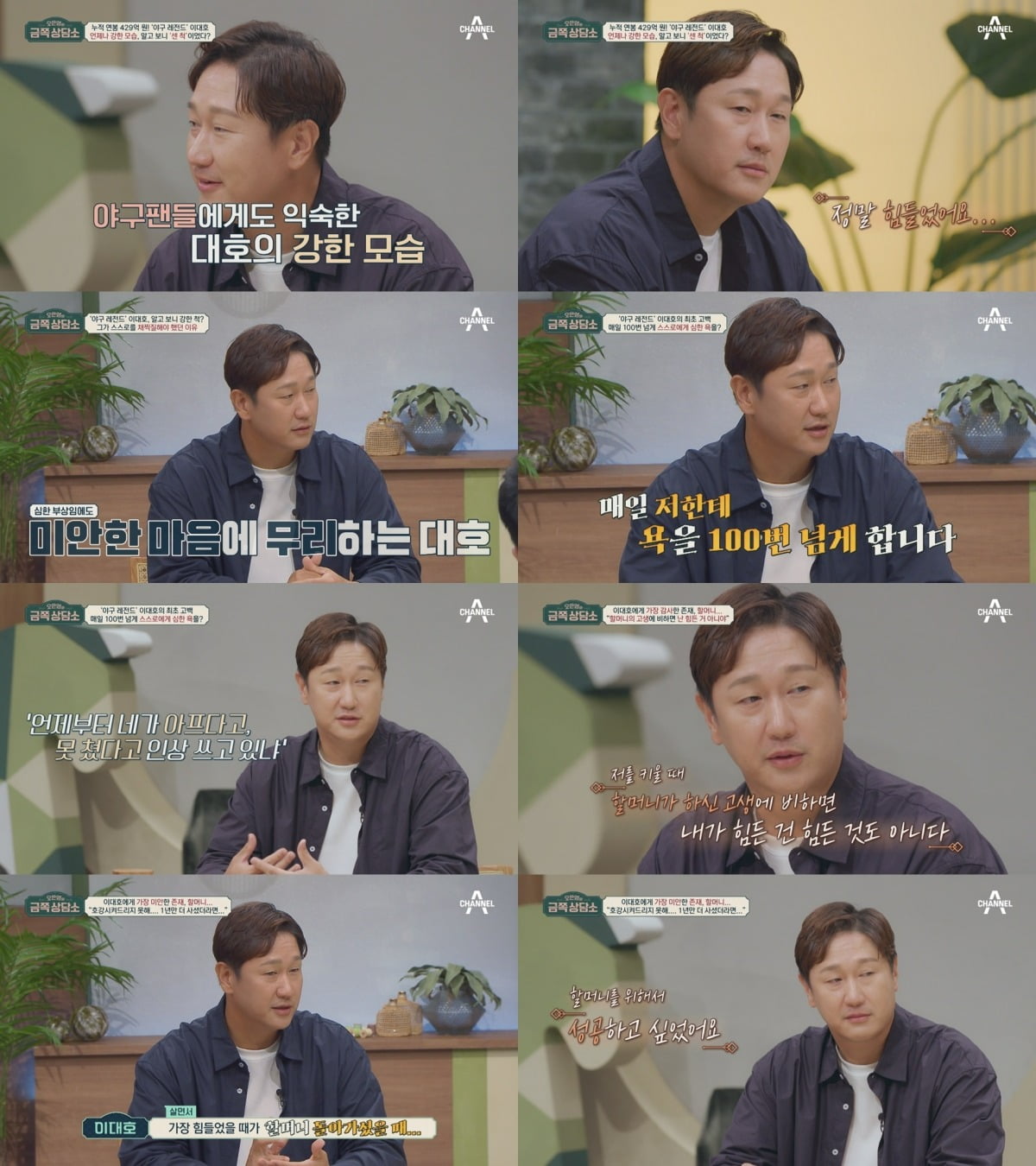 In Channel A's entertainment show 'Oh Eun-young's Golden Counseling Center', which airs today (21st), the concerns of 'Joseon's No. 4 hitter' Lee Dae-ho, who achieved a total annual salary of 40 billion won, are revealed.
Lee Dae-ho knocks on the door of the counseling center and introduces himself as a 'broadcaster' rather than a 'former baseball player', causing laughter. Next, for Lee Dae-ho, who dreams of becoming a professional broadcaster, MC Park Na-rae teaches the one-point 'mukbang reaction' and makes the counseling center's family burst into laughter.
On this day, Dae-ho Lee shares his concerns, "How should I give advice to my son who wants to become a baseball player?" He is becoming a strict father to his son, who is still in the first grade of elementary school, telling him, "Don't pretend to be sick even if it hurts," and "If you show weakness, I won't let you play baseball." Although he wants his son to have fun playing baseball, he maintains that he must be strong when playing baseball, saying, "Even if it hurts, you have to endure it. Even if you break a bone, it's not something that can be solved by crying."
Dr. Oh Eun-young listens to Lee Dae-ho's concerns and listens closely to why he insists on appearing so strong. Lee Dae-ho has always shown himself to be strong enough that even the players on his team were afraid of him, but he revealed, "I am actually soft-hearted and cries a lot," raising the suspicions of the counseling center's family. He then confessed his past hardships, saying that he cried when he read an article criticizing him, and that he also had a hard time alone thinking, "How much better do I have to do, how good of a grade do I have to get for people to notice me?"
Next, Dae-ho Lee reminisces about the past when he quietly played the game despite a major injury in order to avoid showing weakness. He raised a baseball bat even though he could not move his arm due to a dislocated shoulder, and even though he sprained his ankle and was diagnosed with a 4-week hiatus, he confessed that he took painkillers and took off the cast in 3 days and played the game, arousing regret. Dae-ho Lee also expressed his desire to do better than anyone else, saying, "I am sorry to the fans for not being able to bring the team a championship even until I retire." However, he also confessed that he was hurt by the fans' extreme behavior when he lost the game. In extreme cases, he said, he threw pig's trotter bones, set fire to buses, and even threw stones at restaurants, breaking windows. Because of this, he had to wear a hat and keep his head down for a while, and he confessed that there were times when he was afraid of people recognizing him and asking, "Are you Lee Dae-ho?"
Dr. Oh Eun-young, who was listening to the story, says that Dae-ho Lee is afraid of disappointing others because he pretends to be strong, and asks what he does to calm himself down when that happens. Lee Dae-ho carefully reveals, "He cursed at me 100 times every day," and confesses that he could not stop whipping himself even after retirement. In response, Dr. Eunyoung Oh expressed her regret, saying, "You are saying harsh self-criticism and saying the most hurtful things to yourself when you hear them from others." He then analyzes that "if you are afraid of disappointing others or feel sorry for failing to live up to their expectations, you beat yourself up," and asks who the person Dae-ho Lee was trying to live up to was.
After thinking about this carefully, Dae-ho Lee chooses his grandmother, who raised him alone, instead of his father, who passed away when he was 3 years old, and his mother, who returned home. He recalled that his grandmother made a living selling seasoned bean leaves at a street vendor, and that she supported him playing baseball, even leaving her double ring at a pawn shop. As I watch my grandmother always having trouble sleeping, I tell myself that my hardships are not as difficult as my grandmother's.
However, his grandmother eventually passed away at the age of 18, before he could make his professional debut, and he lost his dream of helping his grandmother improve, so he gave up baseball. Then, as the most poignant memory, my grandmother asked me to buy her a bulgogi burger before she passed away, but I bought her another hamburger because I didn't have the money, and I confessed my bitter feelings, saying that I will regret it for the rest of my life, bringing tears to the eyes of the family at the counseling center.
In response, Dr. Eun-young Oh said, "I have endured even self-criticism because I do not want to disappoint the expectations of people who are grateful to me," and "I have a strong love for family and am highly satisfied with my marriage, and I consider my wife to be the object of my attachment," according to Dae-ho Lee's MMPI (Multifaceted Personality Index). Test) Explain the results. Lee Dae-ho, who agreed to this, confessed, "My wife is the person my grandmother gave me from heaven," and expressed his deep love for her, adding a cheerful tone to the studio atmosphere.
'Oh Eun-young's Golden Counseling Center' airs every Tuesday at 8:10 p.m.
Taeyuna, Ten Asia Reporter youyou@tenasia.co.kr