TV
"Jeong Da-kyung takes good care of me"... 'Mr. Trot 2' Park Ji-hyun, strong friendship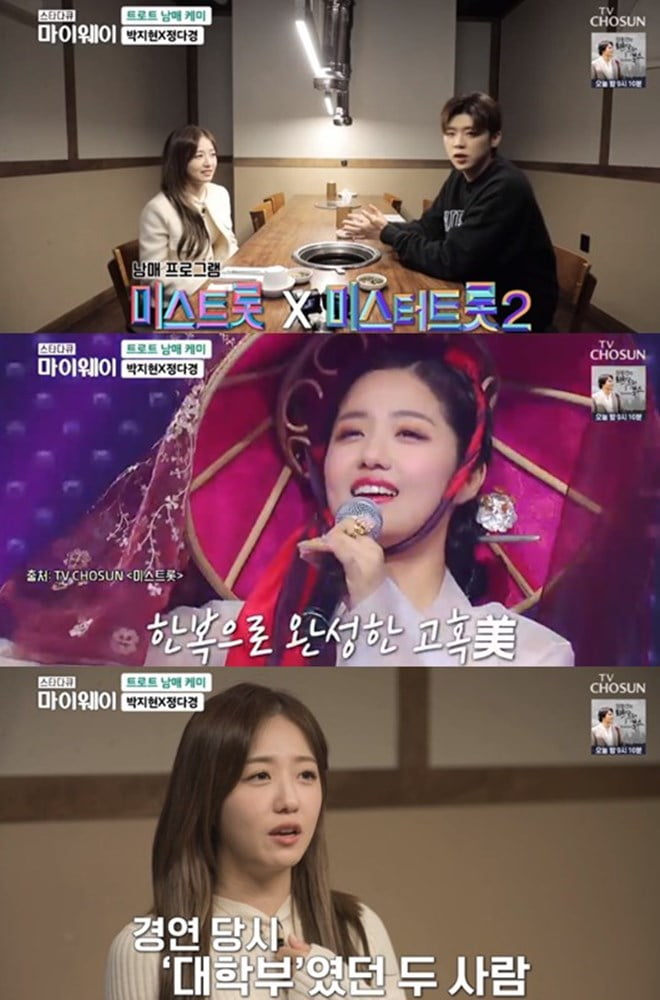 Singer Jeong Da-kyung showed off her brother-sister chemistry with 'Mr. Trot 2' actress Park Ji-hyun.
Da-kyung Jeong appeared on TV Chosun's 'Star Documentary My Way' (hereinafter referred to as 'My Way'), which aired at 7:50 pm on the 19th.
On this day's Star Documentary, the real story of 'Mr. Trot 2' Jin Seon-mi was depicted. Da-kyung Jeong was invited by Park Ji-hyun of 'Mr. Trot 2' and caught the attention of viewers by sharing various stories. When Park Ji-hyun mentioned the '12 Lines' stage of 'Miss Trot' and said, "I was impressed by my sister's performance," Jeong Da-kyung also recalled the past and evoked warmth.
Jeong Da-kyung recalled the memory, saying, "I first met (Park Ji-hyun) on 'I Like Tuesday Nights'," and when Park Ji-hyun thanked her for taking care of her when she was not good at broadcasting, she showed off her easy-going charm and made people laugh.
Later, when Park Ji-hyun asked how she was doing after 'Miss Trot' ended, Jeong Da-kyung said, "I also released a new song 'Good' in 2022," and mentioned various musical attempts, making viewers pay close attention.
Meanwhile, Da-kyung Jeong plans to continue meeting fans through various broadcasts in the future.
Ryu Ye-ji, Ten Asia Reporter ryuperstar@tenasia.co.kr