TV
'Homosexuality' Baek Sung-hyun betrayed his lover Lee Poong-woon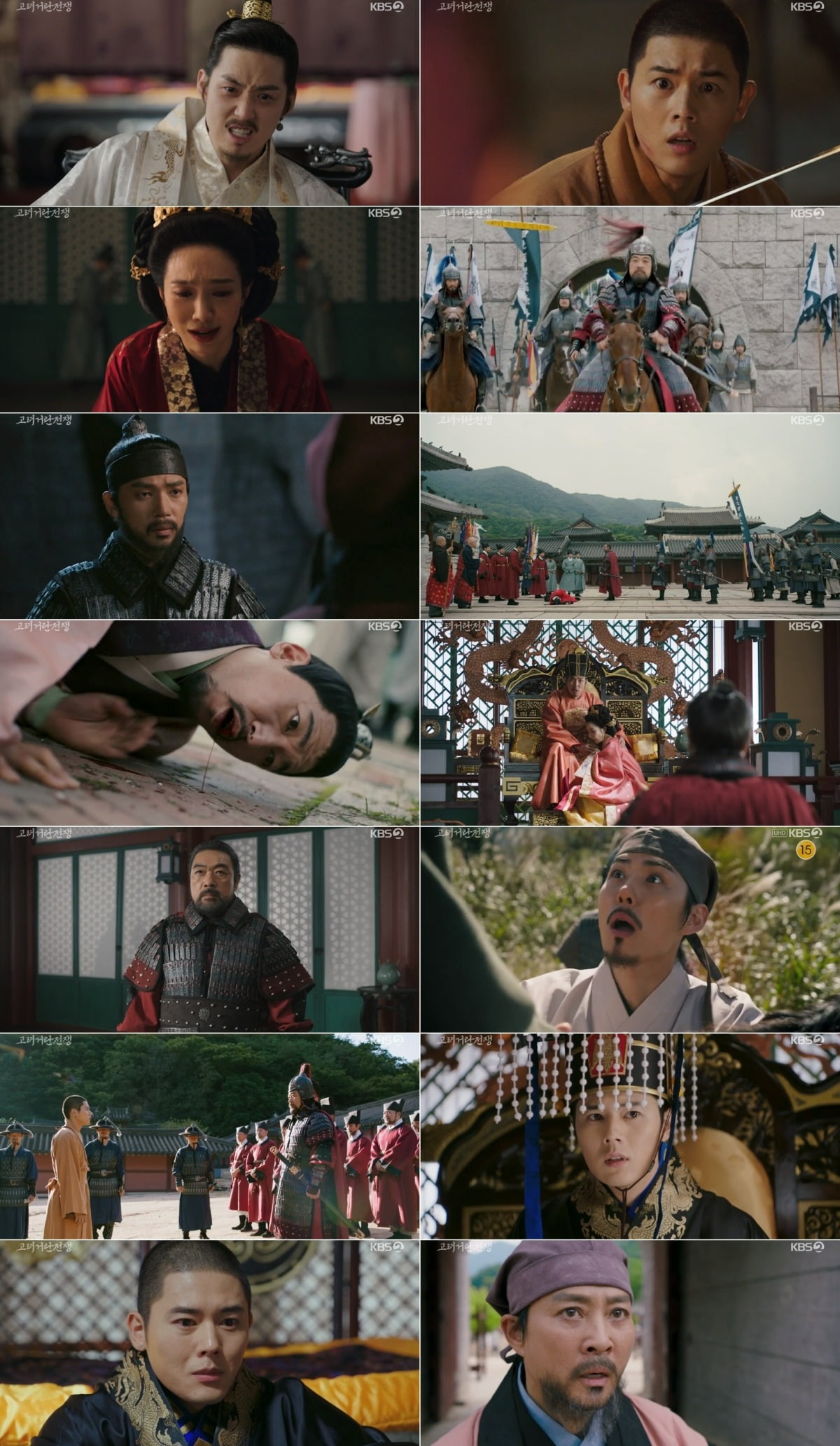 Mokjong met a tragic end due to Gang Jo's coup.
In the 3rd episode of KBS 2TV's epic drama 'Goryeo Khitan War', a special project for the 50th anniversary of KBS Public Broadcasting, which aired on the 18th, the tragic disaster of Mokjong (played by Baek Seong-hyeon), who was assassinated due to a coup committed by Gang Jo (played by Lee Won-jong), and the subsequent rise to the throne. The appearance of Dae Yang Won-gun (played by Kim Dong-jun) was depicted.
Previously, Empress Cheonchu (played by Lee Min-young), who was in a confrontational relationship with her son Mokjong over the nomination of Goryeo's successor, threw the imperial family into confusion. Kim Chi-yang (played by Gong Jeong-hwan) ordered Lee Ju-jeong (played by Lee Chang-jik) to set fire to the palace, and Mokjong was trapped in the flames along with Haeng-gan (played by Lee Pung-woon), making viewers sweat.
Mokjong, who barely regained consciousness, was shocked to learn that fires broke out simultaneously in the palace. Convinced that it was Empress Dowager Cheonchu's atrocity to dethrone him from the position of emperor, Mokjong decided to keep the royal seal and not accept his mother's regentship.
To make matters worse, upon hearing that Kim Chi-yang was leading the military and preparing for an uprising, Mokjong ordered Dosun Prosecutor Gang Jo to come to Gaegyeong and eradicate Kim Chi-yang. In addition, Shinhyeolsa told him to immediately bring Daengyangwongun, who was being oppressed by Empress Dowager Cheonchu, to Gaegyeong.
Meanwhile, Kang Gam-chan (Choi Soo-jong), who saw armed soldiers in the village, realized that the village leaders were preparing for an uprising. Gang Gam-chan, who judged that if Mokjong, who had been appointed by the Khitan emperor, was assassinated, would give a justification for an invasion, he rushed straight to Gaegyeong.
After hearing the tragic news that His Majesty Seongsang had returned from exile and that Kim Chi Yang had taken control of the palace, Gang Jo also led his troops and headed to Gaegyeong. He decided to rebel by advancing to Gaegyeong, killing Kim Chi-yang, and installing Daeryangwongun as the new emperor.
As he was getting closer to Gaegyeong, Gang Jo heard from the cavalry that His Majesty Seong Sang was still alive and that Miss Kim Chi had not been able to conquer the palace. Gang Jo, who was in agony, eventually decided to revolt and correct the chaotic Goryeo Dynasty. He stormed into the palace with his soldiers.
In response, Mokjong betrayed his lover Haeng Haeng-gan (played by Lee Poong-un). The ministers tried to stop the rebellion by saying to Gang Jo, "His Majesty said that he deeply cared about Prosecutor Do Seung's feelings. He presented this person like this as proof of that." In response, Hyung-gan betrayed both sides, saying, "What crime am I guilty of? It's all your Majesty's fault." However, Gang Jo executed Kim Chi-yang, her son, and Haeng Haeng-gan one by one and stood before King Mokjong and Empress Dowager Cheonchu.
Gang Jo told the two people, who were hugging each other and trembling in fear, to leave Gaegyeong, saying, "If you had corrected this Goryeo a little earlier, Soshin would not have become a traitor." King Mokjong met a tragic end when he was cut to death by swords wielded by soldiers while leaving Gaegyeong with Empress Cheonchu.
At the same time, Daeyangwongun returned to Gaegyeong and entered the palace after receiving Mokjong's order to ascend to the throne. Daeyangwongun's heart swelled as he looked at the people cheering for him. However, he was deeply shocked when he soon learned that His Majesty Seongsang had been assassinated in a rebellion by Gang Jo.
Wang Sun, wearing the emperor's attire, passed through the rows of subjects and finally climbed onto the dragon statue. Gang Gam-chan, who arrived at the palace just in time, stopped at the shouts of hurray from his subjects, and soon learned that His Majesty Seongsang had passed away and Daeryangwongun had ascended to the throne as emperor.
In addition, the scenes of Yang Dae-yang, who is trembling with fear as he looks at Gang Gang, and Gang Gam-chan, who is worried about the national crisis that will come to Goryeo, made people curious about future developments.
Episode 3 of 'The Goryeo Khitan War' aired on this day recorded a viewership rating of 5.2%. The scene where Gang Jo visits Yang Gyu (played by Ji Seung-hyeon) ahead of the coup and informs Daengyangwongun, who has returned to the palace, that His Majesty Seongsang has passed away due to the treason he caused, instantly rose to the highest viewership rating of 5.7%.
Taeyuna, Ten Asia Reporter youyou@tenasia.co.kr