TV
Lee Kwang-soo, Kim Woo-bin, Do Kyung-soo, Kim Ki-bang shake up rural life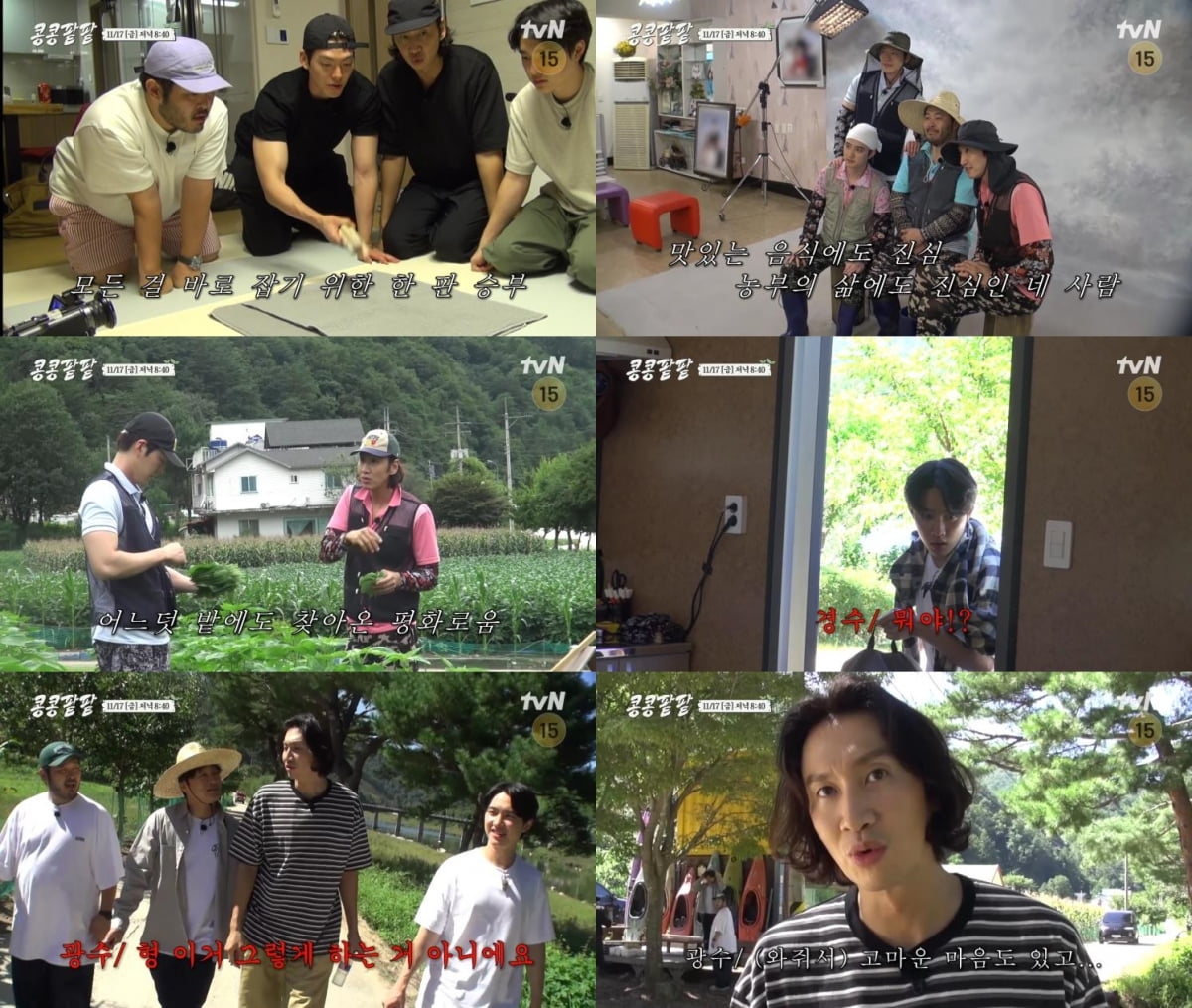 Actors Lee Kwang-soo, Kim Woo-bin, Do Kyung-soo, and Kim Ki-bang create unique memories with Cha Tae-hyun.
Cha Tae-hyun appears as a special guest on tvN's 'I Plant Beans, and Red Beans Grow' (hereinafter referred to as 'Kong Kong Red Bean Red Bean'), which airs on the 17th, and shows off his unique presence. Cha Tae-hyun is expected to repeatedly hit viewers' laughter buttons with his delightful performance that will shake up the peaceful rural lives of Lee Kwang-soo, Kim Woo-bin, Do Kyung-soo, and Kim Ki-bang.
On this day's broadcast, you can see the colorful moments of novice farmers who are sincere about the life of a farmer. They are heavily armed with sentimental costumes and items and take commemorative photos at a photo studio, exuding a friendly charm and doubling the fun. The sight of four people who have become accustomed to working in the fields, tending and harvesting crops, provides healing.
In particular, Cha Tae-hyun makes a surprise appearance, surprising Lee Kwang-soo, Kim Woo-bin, Do Kyung-soo, and Kim Ki-bang. They reveal their ambitious plans to create a flower garden. Cha Tae-hyun says, "Is this a one-year plan?" and teases Lee Kwang-soo by saying, "Let's just go rafting today." Lee Kwang-soo said with a straight face, "Brother, that's not how you do it," drawing attention to their bickering chemistry.
Previously, the cast of 'Kongkong Red Bean Red Bean' lost a badminton match against the production crew, who were badminton players, and won the opportunity to not only install sprinklers but also make perilla leaf pickles and perilla leaf mojitos for the staff. Afterwards, while listening to the production team having a meeting at dinner, the cast proposed another fight. If the production crew wins, the performers will press the camera recording button, and if the contestants win, the production crew will wash the perilla leaves.
The event was decided by a round of 4-on-4 Yutnori, and the cast and production team competed not in ordinary Yutnori, but in Hunminjeongeum Yutnori, where the use of English is prohibited. They say unexpected overuse of English makes it difficult to predict victory or defeat. It stimulates curiosity as to whether Lee Kwang-soo, Kim Woo-bin, Do Kyung-soo, and Kim Ki-bang will be able to get revenge by playing Hunminjeongeum Yutnori.
Kang Min-kyung, Ten Asia reporter kkk39@tenasia.co.kr