TV
Lee Jang-woo, where is the double chin you got when you were 100kg? "5 times harder than the jungle"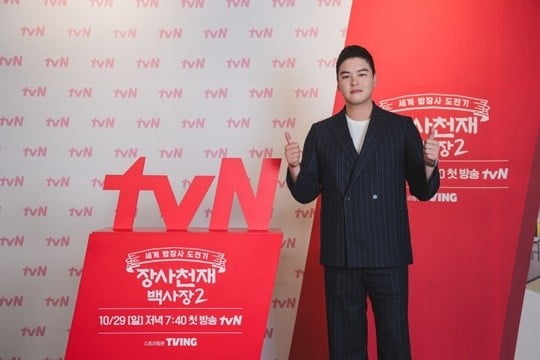 Actor Lee Jang-woo shared his thoughts on filming 'Business Genius White Sand Beach 2'.
On the 27th, the production presentation for tvN's new entertainment program 'Business Genius White Sand Beach 2' was held online. Attending the event were culinary researcher Baek Jong-won, actor Lee Jang-woo, Girls' Generation member and actor Kwon Yuri, singer John Park, and producer Lee Woo-hyung.
On this day, Lee Jang-woo said, "It was 5 times more difficult than the jungle program, but it was 10 times more rewarding. It is a program with a good purpose to promote Korean food."
He said, "After Season 1 ended, we became close enough to see each other several times a month. We ate food at Mr. Baek's house, but I thought we should go overseas and do business and have fun, so I persuaded him to think about having fun while doing a program." explained the process.
'Business Genius Baeksajang 2' is 'Baek Jong-won's World Restaurant Challenge' in which Baek Jong-won, the best restaurant management expert in Korea, takes on the challenge of starting a business and operating it in a wasteland of Korean cuisine. Season 1, which ended in June, showed the process of starting a Korean restaurant in Morocco, Africa and Naples, Italy, while Season 2 sets out to conquer the gourmet city of Spain, San Sebastian, as a franchise. First broadcast at 7:40 pm on the 29th.
Ryu Ye-ji, Ten Asia Reporter ryuperstar@tenasia.co.kr