TV
'Hi Cookie' Seo Beom-jun, innocent younger man → arrogant prince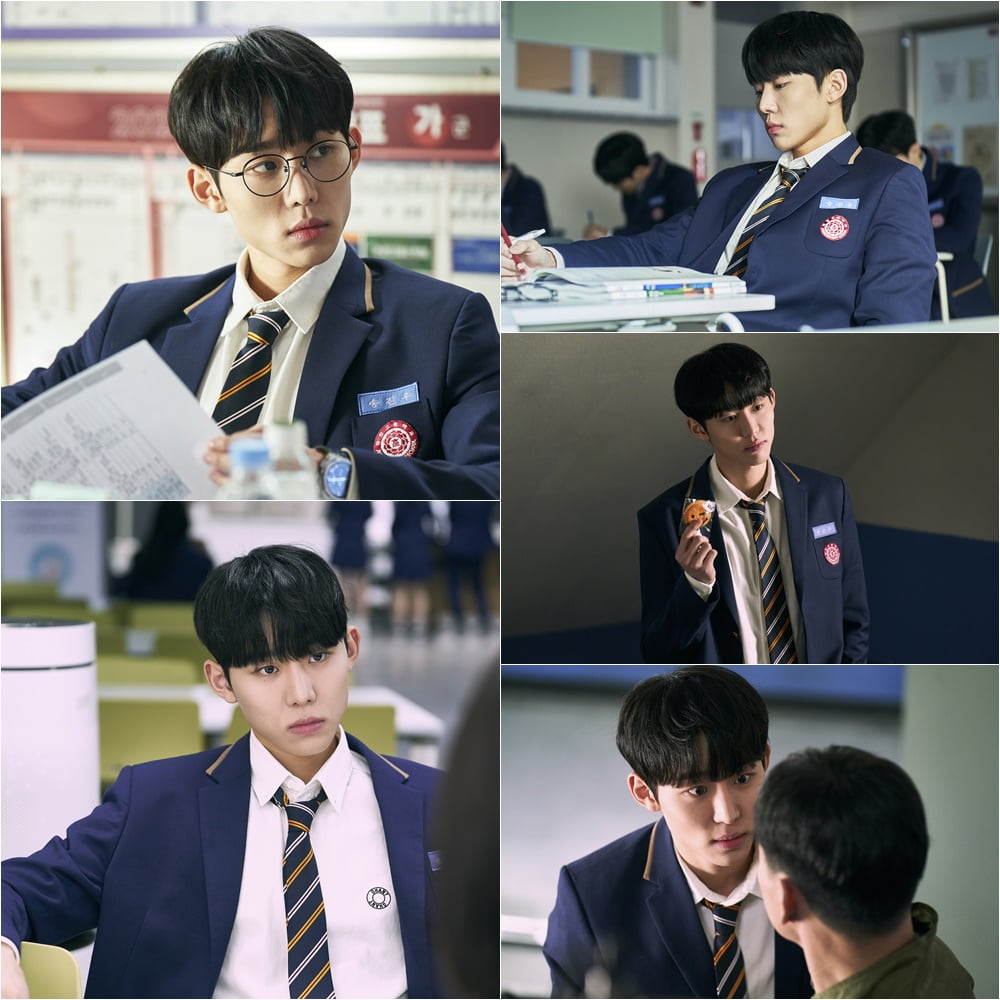 Actor Seo Beom-jun demonstrated his wide acting spectrum with an unprecedented transformation that boldly broke away from his existing 'nice, younger man' image.
Seo Beom-jun is the grandson of Jeonghan High School's chairman and class S in the U+Mobile TV original drama 'Hi Cookie' (written by Kang Han / directed by Song Min-yeop / planning: STUDIO X+U | production: Arc Media | co-production: Monster Union, STUDIO He plays the role of elite student Song Jin-woo and is giving a passionate performance. In the play, Song Jin-woo is the most powerful person at Jeonghan High School, a chic man with good looks, grades, and wealth, and is injecting tension into 'Hi Cookie'.
In particular, Seo Beom-jun, who showed a pure and bright character full of 'Dang Daengmi' in various works such as 'I Know', 'Director Park of Internal Medicine', 'Present is Beautiful', and 'You and My Police Class', has never done anything like this before through 'Hi Cookie'. He is attracting attention with an intense and powerful performance that has never been shown before. Playing the role of Song Jin-woo in 'Hi Cookie', he exudes a variety of charms, from a unique psychopathic aspect to a sweet appearance, as well as arrogance, imprinting an unrivaled presence. As a result, 'Hi Cookie' starring Seo Beom-jun has continued to be a box office hit, ranking first among Netflix non-originals and charting in the top 10 on Netflix in Korea, gaining word of mouth for its fresh material, compelling character play, and realistic portrayal of human desires.
First, Seo Beom-jun showed off his cool charisma with a relaxed attitude and calm tone of voice, just like Song Jin-woo, the most powerful person at Jeonghan High School. In episode 4 of 'Hi Cookie', he said to his classmate Seo Ho-soo (Choi Hyun-wook), "I like Choi Min-young. So, you should like Park Hee-jin from now on. I'll give you money. huh? "Don't bother me for no reason," he said, portraying a cold-hearted materialistic person who tries to solve anything with money. In the 9th episode, when Seo Ho-soo, who was considered easygoing, pretended not to know that he was an employee of Hi Cookie, he gave an explosive performance by tapping Seo Ho-soo on the cheek and getting angry, gradually expressing his anger through gradation.
Seo Beom-Jun also caught the eye with his subtle and crazy 'psychopath' appearance, which was contrary to his tall and warm appearance. In episode 9, where he torments Seo Ho-soo by putting his head in the water of the swimming pool, he shocks people with his eerie smile and murderous eyes. In episode 11, in the scene where he reveals the identity of the chef to Choi Soo-young (Nam Ji-hyun), he rolls his eyes at the fact that he was bullied by Seo Ho-soo. He overwhelmed the screen with his burst of madness.
On the other hand, Seo Beom-jun showed off his tsundere charm with his indifferent sweetness in front of sisters Choi Soo-young and Choi Min-young (Jung Da-bin). Unlike his usual expressionless expression towards other characters, he doubled his charm with a flushed face in front of curious women. Also, in episode 2, when Choi Min-young asked Seo Ho-soo to play the role of her boyfriend, she secretly expressed her feelings by making a jealous comment to Seo Ho-soo. In episode 8, after saving Choi Min-young's older sister, Choi Soo-young, who is living a double life under the name 'Lee Eun-seo' from a perverted male student, she smiled brightly at Choi Soo-young, and as if she knew Choi Soo-young's true identity, she said, "Soo-young's sister, now my sister's co-worker." He shook women's hearts with his breathtaking smile and flirting.
Viewers of Seo Beom-jun's 'sweet and salty acting' that combines a unique psychopathic feel and coolness at the same time said, "I didn't know Seo Beom-jun had this kind of charm!", "He has a chic and subtle madness, and I'm secretly excited.", "You can't tell at the beginning." "It looks cold without it, but it gets cuter as you go back!", "You're good at handling explosive emotional acting scenes too~", "Please show me more charismatic acting like this other than Dang Daengmi!" There was a lot of enthusiastic response.
Arc Media, the production company, said, "It seems that Seo Beom-jun, who has played a kind and upright character, left a strong impression in 'Hi Cookie' by showing a completely different face and attempting an unconventional acting transformation. You will see an amazing acting spectrum. "Please look forward to actor Seo Beom-jun's performance in 'Hi Cookie' in the future."
Meanwhile, 'Hi Cookie' starring Seo Beom-jun is a work that depicts the story of an elite high school being engulfed by a mysterious homemade cookie that makes desires come true with just one bite. One episode is released every Monday to Thursday on U+Mobile TV, and four episodes are released at once every Thursday on Netflix.
Ryu Ye-ji, Ten Asia Reporter ryuperstar@tenasia.co.kr