TV
Because of the ignorant production team, Park Eun-bin is in trouble... I didn't even know the administrative procedures.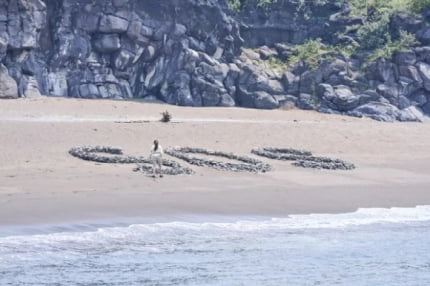 The production team of 'Desert Island Diva', starring actress Park Eun-bin, posted an apology after suspicions arose that they had left a pile of rocks used for filming unattended.
On the 13th, the Internet media 'Voice of Jeju' posted a photo of thousands of rocks piled up on Hwanguchi Beach in Jeju in an article titled 'Controversy over a nuisance drama that left piles of rocks unattended while filming on Jeju beaches without permission'.
The media said, "This is a scene from tvN's 'Desert Island Diva,' which aired on the 28th of last month, where the main character, Mok-ha, has been living alone on a remote, uninhabited island for 15 years and sends an 'SOS' signal with a rock. The shape matches perfectly with the stone used." He revealed, "The news that the drama was actually filmed at Hwang Woo-chi Beach has already become a hot topic on social media."
He then quoted the informant as saying, "I have often seen dramas being filmed in Jeju, but this is the first time I have seen such irresponsibility of not cleaning up after things." He added, "Recently, even at drama sites filming in the city, there are a series of complaints filed due to noise or traffic restrictions. "In this case, the issue seems to be more serious in that it is damage to nature," he said.
The media also raised suspicions about unauthorized filming of the drama.
In order to occupy and use public water for filming, cooperation and permission from the administrative city is essential, but in the case of this drama, it was confirmed that filming took place without such a process.
In relation to this, an official from the drama production company said, "There was a possibility of additional filming after filming this summer, so we gathered the stones in one place after consulting with village officials." He added, "We received cooperation from the village head for filming, but we did not receive cooperation during administration because we were not familiar with administrative procedures. I couldn't do it. "We will restore it to its original state as soon as possible," he explained.
An official from Seogwipo City said, "If unauthorized occupancy is found to be true through on-site inspection, we will proceed with administrative procedures such as ordering restoration to its original state."
Ryu Ye-ji, Ten Asia Reporter ryuperstar@tenasia.co.kr