TV
Kim Yun-woo, unable to see without tears ♥ Love for Namgoong Min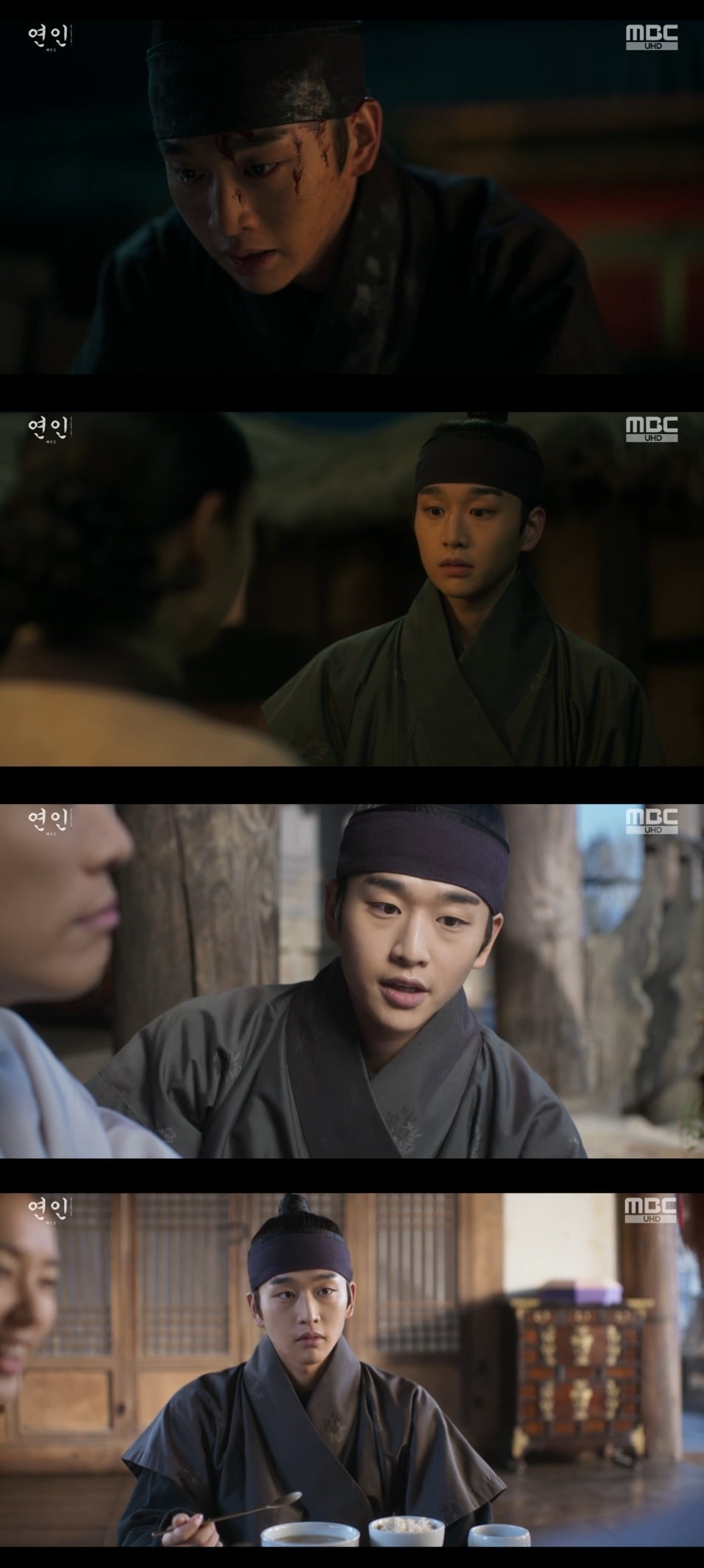 'Lover' Kim Yoon-woo put his feelings aside for a moment and made a choice for Namgoong Min.
In episodes 18 and 19 of MBC's Friday-Saturday drama 'Lovers', which aired on the 10th and 11th, Lee Jang-hyun (played by Namgoong Min) was depicted trying to bring prisoners taken by the Qing Dynasty back to Joseon. However, Lee Jang-hyeon was accused of being the leader of a treason plot, and Yang-eum's (played by Kim Yun-woo) emotions also fluctuated due to Lee Jang-hyeon's crisis.
Liang Eum helped Lee Jang-hyeon and Gu Yang-cheon (Choi Moo-seong) take the prisoners across the river and entered Joseon. However, the internal investigation slaves sent by the king blocked their group, and a battle broke out. Lee Jang-hyeon saved Liang-eum from being almost stabbed, but he was soon attacked by another slave, and Lee Jang-hyeon and Liang-eum fainted. When Liang Yin came to his senses, Lee Jang-hyeon had already been taken to the palace.
Liang Eum visited Crown Prince Sohyeon (Kim Mu-jun) to save Lee Jang-hyeon. Yang Eum, who met Crown Prince Sohyeon, explained everything that had happened and begged, "I don't know where Lee Jang-hyeon went. Please save Lee Jang-hyeon." Crown Prince Sohyeon sensed that this was something ordered by his father Injo (played by Kim Jong-tae) and went to see the king.
The next day, Liang Yin secretly infiltrated the palace. Last night, Yoo Gil-chae (played by Ahn Eun-jin) found a comatose Lee Jang-hyun in a pile of shackles and brought him home. The internal officials who thought that Lee Jang-hyeon was Gu Yang-cheon sent someone to track down Lee Jang-hyeon, and Yang Eum arrived at Yu Gil-chae's house one step ahead and helped Lee Jang-hyeon take refuge.
The place where Lee Jang-hyeon took refuge was the residence of Yeongrang (played by Kim Seo-an), a gisaeng from Uiju whom Lee Jang-hyeon's group had rescued in Shenyang in the past. Yeongrang said, "Because Yang Eum is by my side, Brother Jang Hyeon will definitely wake up," and relayed how Lee Jang Hyeon once said to a gisaeng, "I live for the fun of watching Ryang Eum live happily." Liang-eum just shed tears when Yeong-rang said, "Lee Jang-hyeon will never leave Liang-eum alone to die."
That night, Liang Eum visited Yu Gil-chae. He asked Yoo Gil-chae, "I thought about who the last person you want to see is," and "Please go and meet your brother." Lee Jang-hyun opened his eyes next to Yu Gil-chae, but was unable to recognize people due to amnesia.
Liang Eum took care of Lee Jang-hyeon with utmost sincerity. When Lee Jang-hyeon said, "I think you have good dexterity," Liang-eum said kindly, "I learned a lot thanks to someone. I learned how to play the harp, how to shoot an archery, and how to treat injuries by looking over my shoulder because I often get hurt." Lee Jang-hyeon asked, "Has there been a woman you fell in love with?" and the sight of Yang Eum not being able to express his true feelings added to the sadness.
Liang Eum, who was once greedy for Lee Jang-hyeon, decided to take a step back. I saw Yu Gil-chae putting food into the mouth of Lee Jang-hyeon, who had lost her memory, and I watched the scene between the two and cheered for Lee Jang-hyeon to recover healthily by Yoo Gil-chae's side.
Meanwhile, MBC's Friday-Saturday drama 'Lovers' starring Kim Yun-woo airs every Friday and Saturday at 9:50 PM.
Ryu Ye-ji, Ten Asia Reporter ryuperstar@tenasia.co.kr