TV
Cha Eun-woo, Park Gyu-young, Lee Hyun-woo's 'Lovely Dog Today' canceled again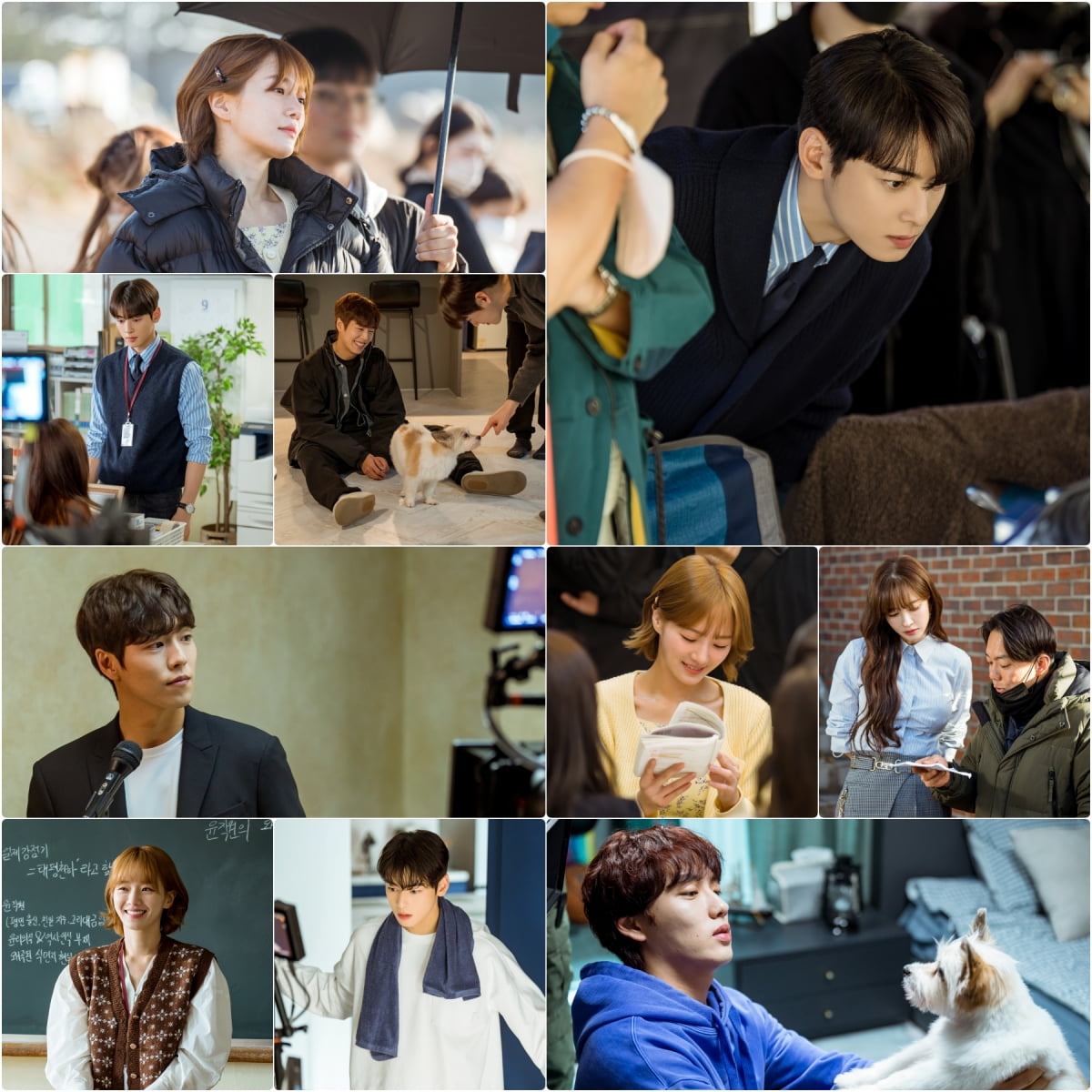 With MBC's Wednesday-Thursday drama 'Lovely Dog Today' being canceled, behind-the-scenes cuts were released to ease the disappointment.
According to MBC on the 8th, 'Today I Love You' will be canceled. This is due to the broadcast of Game 2 of the 2023 KBO Postseason Korean Series. Previously, on the 25th of last month, the show was canceled due to the broadcast of the third game of the semi-playoffs.
In the 4th episode of 'I Love You Even Today', which aired on November 1, Jin Seo-won (played by Cha Eun-woo) and Han Hae-na (played by Park Gyu-young) became closer as they comforted each other's wounds. Hae-na's warm comfort to Seo-won, who is afraid of dogs, made the hearts of the viewers bloom, and the eye contact of the two people staring at each other also dyed the home theater in pink, focusing attention on the direction of the romance that would unfold in earnest.
On this day, the 'Lovely Dog Today' team included Cha Eun-woo (as Jin Seo-won), Park Gyu-young (as Han Hae-na), Lee Hyun-woo (as Lee Bo-gyeom), Yoon Hyun-soo (as Choi Yul), Lee Seo-el (as Yoon Chae-ah), and acting dog Pin-ah (as Gae-na). The heart-warming filming scene stills of the actors, united by their passion and affection for the work, were released. The sight of the actors setting the filming site on fire in their own ways made it impossible to take one's eyes off.
After filming, Cha Eun-woo checked the camera monitor with a serious expression and showed a high degree of concentration. His full-time job mode, which is reflected in each still, makes you feel his extraordinary affection for this work. Park Gyu-young did not take her eyes off the script until filming began, and in particular, her bright smile put even the viewers in a good mood and radiated positive energy onto the filming set.
Lee Hyun-woo, who activated hyper-concentration mode, also exuded professionalism in front of the camera, while playing around with Cha Eun-woo and Pin-ah behind the camera, showing off their close relationship. During the filming with Pin Ah, Yoon Hyun-soo maintained eye contact with Pin Ah during filming and worked well together in acting, while Lee Seo-el poured her efforts into the drama by constantly exchanging opinions with director Kim Dae-woong to obtain better results. In addition, Pina acts as an atmosphere maker on site just by her presence and spreads the happy virus.
Meanwhile, a special binge-watching episode of 'I'm Lovely Dog Today' will air from Part 1 to Part 4 at 0:10 on the 9th.
Kang Min-kyung, Ten Asia reporter kkk39@tenasia.co.kr