TV
"I want to rip out the brain or paralyze it" 1st instructor Moon Dan-yeol's daughter confesses to ADHD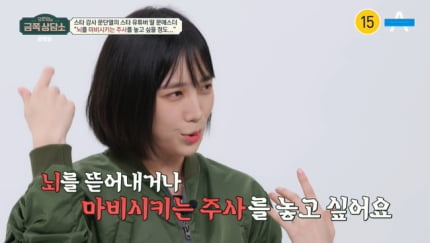 Instructor Moon Dan-yeol's daughter Moon Esther (Chuder) confessed that she had been diagnosed with adult ADHD.
First-generation star instructor Moon Dan-yeol and his daughter and creator Esther Moon appeared on the Channel A entertainment program 'Oh Eun-young's Golden Counseling Center' that aired on the 7th and shared their concerns.
When asked why she visited the 'Golden Counseling Center' on this day, Esther Moon said, "I feel great discomfort in life, and I think the reason is ADHD. I can't organize my surroundings and it's hard to do housework. Even if something is dirty, I don't recognize it as dirty." Moon Dan-yeol surprised people by saying, "I became independent three years ago, but when I went to my room, it was a sight to behold. The mail was piled up and dust was piled up. When I went home, I was coughing so much that I couldn't stay for even an hour."
Esther Moon was diagnosed with adult ADHD and confessed that her mind was very complex. He said that every moment was so complicated, anxious, and distracting that he confessed, "Sometimes I want to rip out my brain or get an injection that paralyzes it." I feel like I'm working hard every moment.
He said that his mind was so complicated that he was always out of breath and that "I was trying really hard but I couldn't get better."
Esther Moon also said, "I always zone out and sometimes I miss out on important things. I prepared hard for a year and took the exam again, but I did pretty well on the CSAT. But while I zoned out, I forgot that I had to apply to university. Then, a thought occurred to me. "When I went in, I realized that all of the university application dates I had thought about had closed," he said.
Dr. Oh Eun-young expressed regret, saying, "I think I'll have to do a 'pack bomb'." He emphasized, "Usually, if you're diagnosed with high blood pressure, don't you take medication? Who would say, 'No, if I take this, I'll lose to the medication.' There's no need to beat the medication."
In addition, he gave realistic advice, saying, "Without medication treatment, self-regulation is difficult, so addictions beyond immersion may occur due to lack of control. People are easily exposed to addictions such as shopping, gaming, and alcohol."
Then Esther Moon said, "Actually, I've been suffering from food addiction lately." He said, "When I feel anxious or stressed, I relieve it by eating. Whenever I feel anxious, I order delivery food, but I don't stop at just one time. I eat it continuously." He added, "Not long ago, I ordered delivery food 10 times a day. I gained 5 kg in one day. Eating like that made me vomit. "I did it," he confessed, adding to his regret.
Ryu Yae-ji, Ten Asia Reporter ryuperstar@tenasia.co.kr