TV
Park Gyu-young, a thief kisses a sleeping Cha Eun-woo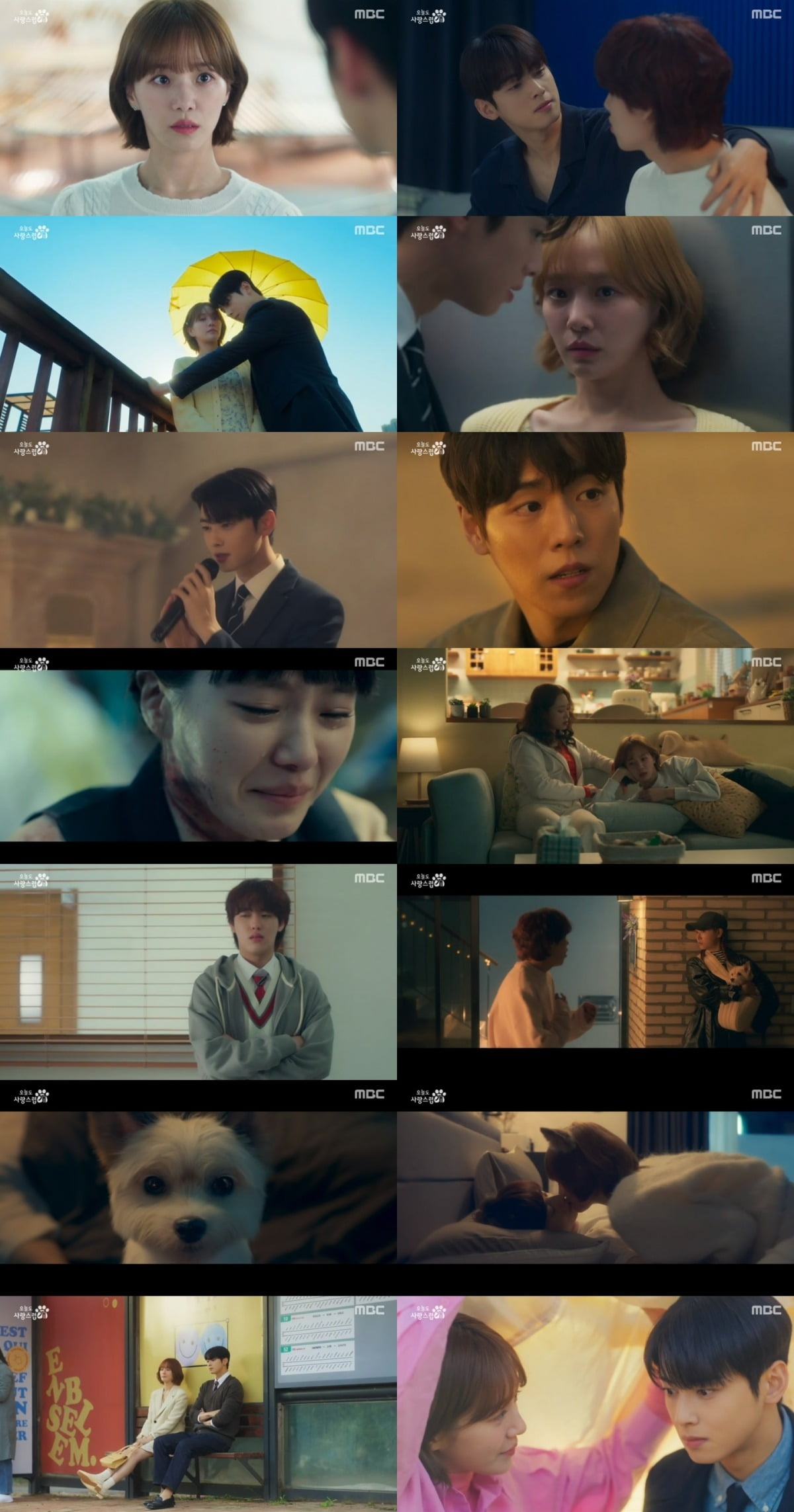 Park Gyu-young began to sincerely help Cha Eun-woo overcome his fear of dogs.
In the 4th episode of MBC's Wednesday drama 'I'm Lovely Dog Again', which aired on the 1st, Han Hae-na (played by Park Gyu-young) recognized her special feelings for Jin Seo-won (played by Cha Eun-woo).
Previously, Seo-won and Hae-na rejected Yoon Chae-ah's (Lee Seo-el) suggestion to go to the wedding hall with fellow teachers and decided to go alone. In the process, Seowon, a novice driver, thoroughly prepared for the meeting with him, including learning how to drive with style.
Seowon and Hae-na met at the agreed upon location and arrived at the wedding hall safely. A little later than the wedding time, Hae-na grabbed Seo-won's collar and started running, and Seo-won, who watched, inadvertently grabbed Hae-na's hand and led her.
After the wedding, Hae-na expressed her sadness when Seo-won and Chae-ah disappeared together, and at the suggestion of a fellow teacher, she headed to the beach with Lee Bo-gyeom (played by Lee Hyun-woo). Bo-gyeom, who noticed that Hae-na's attention was all about Seo-won, said, "They will become distant sooner than you think. Regardless of your will. He said meaningful words, "Just like I did."
Then, the shadow of a tiger appeared above Bogyeom, and the true identity of Bogyeom, the mountain god who hid a secret behind his smile, was revealed for the first time.
Meanwhile, Han Yu-na (played by Ryu Abel) told Hae-na to get the help of Seowon's nephew Choi Yul (played by Yoon Hyun-soo) to lift the curse. Haena, Yuna, and Song Woo-taek (played by Jo Jin-se), who transformed into 'Gaena (Gaena + Haena)', visit Seowon's house, sneak into Seowon's room while she sleeps, and ask them to kiss. Accordingly, Hae-na honestly revealed to Yul that the curse could be lifted if she kissed Seo-won again in a situation where she had turned into a 'gae-na (gae + Hae-na)', and Yul took active action, saying that they should try it today.
In this way, Hae-na's second strategy of 'kissing Seowon' was put into action. Hae-na, who entered Seowon's room with Yul's help, looked at Seowon sleeping and recalled the memories she had accumulated so far. She then tried to give him a light kiss and was embarrassed when the curse was not lifted. It turns out that the curse can be broken only by kissing the other person while they are conscious. To make matters worse, Seowon woke up after discovering the image of 'Gaena (Gae + Haena)' in his sleep, and Operation Thief Kiss ended in failure, causing regret.
Hae-won, who realized that Seowon's childhood trauma was serious, took action to sincerely help him overcome his fear of dogs. Afterwards, Hae-na proposed to Seo-won, "Would you like to meet me outside first?" and prepared a special time just for Seo-won. To help Seowon get to know dogs, the program helped Seowon make eye contact with a dog at a dog cafe for five seconds and explained in detail the behavior of dogs she encounters on a park trail, alleviating Seowon's anxiety about dogs.
At the end of the broadcast, something unexpected happened in front of Seowon and Haena while they were spending time in the park. A dog playing in the park started running towards the two people. At this time, Seowon remembered her childhood trauma, and Hae-won, noticing that Seowon was scared, threw clothes over her and Seowon's heads and said, "Just think of this as our house. "It's the most comfortable and safe place in the world," he said, giving warm consolation. The eye contact of the two people looking at each other through the clothes created excitement.
'I'm Lovely Dog Today' airs every Wednesday at 9 PM.
Taeyuna, Ten Asia Reporter youyou@tenasia.co.kr