TV
BBgirl Yujeong, 11 years older than her, ♥Lee Kyu-han mentions, "He looked grumpy, but he's kind and likeable."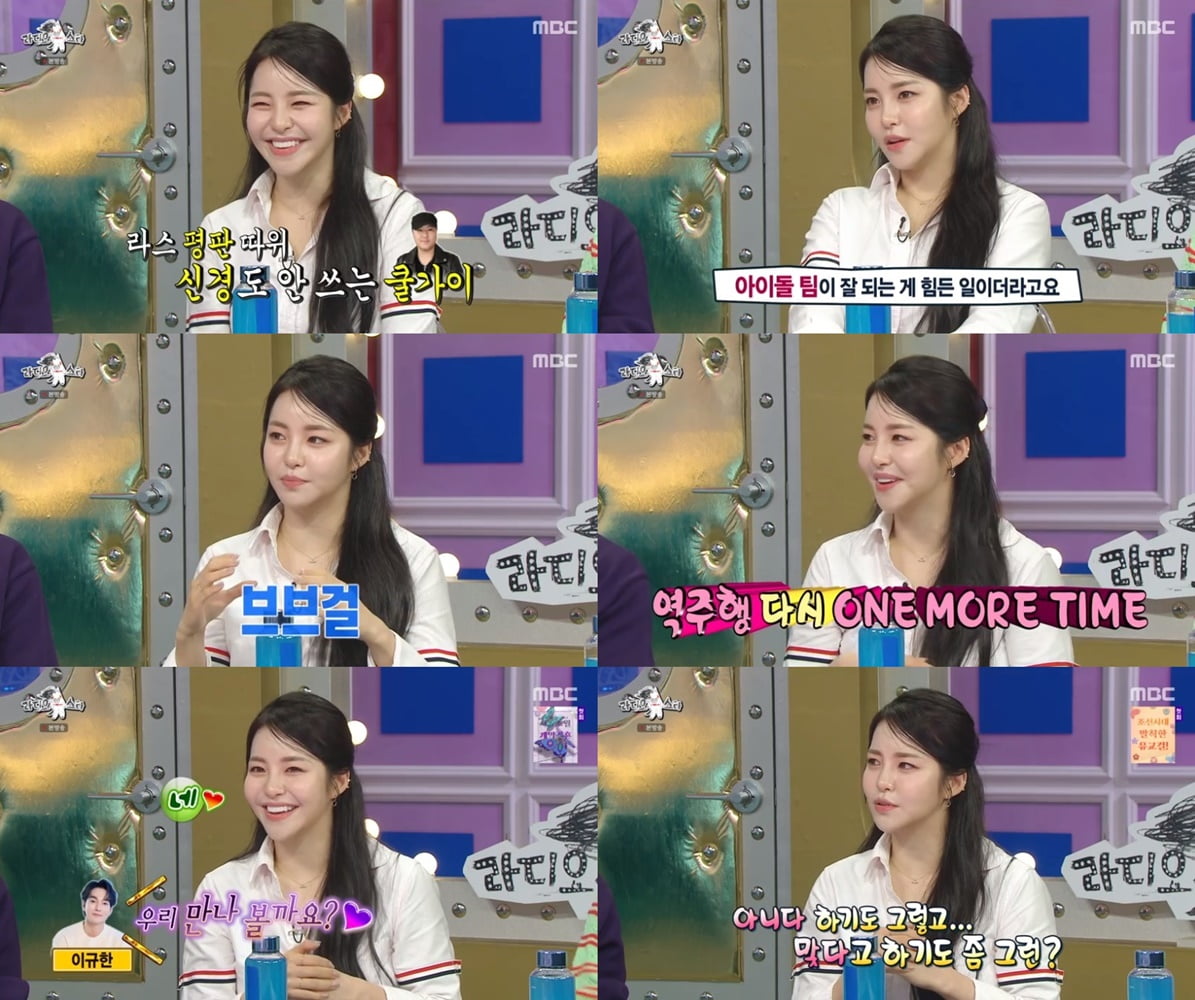 BBGIRLS' Yoojeong revealed her love story with actor Lee Kyu-han.
MBC's 'Radio Star', which aired at 10:30 pm on the 1st, featured a special feature on 'Good Men and Fairies', and on this day, Yoo-jeong appeared for the first time and released various episodes.
Yoo-jeong confessed that she was disappointed with Brave Brothers, the former CEO of her agency, and said, "At that time, the CEO (Brave Brothers) came out with a friend named Samuel. "At one point, I was disappointed and thought, 'Shouldn't you have brought us out?'" At the same time, he said, "He said he would talk about the CEO (Brave Brothers) well on 'Radio Star'," showing that they still have a close relationship.
Next, Yujeong started by telling the story of how the group changed its name to VV Girl and performed a performance wishing for a comeback with the new song 'One More Time' like 'Rollin', and drew attention by saying, "I took first place on the 'Inkigayo' hot stage." . In addition, Yoo Jeong recalled the time of his 'Rollin' comeback and said, "There was a saying that if you do well in the military, you will definitely do well."
In particular, on this day's broadcast, Yoo-jeong honestly opened up about her dating rumor with Lee Gyu-han, which had become a hot topic. Yoo Jeong, who revealed that they met through 'Have you never been here before?' said, "I heard he (Lee Gyu-han) thought well of me before that. "They said he appeared on the broadcast because of me," he said, drawing attention.
Yujeong said, "The article started when we first ate together a few times. "I thought, 'I need to confess quickly,'" he said. "It was a week before the comeback, and (Lee Kyu-han) first said, 'It may affect the comeback, so I think it's right to say no for now.' He also honestly confessed the reason why he denied the first dating rumor, saying, "It was before we started dating."
Here, Yujeong said, "At first he seemed very harsh, but when I met him, his image was different. He expressed his affection by saying, "I liked his kind appearance," and shyly said, "Please congratulate me," earning applause from the cast.
Yujeong, who recently showed off her easy-going charm once again on 'Radio Star' following 'Brian the Cleaner,' released a new song 'ONE MORE TIME' as part of the group V'V Girl this year, and has been active by hosting her first fan concert since her debut.
Ryu Yae-ji, Ten Asia Reporter ryuperstar@tenasia.co.kr