TV
Jeon No-min, anger that rarely calms down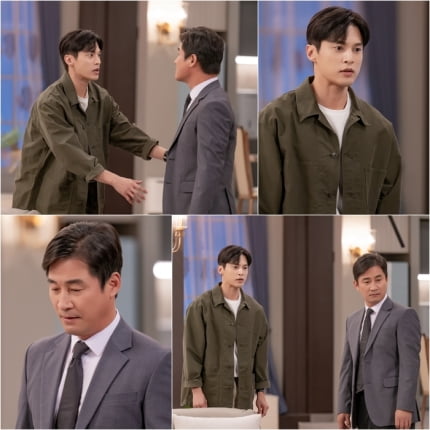 An uneasy atmosphere was detected between Yoon Sun-woo and Jeon No-min.
MBC's daily drama 'Third Marriage' depicts the story of love and marriage that blooms in the turbulent game of truth between a woman who lives a life of manipulation and a woman who struggles to uncover and punish lies. With the 6th episode scheduled to air today (the 1st), Wang Yo-han (Yoon Seon-woo) is seen fidgeting in front of Wang Je-guk (Jeon No-min), raising curiosity.
In the play, Wang Yo-han is cynical and harsh on the outside, but on the inside, he is thoughtful and has a gentle charm with a tsundere style. As he continues to have a chance relationship with Jeong Da-jeong (Oh Seung-ah), whom he met at the airport on the day he returned to Korea after living abroad, their changing relationship is considered a point not to be missed in 'The Third Marriage'.
In particular, Wang Yo-han, who is also Wang Jie-guk's nephew, lives in the same house with the family, but rarely reveals his true intentions, so attention is focused on what his true ambitions are. Above all, Chairman Wang subtly keeps in check Wang Yo-han, who maintains a special friendship with Mrs. Yoon (Ban Hyo-jeong) of Bobaejeong, who wants to open a store at the Dream Hotel. Accordingly, curiosity about the truth hidden in their relationship is growing day by day.
The released still arouses curiosity simply because it contains a two-shot of Wang Yo-han and Wang Je-guk. First of all, the first still captures the attention of Wang Yo-han, who is anxious about what is going on in front of the Wang Empire. The precarious tension felt between Wang Yo-han, who seems to be trying to calm down the Wang Empire, who seems very angry, raises expectations about how their relationship will change in the future. In particular, since they are two people who have always created a warm atmosphere until now, what is the reason for the anxious energy detected between them is why I am looking forward to episode 6, which airs today (1st).
It will be broadcast today (1st) at 7:05 PM.
Ryu Yae-ji, Ten Asia Reporter ryuperstar@tenasia.co.kr