TV
'Tell me you love me' Jung Woo-sung, his first melodrama in 11 years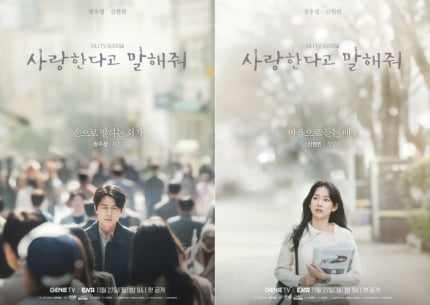 Jung Woo-sung and Shin Hyun-bin awaken sleeping melo cells.
Genie TV's original 'Tell Me I Love You', which will be released for the first time on Monday, November 27 (directed by Kim Yun-jin, writer Kim Min-jung, planned by KT Studio Genie, produced by Studio & New · Artist Studio, original Japanese TV drama 'Tell Me I Love You' (screenplay by Kitaka) and Eriko (produced by TBS Television) released character posters for Cha Jin-woo (played by Jung Woo-sung) and Jeong Mo-eun (played by Shin Hyun-bin) on the 31st. Although it is the same world, the very different atmosphere makes the meeting of the two people even more curious.
'Tell Me You Love Me' is a classic melodrama about the silent love between Cha Jin-woo, an artist who speaks with his hands, and Mo-eun Jeong, an actress who listens with her heart. The story of a man and a woman who complete their love using their eyes as language and facial expressions as confessions gives viewers a warm feeling of excitement.
Above all, it immediately emerged as a highly anticipated work simply because it was the first melodrama chosen by 'melomaster' Jung Woo-sung in 11 years, and because it featured Shin Hyun-bin, who has garnered favorable reviews for each work with solid acting. Here, director Kim Yun-jin, who created a milestone in youth romance, 'That Year We Were', and writer Kim Min-jung, who showed off their sensuous writing skills through films such as 'Moonlight Drawn by Clouds', are working together to create a 'deep' melodrama with deep emotions that has not been seen in a long time, raising expectations.
If the previous teaser poster foreshadowed the special beginning of Cha Jin-woo and Jung Mo-eun opening up a new world for each other, the character poster released on this day heightens curiosity by showing the contrasting realities of the two people.
First, Cha Jin-woo's lonely eyes captured in the middle of a noisy city center capture attention. Cha Jin-woo, a hearing-impaired painter, is a person whose paintings are everything in the world. Cha Jin-woo's appearance, like a stranger among the bustling crowd, gives us a glimpse of Cha Jin-woo's life, living in his own quiet world. I wonder how the warm excitement of being 'Jeong Mo-eun' that comes to him who is used to solitude in the crowd will change him.
The world of unknown actor 'Jung Mo-eun', in contrast to Cha Jin-woo, is also interesting. Jeong Mo-eun is an honest and solid person who is constantly challenging herself to achieve her first dream in life. Jeong Mo-eun, walking down a quiet street, looks a little empty, but her eyes are sparkling with desire for something. You can feel his energy as he lives more fiercely than anyone else toward his dream of becoming an actor through the profile he holds in his arms and his hopeful steps. Jeong Mo-eun meets Cha Jin-woo at a new starting line and falls in fateful love. Expectations are high on the story of Jeong Mo-eun, who realizes true love through Cha Jin-woo, who quietly approaches her and becomes her only refuge as she runs tirelessly through the complex world.
The production team of 'Tell Me You Love Me' said, "Cha Jin-woo and Jung Mo-eun cause waves of colorful emotions in each other's world. "The communication romance that will overcome differences and create in a whirlpool of emotions that have never been felt before will awaken the emotions of viewers," he said.
Meanwhile, Genie TV's original 'Tell Me You Love Me' will be released for the first time on Genie TV, Genie TV Mobile, and ENA on Monday, November 27th at 9 PM.
Ryu Yae-ji, Ten Asia Reporter ryuperstar@tenasia.co.kr