TV
'Third Marriage' Yoon Hae-young's two men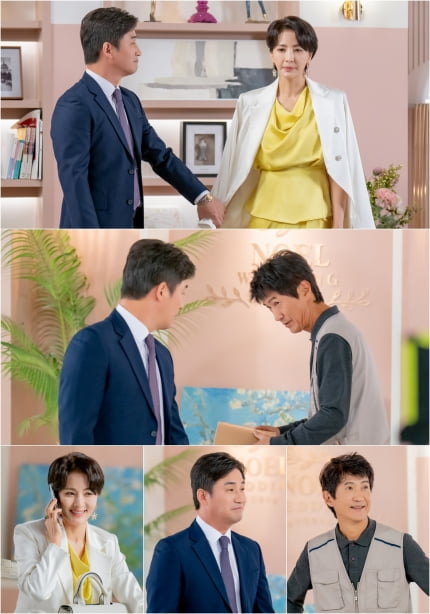 MBC's 'Third Marriage' Yoon Hae-young, Nae Sang, and Jeon No-min were captured in the same place.
MBC's daily drama 'Third Marriage' (planned by Jang Jae-hoon/produced by MBC C&I/written by Seo Hyun-joo/directed by Lee Jae-jin and Kang Tae-heum) is scheduled to air today (31st) ahead of its 5th episode, with Shin Deok-soo (played by Ahn Nae-sang) visiting Min Hae-il's (played by Yoon Hae-young) wedding shop. )'s still image has been released, drawing attention. In addition, Min Hae-il's current husband, Chairman Wang Je-guk (played by Jeon No-min), is also captured, raising curiosity about whether Min Hae-il will encounter both her past and present husbands.
Previously, Shin Deok-soo was dramatically reunited with his lost daughter Jeong Da-jeong (played by Oh Seung-ah). As much as I missed them so much, the time Deoksu and Dajeong spent together became even more heartbreaking. As Da-jeong met her family again after a long time, she couldn't help but be curious about the news about her mother. In response, Deok-su said that considering Da-jeong had not been found until now, she was as good as a dead person and told him not to look for his mother anymore. Da-jeong, who only then realized that her mother had abandoned her, shed heartbreaking tears, making the hearts of those watching saddened.
Hae-il, who chose to divorce Deok-su and separated from her young daughter in order to live the life she wanted, was not living a happy life either. After divorcing Deoksu, Hae-il became Chairman Wang's wife and began to enjoy a more leisurely and luxurious life, but thanks to Chairman Wang's infidelity, which rarely calmed down, Hae-il became more and more sensitive. Now that she has become more familiar with the wedding dress designer Noel than with the name Min Hae-il, attention is being paid to whether she will reconnect with her biological daughter Da-jeong and her ex-husband Deok-su.
Among these, the released still shows three men and women, including Hae-il, Chairman Wang, and Deok-su, in one place, amplifying curiosity. First of all, in the first still, you can see Chairman Wang, who seems to be trying to comfort the sulking Tsunami, as always. Unlike Chairman Wang, who is holding Hae-il's hand tightly and smiling his signature benevolent smile, Hae-il's expression, which looks completely angry, adds interest to the unpredictable couple's relationship.
Another still captures Deoksu visiting the wedding shop run by Haeil, and immediately catches the eye as it shows Chairman Wang just before facing each other. As there is a tsunami at the center of the two men, Deoksu and Chairman Wang, who are unaware of each other's existence, the encounter between these two men, who do not know each other, even though it is a fleeting moment, has the tension of the calm before the storm, leaving a deeper impression.
Accordingly, the production team said, "Centered on the tsunami, the unusual relationship between the three, ex-husband Deok-su and current husband Chairman Wang, begins in earnest." "In particular, the play of the three actors, Hae-young Yoon, No-min Jeon, and Ahn Ae-sang, who are powerful just by their presence, adds to the drama." I gained more strength. "No matter what you imagine, a storm-like story will swirl around you, so please look forward to it and show your interest."
Meanwhile, episode 5 of MBC's daily drama 'Third Marriage' will be broadcast at 7:05 pm today (31st).
Ryu Yae-ji, Ten Asia Reporter ryuperstar@tenasia.co.kr