TV
"It's stressful when we meet because we don't have money" The reason for the breakup between Go Gyu-pil and Amin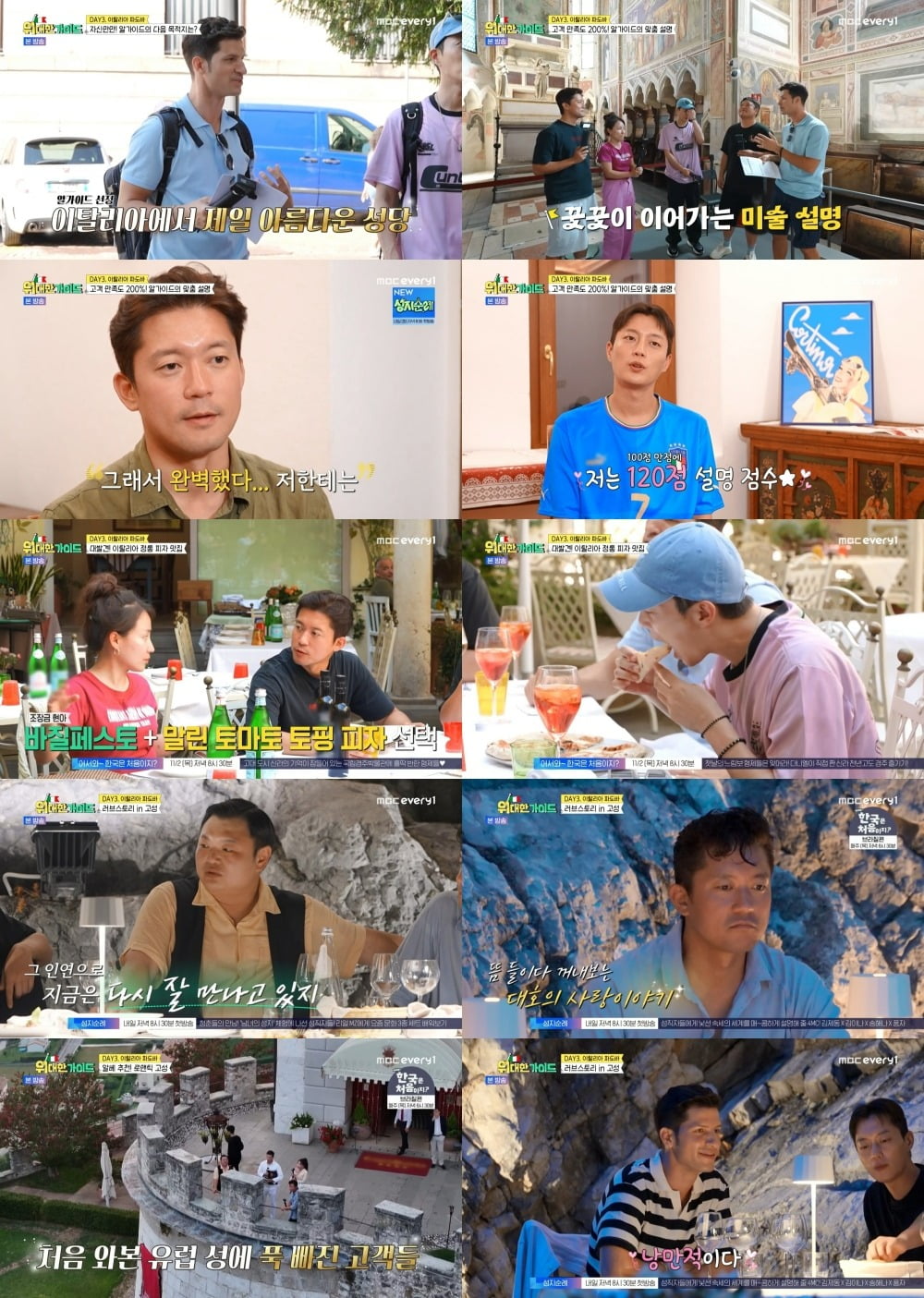 The love story of the soon-to-be groom, actor Ko Gyu-pil, was revealed.
In the 3rd episode of MBC Every1's entertainment program 'The Great Guide', which aired on the 30th, a travel story to 'Padova', a small town like a gem in Italy, was revealed. Ko Gyu-pil, Kim Dae-ho, Yoon Du-jun, and Jo Hyun-ah fell in love with the charm of Padua introduced by Alberto Mondi and reminisced about their old loves.
After completing their trip to Venice, the first city of the day, the members arrived in Padua by train in groups of three and five. Alberto, who emphasized that a cathedral must be seen when coming to Italy, led the members to the 'Scrovegni Chapel' upon arriving in Padua, saying, "I will show you the most beautiful cathedral in Italy."
Soon, the members began to admire the sight of the Scrovegni Chapel, which has a history and value so old that it was listed as a UNESCO World Heritage Site. Alberto presented a customized lecture tailored to the members' interests and background knowledge, and Yoon Du-jun gave a thumbs up, saying, "The explanation score was 120 points." Dae-ho Kim also said, "After finding out, it was really fun. "It felt like our curiosity and Alberto's knowledge filled each other's gaps," he said, expressing satisfaction.
Afterwards, the members visited a wood-fired pizza restaurant known as the 'steamy restaurant' for Padua college students. The members who took on the challenge of 'one pizza per person' like local Italians drew attention by showing off their trance-like mukbang, saying, "It's really delicious" and "It's the pizza of life." After finishing the meal, Go Gyu-pil expressed satisfaction and said, "This is the first time I've ever had a stomach-ache from Italian food," and Jo Hyun-ah also said, "I was surprised. "I think it was truly the best pizza," he continued to admire.
The members' last destination on this day was an old castle called 'Castel Brando' near Padua. In a romantic atmosphere at one of the largest and oldest castles in Europe, the members talked about their love stories one by one, getting to know each other and becoming closer. In particular, Go Gyu-pil, who is marrying Amin in November, calmly told a touching love story and said, "There are all kinds of stories. He smiled sheepishly, saying, "I guess the place is nice." He said that he had experienced a breakup during the 10 years of dating, and said, "The reason I broke up in the first place was because I didn't have money. I kept avoiding him. When I met him, costing money was stressful. So I didn't take care of it well, so I avoided him." did.
'The Great Guide' airs every Monday at 7:40 PM.
Taeyuna, Ten Asia Reporter youyou@tenasia.co.kr