TV
'Divorce from Jo Yoon-hee' Lee Dong-gun "I meet my daughter every Sunday... "I was blank for 3 years"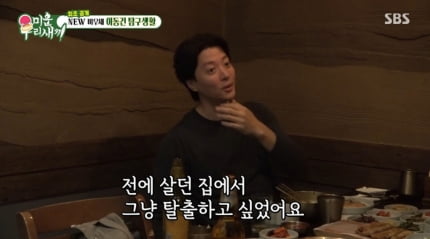 Actor Lee Dong-gun revealed his feelings after divorcing Jo Yoon-hee.
Lee Dong-gun joined the SBS 'My Little Old Boy' broadcast on the 29th and said, "It's been over 3 years since I got divorced. "I think I just passed by in a daze," he confessed.
He also said, "I drink about 5 days a week. I drink alone 4 days a week, and I drink a lot once a week. If I have a bad hangover the next day, I can't drink for two days."
He continued, "It took a year from the filming of the drama 'Celebrity' to its release, so there was a gap, but it wasn't so bad that I couldn't work. You have to work hard. I want to support my child and see him grow up happily. "After the divorce, I meet my daughter every Sunday unless my schedule really cannot be changed," he added.
Lee Dong-gun first registered his marriage with actress Jo Yoon-hee in May 2017 and then got married in September. They welcomed their daughter Loa in December of that year, but divorced in May 2020, after three years of marriage.
He, who is currently living in a studio, said, "It felt different when two people moved out of a three-person house and I was living alone. "I just didn't want to go home," he said. "I took everything Roa needed. It felt empty as the toys, trampoline, slide, and swing were all gone. "I wanted to escape from that house," he said.
Ryu Yae-ji, Ten Asia Reporter ryuperstar@tenasia.co.kr