TV
"Requests for sex every 32 hours, I just keep my head down."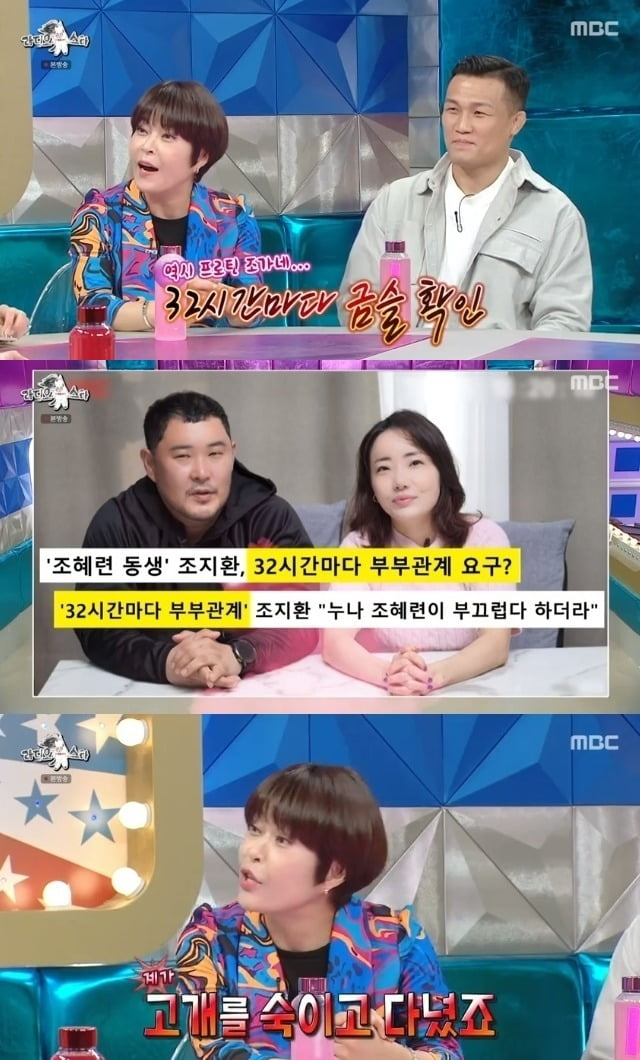 Comedian Jo Hye-ryun shared her thoughts on her younger brother Jo Ji-hwan's request for sex becoming a hot topic.
In the 838th episode of MBC's 'Radio Star' (hereinafter referred to as 'Las'), which aired on the 25th, Cho Hye-ryun, Jeong Chan-sung, Kim Ho-young, and Lee Eun-hyung appeared as a special feature of 'Korean Vitality Zombie'.
On this day, Jo Hye-ryeon said that her family was born with a generous spirit and said, "My mother said she had a dream about a tiger entering her stomach. I went to prenatal care thinking it was 100% my son. He came out from the head first, and his face was like that of a general, but he didn't run. That's why my voice was low because I had a lot of male hormones. "And he has a lot of muscles," he said.
In response, Kim Gu-ra commented, "Isn't it a hot topic that Jo Ji-hwan also demands too much sex on a certain program? The family itself is very energetic." Jo Hye-ryun's younger brother appeared with his wife on 'Couple in Trouble'.
Jo Hye-ryun said, "It must have been 32 hours. Probably periodically," and "The Internet was noisy, so I had to keep my head down. I wore a hat."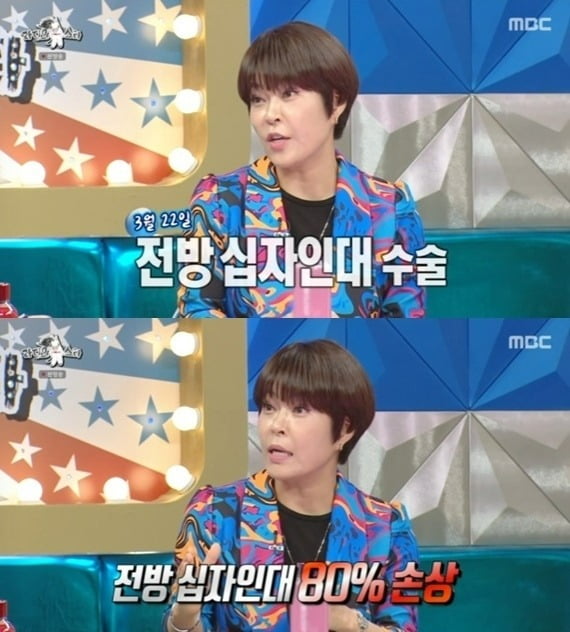 Cho Hye-ryun, who is appearing on SBS' 'Girls Who Hit Goals', said that she returned after 7 months despite a serious injury. "I had surgery because my anterior cruciate ligament was 80% damaged. "I returned after 7 months of rehabilitation," he explained. He added, "It doesn't affect my daily life, but I can't change direction when exercising. I have a lot of energy, but I can't live like that."
At the same time, she said, "I couldn't exercise for about 10 months after a knee injury, so I gained weight. I restricted calories for two months and lost 4.5 kg," and said, "I lost 4.5 kg." Jo Hye-ryeon said, "I met Kim Gura at an acquaintance's wedding, and when Kim Gura's wife saw me, she was wary of me." Regarding Kim Gura's wife, who is said to resemble actress Park Joo-mi, Jo Hye-ryun said, "She's pretty. But haven't I become prettier too? I was holding my child and she said, 'Hello?' He said, not just 'Hello' but 'You're surprisingly pretty?' "It was like this feeling of caution," he said. After hearing this, Kim Gu-ra was upset and said, "I've heard this so much that I'm not even impressed anymore."
Taeyuna, Ten Asia Reporter youyou@tenasia.co.kr