TV
Drama 'Morning Comes Even in the Psychiatric Ward', the story of people with cold hearts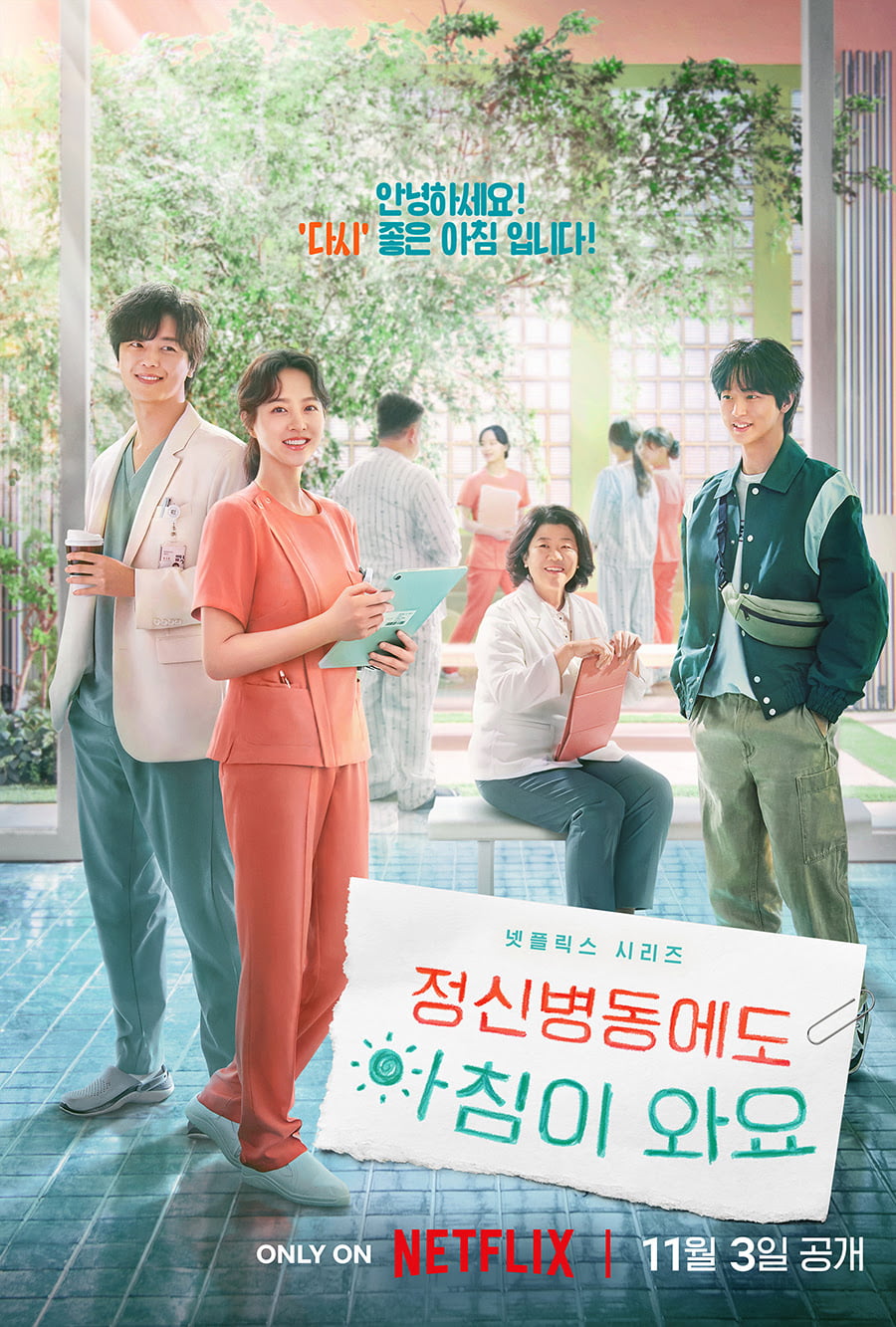 Netflix's 'Morning Comes Even in the Mental Ward' has released its main poster and main trailer.
'Morning Comes Even in the Psychiatric Ward' is a Netflix series that depicts the various stories of the world and heartbreaking people that Da-eun, a nurse who is working in a mental health ward for the first time, meets inside the psych ward.
The main poster features four people who convey vitamin-like energy: Da-eun, a nurse in the psychiatry department at Myungshin University Hospital, Go Yoon, a colon and anal surgery fellow, Yoo Chan, Da-eun's best friend, and Hyo-shin, the head nurse of the psychiatry department. Attention is focused on whether everyone will be able to keep smiling brightly like Da-eun in a psychiatric ward where fresh trees and dazzling sunlight pour in, and where the sunlight comes in first because there are no curtains.
The trailer begins with a fairytale-like scene showing Da-eun's house floating in the sky on her first day of work from the internal medicine department to the psychiatric ward. Da-eun, who is in charge of a patient at a psychiatric ward for the first time, is confident that she will do well. Da-eun, who listens to the stories of patients and encounters the slightly special world they feel, makes mistakes, gets frustrated, and becomes anxious, growing day by day.
Actor Jang Dong-yoon said, "It is a work that can heal with warm material and genre, but also material that we have not commonly encountered," and actor Yeon Woo-jin said, "Everyone always has mental illness. Boldly announce it and ask for help from those around you." "I think it should be possible. This is a work that suggests that direction," he explained.
Actress Lee Jeong-eun said, "You'll think, 'Oh, I'm not the only one experiencing this problem,'" and actress Park Bo-young said, "This is a work that can comfort our hearts when we need it most."
'Morning Comes Even in the Mental Ward' will be available to watch only on Netflix on November 3rd.
Reporter Ha-neul Lee, Ten Asia greenworld@tenasia.co.kr