TV
"There is nothing Park Eun-bin can't do"… 'Diva of a desert island' with a passion for dancing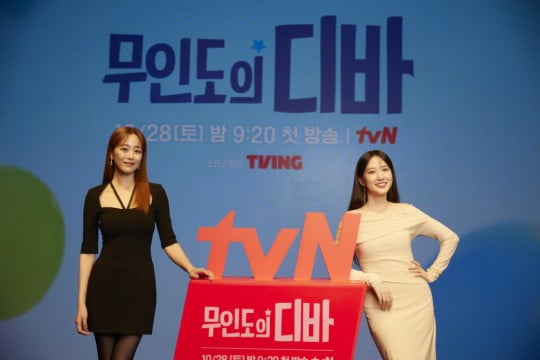 'Desert Island Diva' Park Eun-bin received Holly Bang's choreography.
The production presentation for tvN's new Saturday-Sunday drama 'Diva on a Deserted Island' (written by Park Hye-ryun, Eun-yeol/directed by Oh Choong-hwan) was held online at 2pm on the 19th. Director Oh Choong-hwan, Park Eun-bin, Kim Hyo-jin, Chae Jong-hyeop, Cha Hak-yeon, and Kim Joo-heon attended the event.
Park Eun-bin plays the role of Seo Mok-ha, who endured alone on a deserted island for 15 long years. Park Eun-bin chose 'Diva on a Deserted Island' as her comeback project a year after ENA's 'Weird Lawyer Woo Young-woo', which caused a craze last year.
On this day, Kim Hyo-jin said, "There is nothing our Eun-bin can't do. She sings, plays guitar, and even dances. She practiced dancing a lot this time. I'm not physically fit, but I thought it was a light dance in the script. They gave me such proper choreography that I couldn't even follow it at all. "I practiced hard in the practice room with Eunbin. I made a lot of memories," he said.
Park Eun-bin also said, "My sister and I worked really hard. I thought it would just be a montage, but Holly Bang's teacher Mule choreographed the choreography." She added, "'Is this right?' "We did our best. We knew each other's first time, right? We said, 'We worked really hard,'" he said, making everyone laugh.
'Diva of the Deserted Island' is a drama that depicts the diva challenge of Seo Mok-ha (played by Park Eun-bin), an aspiring singer who was rescued from a deserted island after 15 years. It will be broadcast for the first time on Saturday the 28th at 9:20 PM as a follow-up to 'Sword of Aramun'.
Ryu Yae-ji, Ten Asia Reporter ryuperstar@tenasia.co.kr