TV
Yoon Kye-sang was the genius project 'First Child'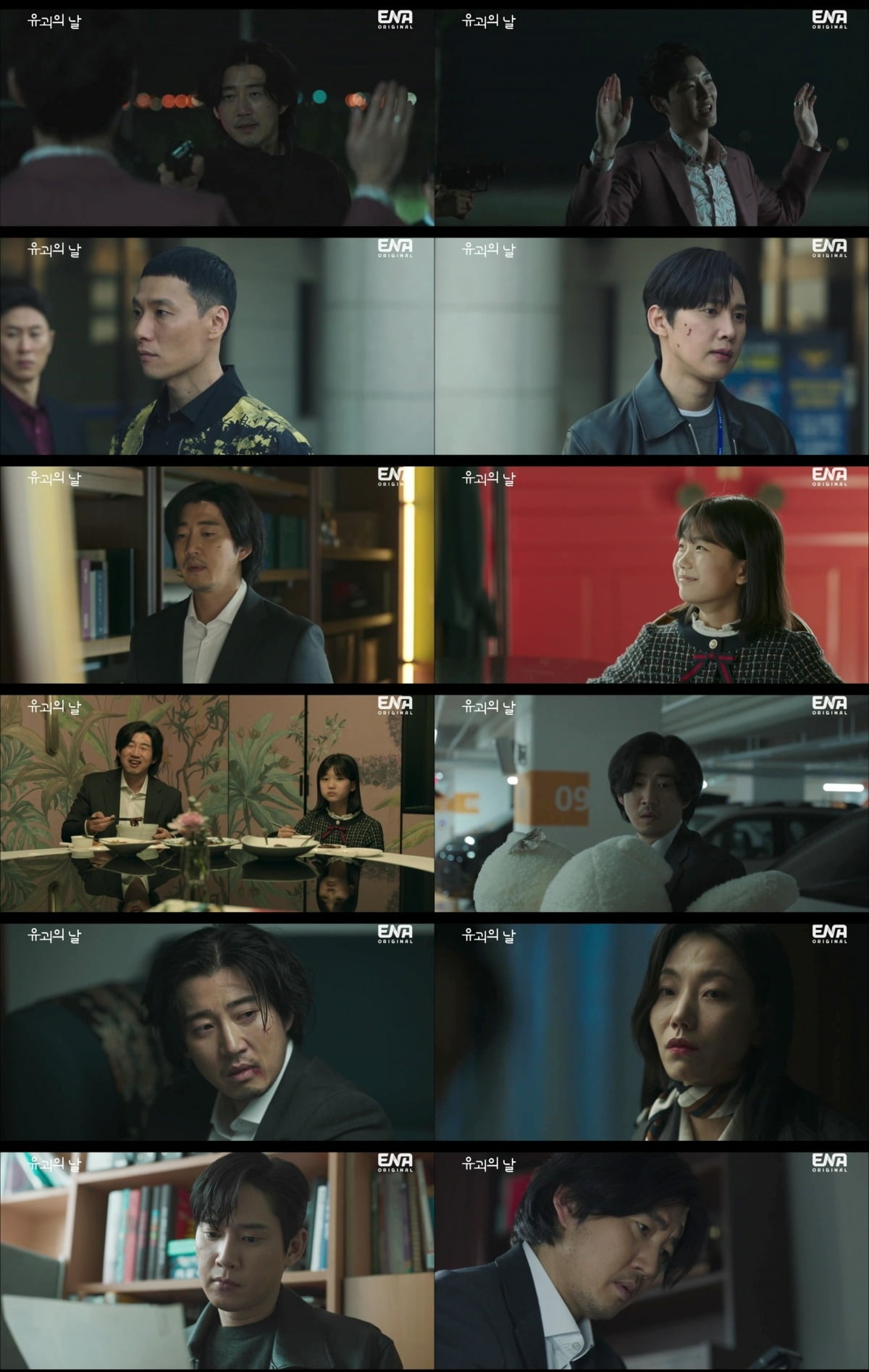 'Kidnapping Day' The secret of the first child was revealed.
In the 8th episode of ENA's Wednesday-Thursday drama 'Kidnapping Day', which aired on the 11th, Myeong-jun (played by Yoon Kye-sang) and Ro-hee (played by Yuna) faced an unprecedented crisis. Myeong-jun's promise to Sang-yoon (played by Park Seong-hoon) to turn himself in to the kidnapping and put everything back where it belongs was blocked by Jayden's (played by Kang Young-seok) counterattack. Sang-yoon, who was frustrated when Myeong-jun did not show up, discovered research records at the home of Director Choi (played by Jeon Gwang-jin), where the murder occurred. Through this, the past in which the fates of Myeong-jun and Hye-eun (Kim Shin-rok) were changed was revealed, drawing attention. The viewer rating for the 8th episode was 4.1% nationwide and 4.4% in the metropolitan area (Nielsen Korea, based on paid households), breaking its own record again and ranking first among all cable channels and Wednesday-Thursday dramas. In particular, the highest viewership rating in Bundang in the metropolitan area soared to 5.3%, continuing to receive a warm response.
On this day, Jayden was angry when he found out that Eun-seon (played by Seo Jae-hee) was acting as Myeong-jun and Ro-hee's 'friend.' He blocked the car of Eun-seon and Taek-gyun (played by Woo Ji-hyun) who were running away and pointed a gun at them, but just then Myeong-jun and Ro-hee, who had run away from the villa, appeared and the tide turned. Myung-jun tied up Jayden and put him in the trunk of his car, saying that they should go to the police station together to receive punishment for their crimes. Eun-seon tried to release Jaden without Myeong-jun's knowledge, saying that revealing the genius child project could be dangerous for Ro-hee. However, Eun-seon broke down for a moment as if she had faced her own vain desires through a conversation with Myeong-jun.
At Myeong-jun's request, Sang-yoon sneaked in under the pretense of collecting the negotiation money and arrested Ho-yeong (played by Kim Dong-won). However, Ho-young remained silent during the interrogation process, and Detective Jang (played by Kim Seon-woo) of the Gwangsoo Unit came and annoyed Sang-yoon by telling him to take over the kidnapping case as the arrest warrant had been dismissed. Sang-yoon, who could not understand the situation, reported that Myeong-jun's daughter was about to undergo surgery today and that he and Ro-hee had decided to come to the hospital and surrender themselves. And he seized the opportunity once again, saying he could put an end to the kidnapping and murder case at once.
Myeong-jun spent time with Ro-hee and Taek-gyun before going to the hospital. Before meeting his daughter Hee-ae (Choi Eun-woo), he bought nice new clothes and had his last meal with Ro-hee. And while Myung-jun went to buy a gift for Hee-ae, Ho-young came in front of Ro-hee and Taek-gyun, who were heading to the parking lot. He stabbed Taek-gyun with a knife, knocked him out, knocked Ro-hee unconscious, and put him in the car. Myeongjun, who had been waiting for the two people, went to the parking lot and assessed the situation. He had a rough fight with Jayden, but in the end he couldn't protect Rohee.
Myeong-jun dragged his half-baked body and headed to Hye-eun's house. Meanwhile, Sang-yoon called the contact number that said Hye-eun had spoken to Myeong-jun. And I was depressed by the fact that what happened to Taek-gyun, Ro-hee's former tutor and lawyer, was done by Ho-young, who was released right before my eyes. But he couldn't end it like this, so he went back to the beginning to find clues to the unsolved murder case. Sang-yoon, who was inspecting Director Choi's home again, noticed a suspicious space behind the study. There was a research record that Jayden was looking for, and Sang-yoon's heart began to beat rapidly.
At the end of the broadcast, Sang-yoon visited Ik-joong (played by Gong Sang-ah) of the scientific investigation team and asked him to look at the documents. The details of the experiments recorded over two generations, starting from Director Choi's father, were incredibly cruel and horrendous. Ik-Joong explained, "The goal was to stimulate the children's brains with genetically modified viral drugs to increase the population of the hippocampus, the brain memory device." Above all, it was revealed that Hye-eun was used in the past under the pretext of adoption, and that Myeong-jun was the 'first child' named as an experiment subject, raising curiosity to the fullest.
This wasn't the only twist. Myeong-jun discovered the CCTV hard disk of Director Choi's home hidden in Hye-eun's house. It was a moment that raised doubts about the collaboration between Hye-eun, who planned the kidnapping and had Myung-jun participate, and Cheor-won (played by Kim Sang-ho), who innocently confessed to the murder of Director Choi. With new variables and Myung-jun and Sang-yoon each holding a new key to uncovering the truth, "Ro-hee will now live as an ordinary 11-year-old. Attention is focused on whether Myeong-jun will save Ro-hee once again, as he cries out desperately and purely, "Because that's all this kidnapper can do."
Episode 9 of 'Kidnapping Day' will be aired today (12th) at 9 PM.
Taeyuna, Ten Asia Reporter youyou@tenasia.co.kr