TV
the 17th 'Visual Man' appears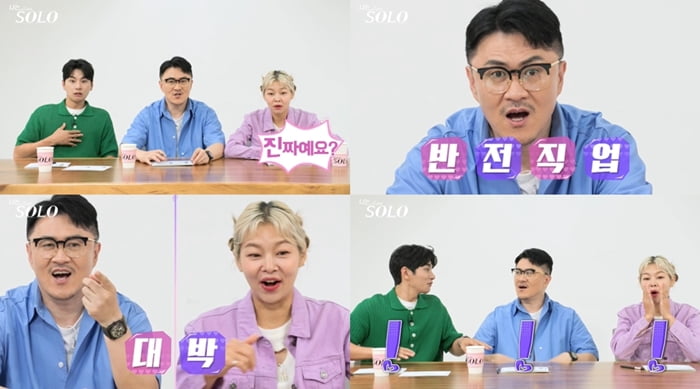 'I'm SOLO' The 17th batch of solo men show off their unique characteristics and charm.
In SBS Plus and ENA's real dating program 'I am SOLO', which airs at 10:30 pm on the 11th (Wednesday), the faces of single men who entered 'Solo Country 17th Street' are revealed for the first time.
On this day, the 17th solo men surprised the 3 MCs, Defconn, Lee Yi-kyung, and Song Hae-na, by revealing their unexpected charms hidden in their eye-catching, shining visuals. Among them, when a solo man appears, Defconn predicts his occupation by saying, "Isn't it OO?", but in fact, in a preliminary interview with the production team, this solo man reveals, "My father was OO." As the words she inadvertently said came true as if she had hit the nail on the head, Song Hae-na expressed her admiration for Defconn's prediction coming true, saying, "This is really the best!" Lee Yi-kyung also said, "I was really surprised," and wiped his bulging arms.
Another solo man, who appeared shortly after, reveals an unexpected history, contrary to his calm first impression. In response, Song Hae-na says, "Oh my!" and after making two consecutive hits, she exclaims with deep admiration, "You can't judge based on appearance." Furthermore, this single man even revealed his 'unimaginable' job, causing the 3MC's group to 'dilate their pupils'.
Meanwhile, a solo man with 'idol-level' visuals also enters 'Solo Country 17th Street'. Lee Yi-kyung said, "Isn't he a model?" to the classy beauty of this single man. He predicts, "His height and appearance are unusual," and Defconn analyzes him as "an idol or actor." Other single men who encountered this single man also couldn't keep their mouths shut, saying, "He looks like a celebrity." Finally, this single man gets the attention of the 3 MCs by mentioning a career that is more surprising than his celebrity-like appearance, saying, "I am in a unique profession" and "I have a higher income than others." Extreme interest is focused on the identity of the solo men of 'Solo Country 17th Street', which made people exclaim, "It's a twist of a twist."
Meanwhile, 'I am SOLO', which aired on the 4th, recorded an average viewership rating of 7.05% (SBS Plus and ENA combined figures based on pay-TV households in the metropolitan area) according to Nielsen Korea's statistics, and the highest viewership rating per minute soared to 7.93%. 'I Am SOLO', which has firmly maintained its No. 1 spot in Wednesday entertainment for the past five weeks, also ranked second in 'TV-OTT non-drama topicality' for the fourth week of September as compiled by Good Data Corporation. In addition, it ranked 1st in the 'Top 10 non-drama TV search reactions', while in the 'Top 10 non-drama search issue keywords', it ranked 1st ('I am SOLO' 16th class), 2nd ('I am SOLO' gallery), and 3rd ('I am SOLO' gallery). It swept a whopping 6 rankings, including 5th place ('I am SOLO' broadcast time), 9th place ('I am SOLO' Youngsook), and 10th place ('I am SOLO' 16th Instagram), becoming an overwhelming topic of discussion. gender has been proven.
The unexpected identity of the 17th class of solo men can be confirmed in 'I am SOLO', which airs on SBS Plus and ENA at 10:30 pm on the 11th (Wednesday).
Ryu Yae-ji, Ten Asia Reporter ryuperstar@tenasia.co.kr