TV
'Pure Boxer' humiliates again with 0% viewer ratings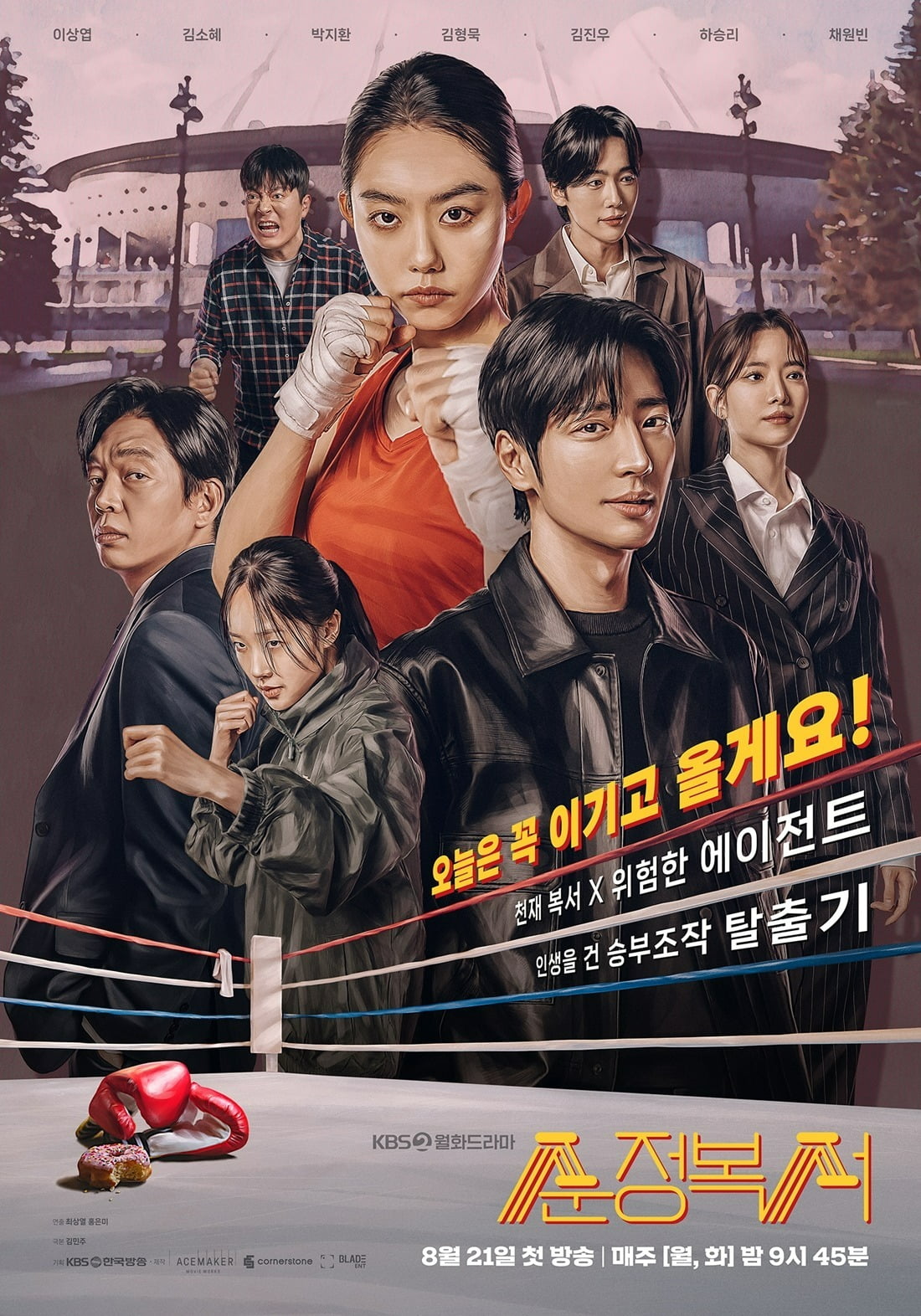 With only the final episode approaching, 'Pure Boxer' suffered bitter humiliation by recording a viewership rating of 0% for two consecutive episodes.
Episode 11 of KBS2's Monday-Tuesday drama 'Pure Boxer', which aired on the 26th, recorded a viewership rating of 0.9%. This is the same number as the 10th episode aired the previous day. In the aftermath of the 19th Hangzhou Asian Games, it eventually fell to 0%. Because it aired at 10:30, about an hour later than the previous broadcast time of 9:45, it became difficult to maintain a viewership rating of even 1%.
On this day's broadcast, Kim Tae-young (Lee Sang-yeop) and Kim Oh-bok (Park Ji-hwan) faced off ahead of the title match between Lee Kwon-sook (Kim So-hye) and Han Ah-reum (Chae Won-bin).
Taeyoung, who received Kwon Sook's confession, said, "I guarantee you, you will regret it later. It's better for you if you don't get involved with me. "I approached you because of money, and I've been using you all this time," he said, drawing a line.
In response to Taeyoung's refusal, Kwon Sook turned around with a smile, saying that she had decided to win the ring and like Taeyoung without regrets. He sat on the playground and shed tears while holding his breath, and Taeyoung, who was standing there unable to enter the house, shed tears as she wanted to go to Kwonsook.
Taeyoung was shocked to learn that the person arrested by the police was not Kim Oh-bok (played by Park Ji-hwan), but his subordinate Yang Bok-nam. He speculated that Chairman Nam Hyun-ki, who had been hidden behind a veil, had laundered his identity through misdeeds. Taeyoung visited team leader Lee, revealed the full story of the match-fixing incident, and informed him of his plan to turn himself in.
Cheol-yong, who sensed Kwon-sook's feelings, asked Tae-young if she likes him while having a drink with Tae-young. He also made a request as a father, saying, "I think she has feelings for you, so please take care of things."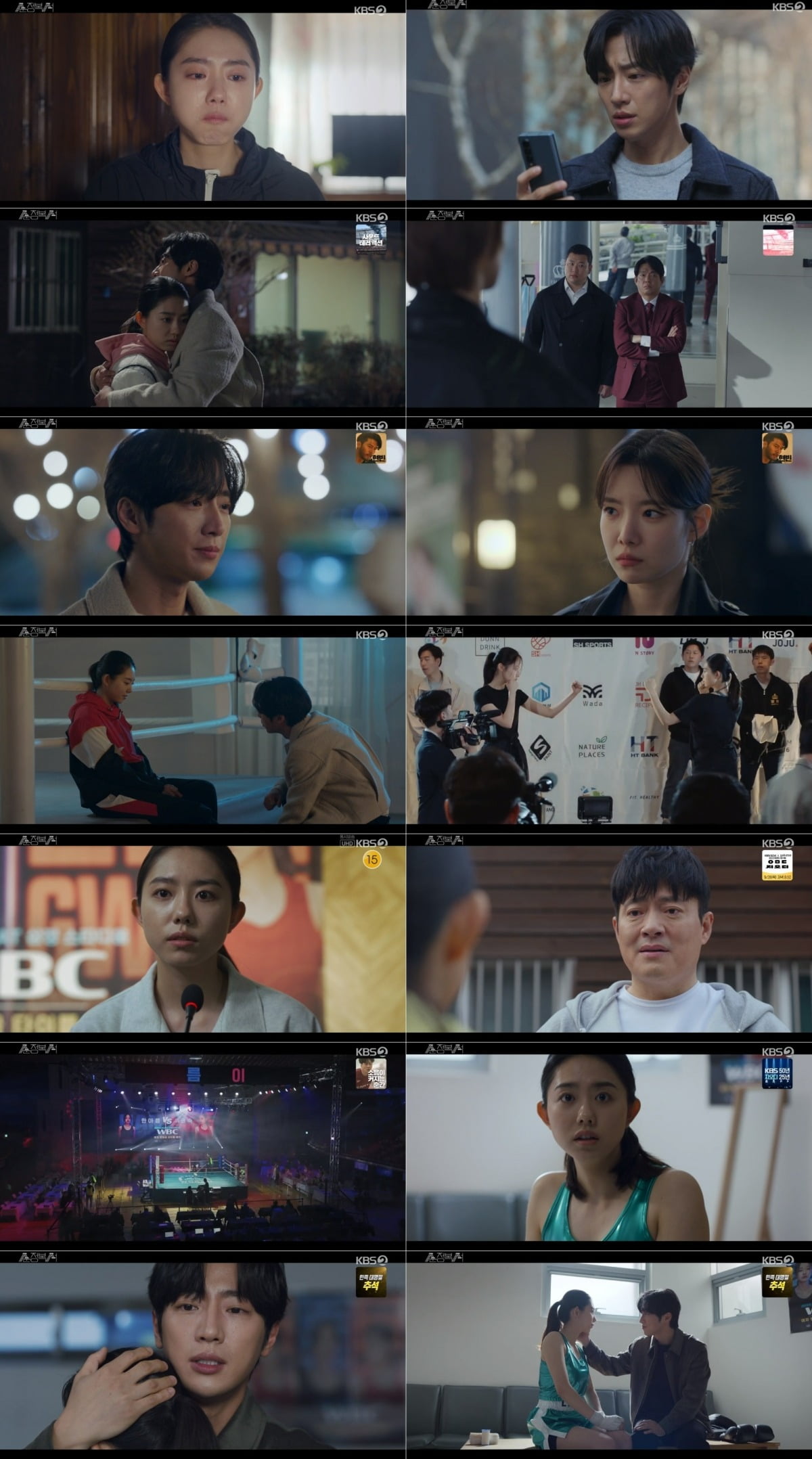 When Oh Bok's match-fixing plan was in danger of failing, he decided to approach Soo-yeon and Kwon-sook himself. In particular, after hearing that Kwon Sook wanted to spar ahead of the match, Obok connected the athlete. However, he urged the player in question to hurt Kwon Sook even if it meant using foul play. Kwon Sook, who entered the ring amidst Ho-jung's worries, played a spectacular match with the player planted by Oh Bok. The opponent, who fell after being hit with an uppercut, suddenly tripped Kwon Sook and threw a series of punches, instantly turning the boxing gym into chaos.
Taeyoung became thoughtful after hearing from Hojung that Kwon Sook was injured. Taeyoung, who was furious that Oh Bok had approached Kwon Sook, asked Hojung to keep his eyes on Kwon Sook until the match was over.
Taeyoung, who ran to the boxing gym a month later, looked kindly at Kwonsook's injured ankle and even gave her a compress. Kwon-sook told her to come on the day of the game and comfort her like last time, and Tae-young, who was quietly looking at her, quietly came up to her and hugged her tightly. Kwon-sook said to Tae-young, who apologized, "I'm really grateful. Thanks to you, I met you. "I feel sorry when I say I'm sorry," he said, and pledged to win the game against Areum.
Kwon Sook, who finished the weigh-in with great interest from reporters, said at a press conference, "I am confident that I will not lose to anyone with my efforts. I won't lose tomorrow's game either. "I will do my best to win," he said, expressing his extraordinary determination.
Arriving at the stadium, Kwon Sook waited for Taeyoung, holding both hands tightly as they began to tremble with tension and worry. At the same time, Cheol-yong was confronted by large men who entered the store roughly, and Tae-young, who arrived at the stadium, found Oh-bok standing at the end of the hallway and was overcome with extreme anxiety. He hurried to the waiting room and saw Kwon Sook waiting for him, heaving a sigh of relief and giving her a deep hug.
Taeyoung covered Kwon Sook's worried face and said, "A loser who did his best doesn't look like a runaway. don't worry. "I'll be watching you until the end, no matter where you are," he said comfortingly before leaving the waiting room. He called the police to turn himself in, and at that moment, the ending unfolded where his cell phone was taken away by the men sent by Obok.
The final episode of 'Pure Boxer' will be broadcast at 10:30 pm on October 2nd.
Taeyuna, Ten Asia Reporter youyou@tenasia.co.kr